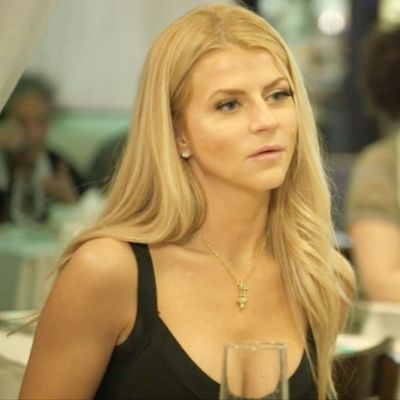 It is a truth universally acknowledged that a single man in possession of a good situation must be in want of a wife. For Lauren and Mike, proposal day has finally come!
But first, Mike is sure to make up with Jenni following their skirmish, not only because but not not because Lauren's future engagement ring is currently in her possession. "There's some really deep-rooted issues here," Mike tells the guys. "She's not even mad at me; she's mad at somebody else." Interesting theory! For what it's worth, Jenni's husband Roger proposed while skydiving, so maybe her standards for romantic spectacle are just extremely high.
The girls take Lauren out for the day, seizing this opportunity to gush Leslie Knope–to–Ann Perkins-style about the amazing impact she's made on their friend's life. (Also, Nicole asks Lauren about the biochemical logistics of dating a sober person: "Since you drank a lot, and it was like in your mouth, can he get drunk off that?") "Fuck it, let's rage," declares Nicole, ordering a drink called Sex in the Bathroom, which is almost certainly a vector for MRSA. Then they all down Champagne while getting blowouts and whisper conspicuously about the fact that something is going to happen that night, which is admittedly pretty adorable, and which Lauren would have to be where's the beach?!–level drunk not to pick up on.
Meanwhile, the boys — minus a depressed Ronnie, who stays behind in bed — head out to run pre-proposal errands. They drop upwards of $1,000 on roses, buy cake pops and mini cupcakes and mini donuts (high blood sugar is the ultimate aphrodisiac), and most importantly, pick up matching shirts. "No proposal will be complete without some shirts that are matching," Mike says, as if this were common knowledge, but sure, I am prepared to support him on this journey howsoever he needs me to. They hide their spoils in the vacant smush room, as if somebody's random hookup is about to stumble into a disorientingly romantic surprise.
Ronnie continues to wallow in the uncertainty of his relationship with Jen, committed though he is to being a good father to their future child. "I'm gonna be there for that kid no matter what, thick and thin, fire, fucking cold, ice, I'm going to be there," he says. This is a very sweet sentiment, but one that also makes me wonder what kind of apocalyptic extinction event scenario Ron is expecting to befall his offspring. He tells Mike he feels like he put on a "front" by pretending they were a perfect couple, when that's far from the truth. "If you have your own back and you're happy with Jen, then that's it, that's what matters," Mike counsels him. But is he happy with Jen? Honestly, all signs point to no. But Ron is not there yet.
Lauren and Mike, who is now in a state of poorly concealed, full-body panic, leave for dinner and the roomies launch into "Operation Team Proposal," decking out the house and yard. We're T-minus two hours to blastoff. Flowers are arranged. A white carpet is rolled out. Pauly works the turntables. Ron precariously wrestles a huge cluster of balloons through the front door. Nicole swats at a spiderweb with a broom. The results are genuinely lovely, even by TV set-dressing standards (it probably helps that this is, you know, a TV show): The pool is lit by candles and floating paper lanterns, with a pair of chairs and a table set up in its shallow end. Realizing the single most important aspect of Mike's singular proposal vision, the boys put on their matching white short-sleeve shirts. They fancy themselves a finger-snapping boy band, the "White-Ass Guidos," but personally, I prefer Nicole's interpretation: "What are you, a yacht dealer?"
Mike has been a wreck throughout the meal, repeatedly excusing himself from the table to call in for updates. When he can stall no longer, having quite possible ordered every single dish on this restaurant's menu, he takes Lauren home, having only a slightly better idea than she does of what they're walking into. Vinny greets them at the door, going for what I can best describe as a wacky haunted mansion's butler vibe: "Good evening to the lovely couple." He instructs them to follow "the trail of love," a.k.a. rose petals, which lead them to the backyard, where the women are waiting. "I'm going to cry. Fuck me in the asshole, " Nicole says, watching them approach.
A giant screen on the far end of the lawn plays a slideshow of photos of the two of them together. "Lauren is the light at the end of my tunnel," Mike says in a confessional, and fuck me in the asshole, now I'm crying, too. "You're my best friend, my sweetheart, my better half, you make me a better person. Please make me the happiest man on earth," he says, dropping to one knee. "Will you please marry me?"
Yes, duh, she will! Vinny pops a bottle and presents the happy couple with celebratory rainbow cookies. A spontaneous group dance party breaks out around, and then sort of in, the pool. Congratulations! Love is beautiful! I will gladly take any of the mini donuts you guys didn't get around to eating off your hands!
Mike and Lauren only have a few hours to bask in their engagement before she needs to catch her flight home the next morning. Alone with their tribe once again, the gang reflects on how little vacation they have left. "I feel like we had fun and kept it classy for the most part," Deena says, and same, always. With sentencing looming ahead of him (his hearing is currently scheduled for September), Mike tells Vinny he's "prepared" to serve time, if that's how the judge should rule — that's part of why he was so eager to propose when he did.
But an unexpected backlash is about to come for Saint Mike. He worries aloud to his friends about Ronnie, who is not in the room, saying he's "lost" and that he'll continue to "spiral" until he stops drinking and partying so much. Is this inaccurate? It certainly doesn't seem to be! But is this the right moment to bring this up? To Jenni, not at all. If Mike's concerns were genuine, she argues, he would be sharing them with Ron directly. Instead, he's just talking shit — and if Ronnie were to find out, she speculates in a talking head, "he would literally destroy Mike."
Lo and behold, Ron walks in and Jenni immediately announces, "He's talking shit." (Like any good scientist, Jenni enjoys making and then rigorously testing a hypothesis.) You better believe we're coming in hot to the season finale.