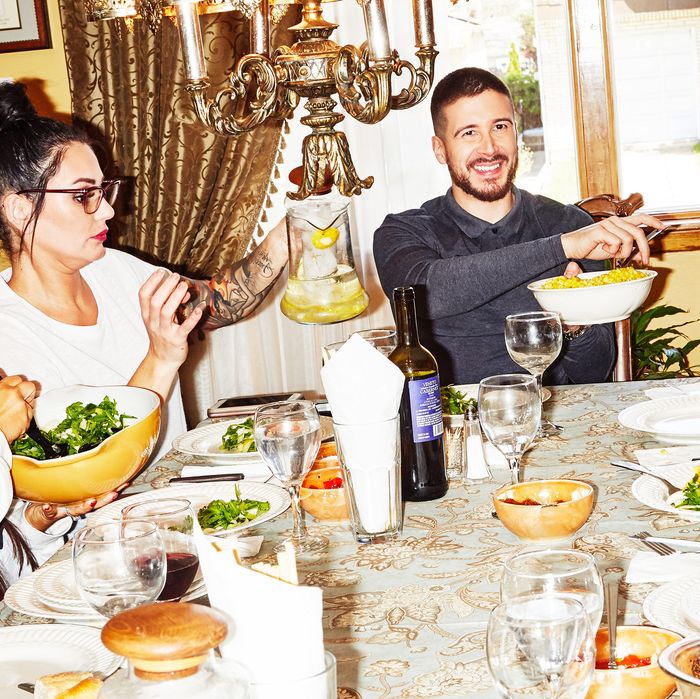 Photo: Amy Lombard for Vulture

The 2018 Emmy race has begun, and Vulture will take a close look at the contenders until voting closes on June 25.
Blood is thicker than water, but neither compares to a good marinara. On a recent Wednesday afternoon, Jersey Shore Family Vacation stars Vinny Guadagnino, Pauly DelVecchio, Nicole Polizzi, Mike Sorrentino, Jenni Farley, and Deena Cortese gathered in the Staten Island home of Guadagnino's aunt Mariann for a decadent meal prepared by his mother, Paola.
There was a sense of reverence to the proceedings, not just because of the holy-water font mounted by the front door, nor Aunt Mariann's granddaughter arriving home in her Catholic-school uniform, nor even the reproduction of Michelangelo's The Creation of Adam hanging beside the china closet. This is, after all, the time-honored Jersey Shore tradition that is Sunday family dinner — in this case lunch, on a weekday — wherein sprinkling plain-old parm on your pasta instead of toasted ricotta will result in your public scolding, and even so much as looking at a bottle of ketchup constitutes a mortal sin. "Italians can't have ketchup," Guadagnino explained. (Cortese, who requested the ketchup in the first place, dissented.)
The iconic MTV reality series Jersey Shore aired six rambunctious seasons between 2009 and 2012, most of them set in Seaside Heights, New Jersey, the natural habitat of East Coast guidos and guidettes come summertime. Relocating the cast to a waterfront estate in Miami, Jersey Shore Family Vacation premiered in close to 180 countries this April to record-breaking ratings. More impressively, the Emmy-contending reality series has managed to recapture what made the original irresistible: the frequently ridiculous, undeniably flawed, but deeply felt friendships among its cast.
Aunt Mariann's dining-room table was laden with an intimidatingly sumptuous spread of olives, cheese, salami, and crusty bread before the meal properly began. DJ Pauly D's diamond-encrusted watch sparkled in the afternoon sunlight, outshone only by his trademark, meticulously gelled blowout. The cast had declared a universal cheat day in honor of family lunch — even newly svelte Guadagnino, the self-styled Keto Guido. "I'm trying to go to the gym when I get home," Polizzi said, pouring a glass of Cabernet. "It's fine. A wine a day."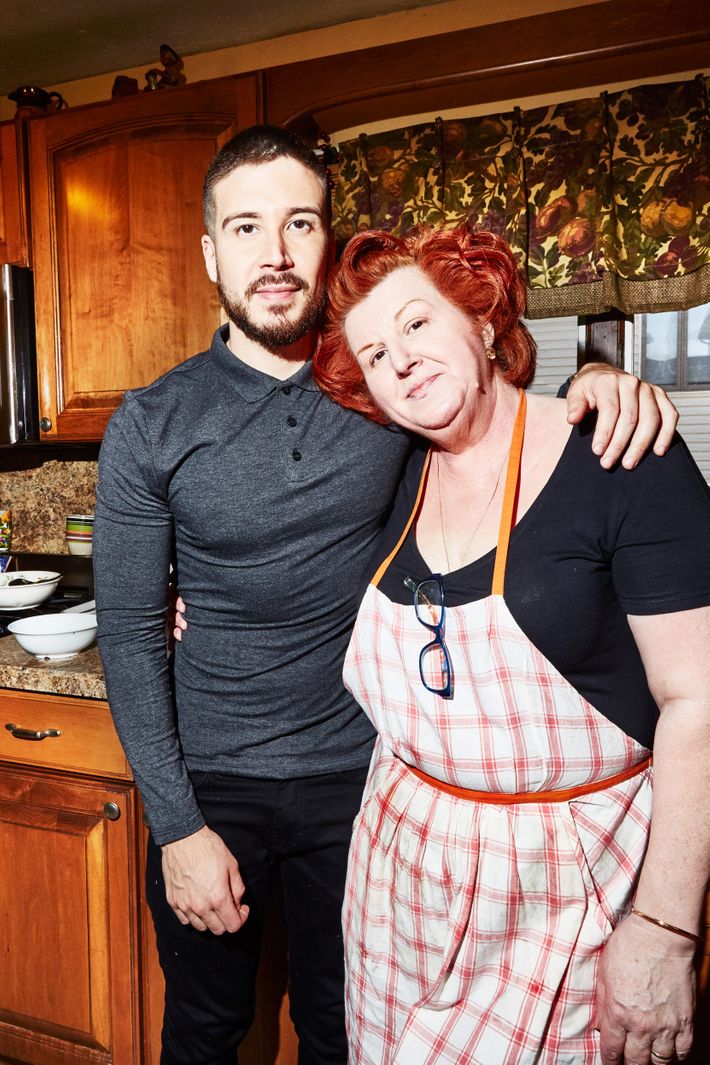 Guadagnino panned over the "surreal" lunchtime scene in a video he'd upload to his Instagram Story. "I've been eating at this table my whole life, and now I got JWoww sitting next to me. Deena, Snookers, Pauly, Mike. Everyone here. So weird," he said. On the show, those nicknames (indelible as a tribal tattoo, as far as the rest of the world is concerned) have been effectively retired: Jenni is no longer known as JWoww, and Nicole is no longer Snooki, let alone Snookers. Barely old enough to order a tequila shot when the Jersey Shore premiered, Polizzi and Guadagnino will turn 31 this fall. Since we last watched them fist-pump at Karma and pick fights on the Seaside boardwalk, Polizzi, Farley, and Cortese have gotten married; Polizzi, Farley, DelVecchio, and Ronnie Ortiz-Magro are now parents. But the more things change, the more they stay the same.
"The whole 'What do they have to offer now?' thing — I'm like, 'I don't know, we're No. 1 on Thursday nights. You tell us,'" Farley said of Family Vacation's skeptics.
Jersey Shore may have technically returned, but in many ways, it never left. The pop-cultural phenomenon counts several spinoffs and eight international versions (not including domestic newcomer Floribama Shore), parodies by South Park and just about every talk show imaginable, and memes spawned years after it went off the air. Jenni proudly cited a joke that referenced her and Pauly on Orange Is the New Black; Polizzi fondly recalled playing herself (well, herself as possessed by a demon) on Supernatural. "Vampire Diaries mentioned us twice," said Cortese, who, for the record, really loves vampires.
"Did you ever see [Jenni] on One Life to Live?" Polizzi asked. "Do you want to see it?" The only possible answer to that second question is yes, so I was immediately passed someone's phone, open to a screenshot of Jenni kissing her soap-opera co-star. "She wasn't supposed to use the tongue, but she put the tongue in," Polizzi said, with a sisterly matter-of-factness. "Her name was Nikki and she was a slutty bartender."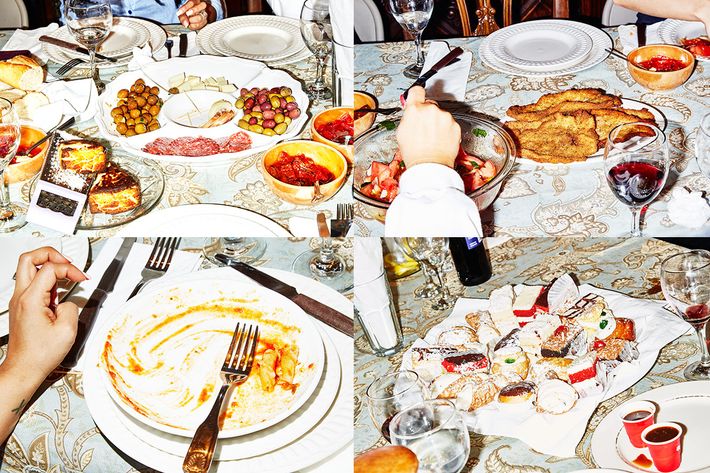 Aunt Mariann's red sauce is a little sweet — that is, good sweet — thanks to the stealthy addition of brown sugar. "Fire. This pasta is fire," Sorrentino said, already on his second bowl of campanelle. "I'm trying to save room for the next course." While his roommates lubricated their stay in Miami with Ron-Ron Juice and bottle-service vodka, the artist formerly known (okay, still known) as the Situation — now 28 months sober and exuding a contemplative calm, despite having recently pleaded guilty to tax evasion in federal court — indulged instead in Doritos and Funfetti. "They were doing their own thing, and I was enjoying the food. Just living my best life," he recalled. "He would order for, like, 50 people," Polizzi said.
Family Vacation is happily devoid of the smudged-name-tag awkwardness of a high school or college reunion. The cast credits their closeness in part to a group chat that began a year before. "In the past, when we were done filming, we would run in eight different directions," Guadagnino said. "This time, we were like, 'Give us our phones back so we can go in our group chat and say what we really want to say, now that we're not mic'ed.'"
The group chat is aptly titled "Just Us We Famous Fam" — at least, it is for now. The more people who know the name, the more they feel like changing it. The castmates have other ongoing text threads, too, some of which include reps for MTV and are labeled accordingly, as a warning. But the Holy Grail group chat beeps and vibrates with hundreds, sometimes thousands, of messages a day. "I'm always the first one to fall asleep, and I wake up 300 [messages] later," Farley said. Guadagnino surveyed the table: "Does everybody have their notifications off? Everyone, right?"
"What does that mean?" Polizzi asked.
"Your phone doesn't ding every time," he explained.
"Oh my God, yeah," she said. "My phone's always on silent. I would freak out."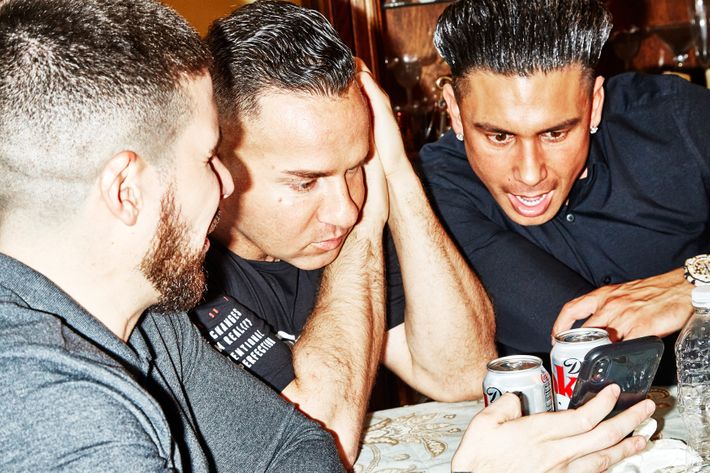 The most frequently used emoji in the group text is the fax machine — as in, facts. "We're like lightning with the GIFs. We're like fucking GIF masters," Guadagnino said. "GIFs of themselves," Cortese clarified, crucially. Polizzi in particular likes to deploy her drunk hair flip seen in the original series, which she expertly reenacted.
Old-school Jersey Shore GIFs remain timelessly relatable, but Family Vacation introduces its share of new themes, like "mom guilt." Polizzi and Farley grapple with both the "stigma" surrounding mothers who let loose and the stress of being apart from their kids. Polizzi said she "probably" wouldn't participate in season two — which was green-lit more than a month ahead of the series premiere, and recently began filming in Las Vegas — unless the 24-hour shooting schedule is rearranged to be part-time, so that she can spend more time with her children. (She, Farley, and Cortese left the Family Vacation set during season one for a brief visit to their families.)
"I was off my schedule. I'm used to waking up at seven, dropping my kids off at school, cleaning the house," said Polizzi of her time in Miami. "I had no responsibilities, so I lost myself a little bit." Stripped of their phones and computers during production, the gang was equipped with a tablet to FaceTime with their loved ones, but video chat did little to alleviate separation anxiety. "My daughter would cry and be like, 'Come home.' It made it harder," Polizzi said. Cortese and her husband, Chris, hope to start a family soon; Polizzi and her husband, Jionni, are planning to try for a third child as soon as this summer. Both women said they wouldn't necessarily be opposed to filming Family Vacation while pregnant, as Polizzi did during Jersey Shore's final season.
"We live in such a filtered world," Farley said. "I want our kids to be proud, and whoever watches our show, to be proud of us for being authentic."
"What do you mean?" Guadagnino interrupted. "You're in hair and makeup everyday."
She ignored him, pressing on. "To know that it's okay to not be liked. To truly just love who you are and be okay with that. Whenever someone's like, 'Why would you do this? You have kids,' I'm like, 'This is exactly why I'm doing it.'"
"I think that's the most shocking part for people," Guadagnino said. "When you actually watch us, you're like, Oh, I relate to them. They're real people, who have real things going on in their lives."
Out from Aunt Mariann's kitchen came fried chicken cutlets, arugula salad (tagging in for romaine), and a truly enormous bowl of mashed potatoes with the heft of a spackle bucket. "I'm about to unbutton my jeans," said Polizzi. "I don't know about all of you guys, but I'm sweating," Sorrentino announced. "Chicken cutlet sweats," Guadagnino clarified.
The only Family Vacation cast member missing was Ronnie Ortiz-Magro, whose on-again, off-again, on-again relationship with girlfriend Jen Harley — the mother of his newborn daughter, Ariana — has become tabloid fodder. "What he has going on right now, I want to respect him and his family and not really speak on his behalf at all," said DelVecchio. "We're still one big, happy, dysfunctional family," added Farley. (In early June, a few weeks after this meal, police were called because Harley reportedly assaulted Ortiz-Magro in Las Vegas.) That big, happy, dysfunctional family still includes Sammi "Sweetheart" Giancola, whose on-again, off-again, on-again, off-again relationship with Ortiz-Magro was a central plotline of the original series, and who declined to appear on Family Vacation. Giancola's presence is nevertheless felt on the show, in the form of a sex doll created (sort of) in her image — a doll that is, in fact, anatomically correct. "She has a vagina and a hole. She has a … what's the right way to say it? Clitoris," Polizzi reported.
Along with Vinny's infamous Uncle Nino — the OG, "Original Guido" — joining the cast for lunch was Lauren Pesce, Sorrentino's college sweetheart turned fiancée. (We can expect to see the proposal soon on Family Vacation.) She didn't watch her then-ex on Jersey Shore, but her grandmother tuned in for each episode of Sorrentino's turn on Dancing With the Stars and proudly reported on his performance to Pesce every night. About a year after Jersey Shore wrapped, the ex-couple ran into each other at the gym. Unbeknownst to her, he'd made a point of finding out what kickboxing class she'd be attending.
"We lived a town or two away from each other," Sorrentino said. "Once in a while, I would drive by, with 'Marvin's Room' on, hoping she would come outside her house. She never did."
"He would drive by my house in a Lamborghini," Pesce said. "He's like, 'Well, who else has a Lamborghini?' I'm like, 'I don't know, Mike. I don't look out the window, waiting.'"
It's not yet been decided whether any of Sorrentino's fellow cast members will be tapped for the wedding party. "I can marry you," Polizzi volunteered. "I'm ordained."
With the meal at Aunt Mariann's winding down, it was hard to imagine eating any more food, ever again, when a platter of bakery sweets (cannoli, millefoglie, cream puffs) appeared and was promptly devoured. "Wheel me into the car," said DelVecchio.
Soon after Vinny's Uncle Joe served cold espresso in miniature red plastic cups, the cast said their good-byes to their chosen family — chosen in this case by a casting team, but family nonetheless. "I used to not want to film because it was tough mentally," Guadagnino said. "I'd call home when I felt upset. Now I'm like, I'll just call Pauly. I'll go wake up Jenni. I used to go to the producers when there was a problem. Now I'm like, fuck the producers, we're going to each other."
Until next season, wherever that may take them, they'll have their group chat. But in the meantime, they won't pass up the opportunity to troll one another in person. "Does anybody know Jenni's code to her phone?" asked DelVecchio when Farley got up to use the bathroom. He managed to unlock it, leaving a series of mugging selfies with Guadagnino on the camera roll. What else is family for?