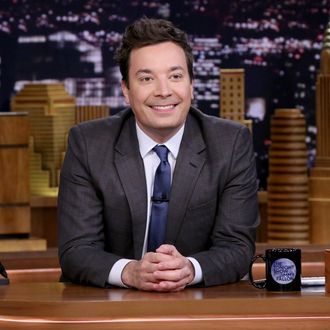 Jimmy Fallon.
Photo: Andrew Lipovsky/NBC/NBCU Photo Bank via Getty Images
Godspeed to Donald Trump's poor hair, but it looks like Jimmy Fallon is more interested in paying it forward than apologizing again for a recent Hollywood Reporter interview in which he lamented the backlash to his September 2016 Tonight Show hair-petting interview of Donald Trump. In response to Fallon's public regrets about the incident, which many critics said "humanized" Trump, the president tweeted at the late-night host on Sunday, complaining that Fallon "seriously messed up" his hair during the interview and instructing him to "be a man."
In response Fallon tweeted, "In honor of the President's tweet I'll be making a donation to RAICES in his name." RAICES, the Refugee and Immigrant Center for Education and Legal Services, is a Texas nonprofit designed to benefit immigrants and their children, primarily by providing free or low-cost legal services. RAICES has recently raised over $20 million through the "Reunite an immigrant parent with their child" fundraising effort started by Charlotte and Dave Willner on Facebook. According to Time, it is now the platform's largest fundraiser ever.
Listen to Jimmy Fallon on Vulture's Good One podcast: