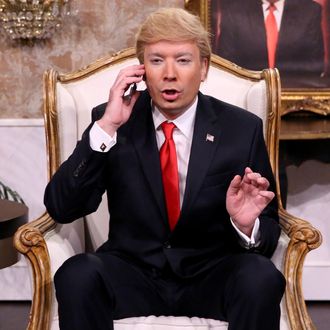 Photo: NBC/NBCU Photo Bank via Getty Images
Do you remember where you were on the afternoon of September 15, 2016? Jimmy Fallon was petting Donald Trump's hair like a kitty for a Tonight Show taping, a decision that was quickly and sharply condemned by the American public. (Not to mention, it was the catalyst that gave Stephen Colbert's Late Show consistently better ratings ever since.) Fallon admitted in the past how "devastated" he was from the fallout, saying he was only trying to have some fun and loosen up with our orange-y future president — but now, taking it a step further, he's expounding on how his actions negatively affected the rest of the Tonight Show staff.
"It was definitely a down time," Fallon said in a new interview with THR. "And it's tough for morale. There's 300 people that work here, and so when people are talking that bad about you and ganging up on you, in a really gang-mentality …" He said the rest through tears:
"You go, 'Alright, we get it. I heard you. You made me feel bad. So now what? Are you happy? I'm depressed. Do you want to push me more? What do you want me to do? You want me to kill myself? What would make you happy? Get over it.'" Fallon adds, "I'm sorry. I don't want to make anyone angry — I never do and I never will. It's all in the fun of the show. I made a mistake. I'm sorry if I made anyone mad. And, looking back, I would do it differently."
Fallon insists, though, that the war for late-night dominance doesn't interest him. "The ratings never bothered me," Fallon said. "I don't really care about the ratings. I never will. That's someone else's job at NBC." Well, someone else at NBC might not be too happy, then.