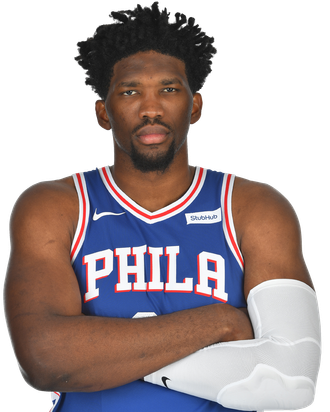 St. Nicholas Park in Harlem is famous for being the current location of Alexander Hamilton's house, but on Wednesday afternoon, the park was also home to another garrulous Philadelphian — NBA superstar Joel Embiid. As part of his partnership with Mountain Dew, the Cameroonian center was celebrating the park's recently refurbished basketball courts alongside draft prospect Marvin Bagley, a human pogo stick out of Duke. (The renovations were provided by the neon-yellow soda.) In between practicing his three-point shot and posing for selfies with fans, a very sweaty Embiid took the time for a brief sit-down with Vulture, which is slowly morphing into a sports site, to talk about his summer plans, Twitter drama, and his post-NBA career. If you don't care about basketball, I have provided plenty of footnotes to help you follow along.
My first question is, how does Mountain Dew compare to Shirley Temples?
That's a tough question that I will not answer because everybody knows my love for Shirley Temples. [Laughs.] But Mountain Dew is good.
One of the things you're famous for doing in the off-season is dunking on five-foot-tall white guys. Are you going to be doing more of that this summer?
I don't know. That's not something I wake up in the morning like, I'm gonna go to the court and dunk on people. It's just usually I go do my regular stuff, play tennis, and then some random fans happen to be talking shit, so then I gotta teach them a lesson. And that's what I do.
What do they say to you?
They usually just disrespect NBA players a lot. I'm competitive and I think everybody knows that if you're talking trash, you're gonna get a reaction out of me.
Who's been the hardest five-foot white guy to play against?
Nobody.
They're all bad?
They're not that bad. I'm just too good.
Kyrie Irving's got a movie coming out. Would you ever want to be in a movie?
Yes. There have been a few opportunities. Right now, I'm focused on basketball, but eventually. I feel like I have the personality to do it. And every time I'm in front of a big screen or filming, I feel comfortable.
If they made a movie about the Process, who would play you?
Myself.
Who would play Sam Hinkie?
I would want Sam Hinkie to play himself. No, actually, I don't think he'd be able to star in a movie. I would want … I don't know.
I've heard that you like to be shirtless a lot. Is that true?
I do like to be shirtless. Where did you hear that from, Twitter?
I heard that on Twitter, yeah.
From who?
I think it might have been a guy called Eric Jr.
Eric Jr.! That's my boy.
What was your favorite Tweet of his?
Probably the one about how I was not a franchise player.
How did that make you feel?
I don't mind. I don't care.
The collars that Eric Jr. was tweeting about, were they normal collars?
The collar tweets were actually really fun. I enjoyed that one. Those were funny.
You've said you learned how to shoot threes from watching white guys on YouTube. Have you shown those videos to Markelle Fultz?
Nah.
The NBA might be getting rid of the one-and-done rule. Do you think they should?
I don't know. When I started playing ball as a junior, I'm kind of glad that I was never good enough to be highly recruited. I never went through any of that stuff. Agents recruiting high-school players and talking to high-schoolers, I feel like those are the people who put bad ideas in kids. I was lucky enough to get good enough to get into the NBA after one year, but I feel like everybody should want to go get an education.
Do you think you're gonna go back and get the degree eventually?
I've always thought about it. I'm not sure, but I want to.
What would you major in?
I've always wanted to be an astronaut, but playing basketball that's going to be hard. So I'm not sure.
Have you heard from Rihanna recently?
No. I don't care. I'm focused on basketball.
The Sixers are trying to go after some big free agents this summer. If you're in the room making that sales pitch, what are you telling them?
Trust the process. It's been working, so we've got to keep trusting it.
Embiid, who doesn't drink alcohol, is famed for his love of the grenadine beverage. While sitting out his first two years due to injury, he reportedly consumed a pitcher of Shirley Temples a day.
"The Process" was a controversial rebuilding attempt by former 76ers general manager Sam Hinkie that involved trading away every player who was even halfway decent, losing as much as possible, and using the subsequent draft picks to take high-upside athletes like Embiid. After Hinkie was pushed out, Embiid nicknamed himself "The Process" to keep his memory alive.
Hinkie's replacement was former Raptors GM Bryan Colangelo, who recently resigned after an investigation connected his wife to several anonymous Twitter accounts that trashed Embiid, revealed sensitive information about other 76ers players, and defended the size of Colangelo's shirt collars, which are quite large. One of the tweets, which is still up, claimed that Embiid "likes to be shirtless A LOT ;-)."
Twitter user @alvic40117560, otherwise known as "Eric Jr.," is the only burner account that is still public. Others, which have since gone private, include "HonestAbe," "Enoughunkownsources," [sic] and "Still Balling."
One of the burner accounts responded to a fan's tweet about the collars with: "That is a normal collar. Move on, find a new slant." Judge for yourself here.
"You know how I learned to shoot?' Embiid told Sports Illustrated in 2016. "I watched white people. Just regular white people. They really put their elbow in and finish up top. You can find videos of them online."
In the 2017 draft, the Sixers traded up to No. 1 to select Washington point guard Markelle Fultz, who mysteriously lost his shooting stroke over the following summer. Fultz is currently in the process of trying to get it back.
For about ten years, you could enter the NBA directly from high school, but about a decade ago they made a rule saying you had to be one-year removed from high school, which means that most of the top players go to college for one season, then enter the NBA. Now, a commission is considering getting rid of the rule.
Embiid did not start playing basketball until he was 15 years old. He moved to the U.S. at age 16 and only burst onto the national scene during his year playing college basketball at Kansas.
In his early years in the league, Embiid made no secret of his crush on Rihanna. Legend has it that she told him to only call her once he was an All-Star, but this may or may not be true.
The team has made no secret of its desire to sign a star player like LeBron James in free agency this summer. These plans may be hampered by the fact that the 76ers currently have no GM.
A slogan associated with Sam Hinkie, which has since become Embiid's catchphrase. As he was leaving this interview, a TMZ cameraman asked him his advice for all the players in this year's draft. You can probably guess his response.