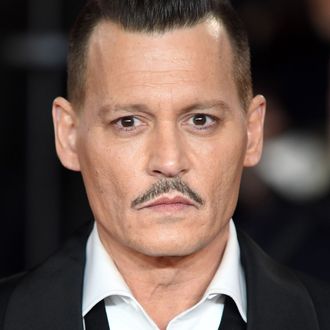 Photo: Karwai Tang/WireImage
At long last, one of the great mysteries of Hollywood is finally settled: Johnny Depp actually does use an earpiece on set! In a very long, very bleak Rolling Stone profile about Depp's lawsuits, money problems, and many, many homes, the Pirates of the Caribbean star confirms that he actually does act with an earpiece, and defends the practice. Contrary to his ex-money managers' allegation, Depp doesn't use an earpiece because he can't remember his lines, but so he can act with his eyes. Per Rolling Stone:
According to the suit, Depp kept a sound engineer on the payroll so he could feed him lines through an earpiece while filming. This Depp does not deny, saying the sounds fed to him made him act with just his eyes.




"I've got bagpipes, a baby crying and bombs going off," says Depp. "It creates a truth. Some of my biggest heroes were in silent film," Depp tells me, lighting another cigarette. "It had to be behind the eyes. And my feeling is, that if there's no truth behind the eyes, doesn't matter what the fucking words are."
Kirsten Dunst first dropped Vulture a line about Depp's habit back in 2008. Turns out he's not listening to a Hollywood Vampires single, but a baby crying.