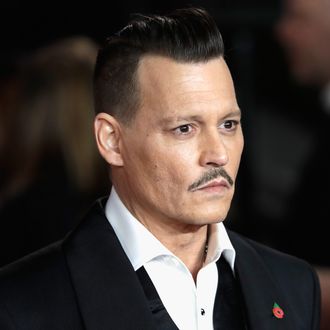 Johnny Depp.
Photo: John Phillips/Getty Images
If you read Rolling Stone's troubling profile of Johnny Depp this week, you're well aware he is currently having Johnny Depp-size, and -style, money problems to the tune of at least $25 million. That's the amount of money the actor is demanding from his former business managers Joel and Robert Mandel of the Management Group, having sued the pair for negligence, breach of fiduciary duty and fraud in relation to their handling of his finances. On Friday, a Los Angeles County judge ruled that the fraud trial will begin on August 15 as planned, despite attempts by Depp's legal team to push proceedings back 60 days to mid-October. As Deadline notes, a fall start date would potentially place Depp mid-lawsuit during the premiere of Fantastic Beasts: The Crimes of Grindelwald, in which he stars as the titular villain.
In response to Depp's lawsuit, which he first filed in January 2017, the Management Group countersued, accusing the actor of having a compulsive spending problem. It's an allegation Depp has denied and yet, seemed eager to confirm in this week's profile. For example, Depp told Rolling Stone's Stephen Rodrick that his wine budget is "far more" than the $30,000 a month TMG claimed. He also said the cannon he used to shoot author Hunter S. Thompson's ashes into the sky cost him $5 million, though the veracity of his stories may, in fact, be in doubt.