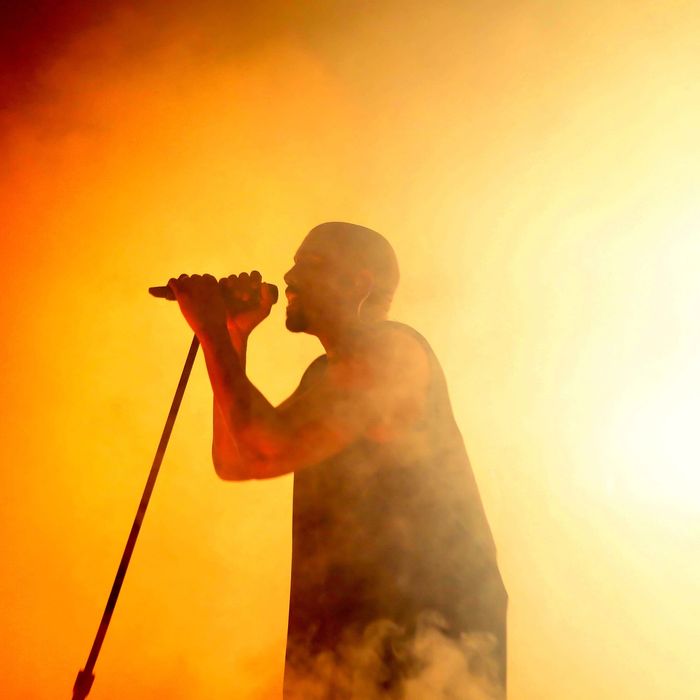 It was a group effort.
Photo: Jonathan Leibson/Getty Images for go90
The concept behind Kanye West and Kid Cudi's new album, Kids See Ghosts, is collaboration. It's a partnership between the two artists who have worked closely for over a decade, but never officially solidified that relationship as a fully formed musical duo until now. (They operate as Kids See Ghosts.) But no Kanye production is complete without a whole stable of collaborators; last week's solo album YE was the result of multiple writers, producers, and featured artists. Ghosts is no different: Its album credits, provided by Tidal (whose song titles on the album are currently mislabeled), reveal multiple artists secretly contributed to the project, including Andre 3000, Ratatat's E*Vax, and, posthumously, Kurt Cobain. Let's take a deep dive into who all made this album, and other nerdy details.
"Feel the Love"
The first verse on the whole album isn't handled by either Kanye or Cudi – instead, it's Pusha-T. In fact, there's no full verse on the entire song other than Push's. Cudi and Kanye elsewhere appear in unintelligible vocal spurts and spasms ("Grrrat-gat-gat-gat-gat!"), and also Cudi on the chorus ("I can still feel the love"). The song was produced by Kanye; his frequent right-hand man Mike Dean; Bon Iver's Justin Vernon; Cashmere; Ratatat's E*Vax (credited as Evan Mast, who previously worked on My Beautiful Dark Twisted Fantasy); Benny Blanco; Dot Da Genius, who has worked with Cudi since his debut mixtape; and Plain Pat, who managed Cudi and Kanye in their earliest days. Pat, Cudi, and Kanye were first spotted back together in the studio in early 2016, when they were originally thought to be working on Kanye's Turbo Grafx 16.
"Fire"
Boom! A surprise appearance from Andre 3000, though not in a way you'd expect. Unlike The Life of Pablo, on which Andre 3000 rapped ("30 Hours"), Three Stacks co-produced this rock-heavy song and is credited as a songwriter. He produced alongside Kanye, Cudi, and G.O.O.D. Music producer Boogz (who previously worked on Cruel Summer).
"4th Dimension"
There's only one artist officially credited as a feature on the album (at least on Tidal), and it's the late New Orleans jazz musician Louis Prima. His Christmas song "What Will Santa Claus Say" is sampled on the song's intro; Prima is also credited as a songwriter. Kanye and Mike Dean produced the song. In its outro, the song also samples Shirley Ann Lee's "Someday," which was previously sampled on "Ghost Town" off YE.
"Freeee (Ghost Town Pt. 2)"
Though Kids See Ghosts is technically a separate project from Kanye's latest solo album, it's of the same creative era, and so it contains a sequel to the Cudi-featuring "Ghost Town" from YE. The song opens with a sample of excerpts from Marcus Garvey's "Know Yourself" speech. The song also riffs on the original psychedelic guitar work from "Ghost Town" (some of which was a Vanilla Fudge sample), and Kanye's "scoop" rambling from "Lift Yourself." The song features Ty Dolla Sign and Zach Djurich. It was produced by Kanye; Cudi; Mike Dean; Jeff Bhasker ("All of the Lights," "Run This Town," and more); British DJ Andy C; Andrew Dawson (who has worked with Kanye as far back as Late Registration); Boogz; and Russell "Love" Crews. It was written by Kanye, Cudi, Bhasker, Ty Dolla Sign, Mike Dean, and Corin Littler (better known as Mr. Chop, who has worked with MF DOOM). Littler is credited because "Freeee" samples his song "Stark."
"Reborn"
This is one of two songs on the album that Kanye didn't produce. He instead raps candidly on the song about mental-health stigmatization: "I was off the chain, I was often drained / I was off the meds, I was called insane / What a awesome thing, engulfed in shame." His verse also references the Arthur J. Audy Home ("Caught in the Audy Home, we was all insane"), which was the world's largest juvenile-detention center, based in Chicago. The song was produced by Cudi, Dot Da Genius, Ratatat's E*Vax, and Plain Pat. Kanye, Cudi, E*Vax, and Dot all wrote it.
"Kids See Ghosts"
Another surprise! Yasiin Bey (Mos Def) raps the hook to the title track, and is also credited as a songwriter. Kanye, Cudi, Justin Vernon, Noah Goldstein, Plain Pat, and Andrew Dawson all produced it. Vernon also wrote on the song. Talib Kweli first teased that Kanye and Bey were working together with a photo from January. Kanye once again addresses the rumors about his mental health: "For anybody who said that I was better off dead / Told 'em, don't ever believe nothin' that you ever read.'"
"Cudi Montage"
The most prominent guest on the whole album comes from one of the most famous people Kanye has ever sampled: Kurt Cobain. The song uses Cobain's guitar riff from "Burn the Rain" (from his posthumous Montage of Heck compilation); he is credited as a songwriter and composer on the song. Courtney Love was reportedly in attendance at the album listening party and may have hinted at the sample last month, posting a photo of her and Kanye. Cudi, Dot Da Genius, and Mike Dean produced the song. Mr. Hudson, a past Kanye and Cudi collaborator, has uncredited vocals on the song's hook.
Kanye's verse interpolates Nas's "One Love" ("Everybody want world peace / 'Til your niece get shot in the dome-piece / Then you go and buy your own piece"); Kanye has also produced Nas's next album. His verse also references Alice Marie Johnson, who served 20 years in prison for a first-time, nonviolent offense until Kim Kardashian met with Donald Trump recently to urge for her release. Earlier this week, Trump granted Johnson clemency and she was freed from prison. Kanye raps, "All growin' up in environments / Where doin' crime the requirement / They send us off to prison for retirement / Hopefully Alice Johnson will inspire men." His verse suggests that, while much of the album was written and recorded some time ago, parts of it originate as recently as this week.