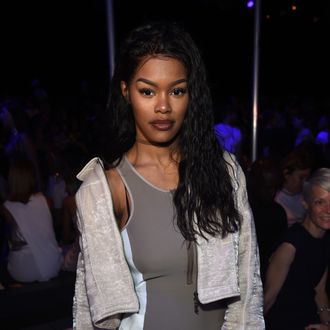 Teyana Taylor.
Photo: Jamie McCarthy/Getty Images for New York Fashio
The Kanyepocalypse has almost come to a close, and tonight the final installment in the producer's five-album opus is set to drop from none other than Teyana Taylor. Her most prominent place in the Yeezy Cinematic Universe to date has been as the star of his video for "Fade," but tonight she takes center stage with the release of her own album Keep That Same Energy. This will be Taylor's second studio album following the release of 2014's VII.
Live from Los Angeles, the listening party is slated to begin at 11 p.m. PT, or 2 a.m. for those of us foolish enough to be on the East coast. Why so late? Well, neither Kanye nor the finished album are in L.A right now. Nope. According to his wife Kim Kardashian, he's flying back from Paris, right now, on a plane, actively finishing the album as we speak (er, type.)
So grab some coffee, take at least eight deeeeeeep breaths, and join in on the listening party on Twitter to see how this all plays out.