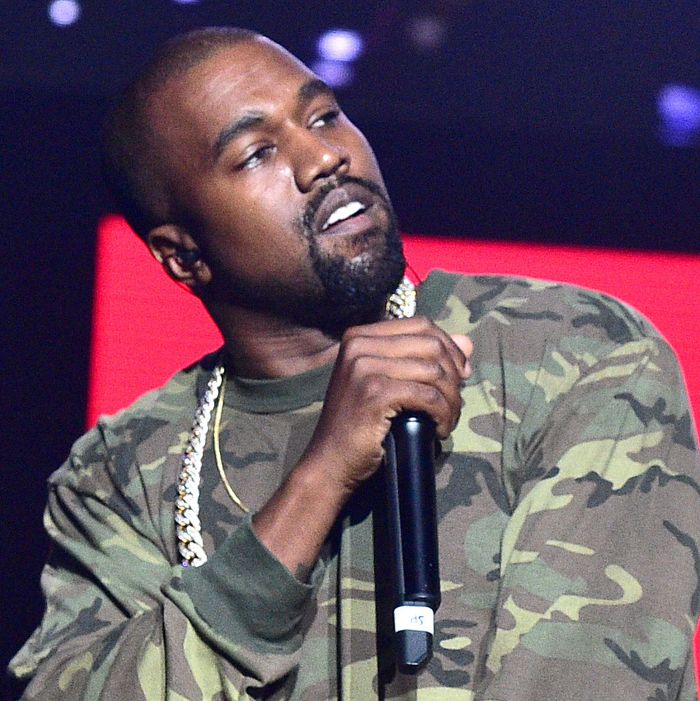 Kanye's back to Kanye-ing again.
Photo: Prince Williams/WireImage
Kanye's new album, YE, has arrived and it is predictably unpredictable. For starters, it had its debut at a listening party in Wyoming on Thursday night, livestreamed via a mobile app, and then wasn't able to be heard again until the next morning when it appeared on streaming services. But there's at least one consistent thing about Kanye's eighth album: It contains many Kanye-isms. From quips about Stormy Daniels, the Russell Simmons allegations, the Tristan Thompson cheating scandal, and even his own mental health, these are the most Kanye things Kanye says on the new Kanye album.
"Russell Simmons wanna pray for me too / I'ma pray for him 'cause he got #MeToo'd / Thinkin' what if that happened to me too / Then I'm on E! News"
There a couple regressive #MeToo takes on Kanye's new album, the second being the old "as a father of daughters" epiphany to explain his newfound empathy and respect for women. But the first, and worst, is a reference to the rape and sexual-misconduct allegations made against Russell Simmons, who recently penned an open letter attempting to smack some sense into Kanye after his recent political comments. Kanye got the message, but it hasn't stuck; instead, he now sympathizes with Simmons, but mostly because he's afraid someone might dig up allegations against him, too. Which is, uh, not quite what the #MeToo moniker meant.
"If I pull up with a Kerry Washington, that's gon' be an enormous scandal / I could have Naomi Campbell and still might want me a Stormy Daniels"
Listen, the heart wants what the heart wants, and in this case, something a little anatomically lower than Kanye's heart wants former adult-film star Stormy Daniels. Kanye never mentions his BFF Donald Trump on this album, but what more is there to say?
"I say 'slavery a choice' / They say 'How, 'Ye?' / Just imagine if they caught me on a wild day"
Leave it to Kanye to reiterate his outlandish comments to TMZ about slavery only to brag about the unthinkable: they could've been worse????
"All these thots on Christian Mingle almost what got Tristan single"
Continuing his tradition of addressing his siblings-in-law's romantic drama, please believe Kanye was not going to go a whole album without a spicy Tristan Thompson cheating scandal roast.
"Today I thought about killing you / And I think about killing myself, and I love myself way more than I love you, so"
Well, one thing has certainly changed since The Life of Pablo: Kanye still loves Kanye, but he definitely doesn't still love you like Kanye loves Kanye.
"Niggas been tryna test my Ghandi / Just because I'm dressed like Abercrombie"
It's almost too Kanye even for Kanye.
"Tweakin', tweakin' off that 2CB, han? / Is he gon' make it? TBD, han / Thought I was gon' run, DMC, han? / I done died and lived again on DMT, han"
A lot of this album attempts to make light of some very dark situations, which is a thing you can do when you're mind-meltingly high on psychedelics.
"See this is why all the bitches fuck with Ye / Fuck what they talk about / They take me on meds, off meds / Ask your homegirl right now, look, you got a shot at Ye / You drop everything"
No one has ever accused Kanye of being humble.
"You see? You see? / That's what I'm talkin' 'bout / That's why I fuck with Ye / That's my third person / That's my bipolar shit / That's my superpower, nigga ain't no disability / I'm a superhero! I'm a superhero! / Ahhhhhh!"
Get the man a Marvel movie!