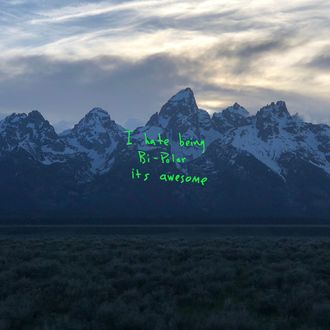 Kanye snapped the photo for YE, his seventh album, himself. YE's album art is a photo of Jackson Hole's mountainous terrain (can you call it a skyline if it's just … nature?). In bright green scrawl, the cover reads, "I hate being Bi-Polar it's awesome." After the album hit streaming sites Friday morning, Kim Kardashian West tweeted the key detail: "Kanye shot the album cover on his iPhone on the way to the album listening party," she reported. (Does that mean YE is next on all of those "Shot on an iPhone" ads?)
Previously, Kanye said he wanted his album art to be a photo of the surgeon Jan Adams, who was operating on Kanye's mother before she died. Donda West died in late 2007, after complications from the liposuction and breast-reduction surgery.
In an open letter, Adams asked that the rapper not use his photo. "I don't want to seem ungrateful," he wrote. "I just think that if in fact this conversion to love is genuine on your part … then it's inappropriate to drag the negativity of the past with it."
YE is available to stream now.