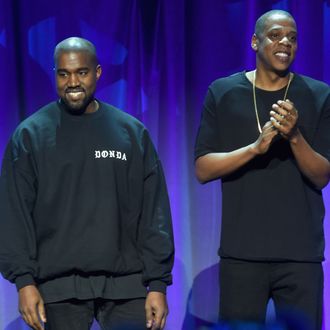 Kanye West and Jay-Z.
Photo: Jamie McCarthy/Getty Images for Roc Nation
In 2016 a very free-thinking Kanye West fan decided to file a lawsuit against both the rapper and Tidal, the streaming music service owned by his former friend Jay-Z. Justin Baker-Rhett is a Kanye fan who claims he signed up for Tidal on the sole condition that the rapper's The Life of Pablo album would be exclusive to the service. He believed this to be the case, apparently, because Kanye tweeted, "My album will never never never be on Apple. And it will never be for sale … You can only get it on Tidal." The album was on Apple six weeks later.
Now, Pitchfork is reporting that the lawsuit will move forward. Jay Edelson, the lawyer representing Baker-Rhett, told Pitchfork that "the court accepted our core premise: what we alleged constitutes consumer fraud." However, due to the court's ruling, the class action will not be one national one, and will instead be several "state-by-state" cases. Edelson also tweeted, and later confirmed to Pitchfork, that he plans to depose Kanye himself, writing "I just FaceTimed #kanye, told him I'm his biggest fan. Holey s@ I'm going to depose him. Tidal #privacy suit motion to dismiss denied in relevant part!!!!! #classaction @edelsonpc"
But in this crazy 2018 world, being sued and deposed is basically just making West seem more presidential than ever.