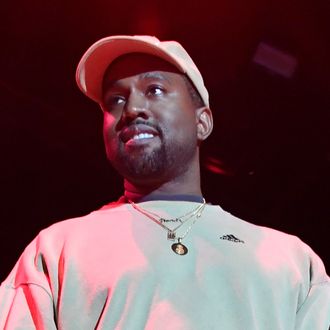 Kanye West.
Photo: Neilson Barnard/Getty Images for adidas
It's only been a few days since Kanye West debuted his eighth semi-self-titled album, YE, at a campfire listening party in Wyoming on Thursday night followed by a drop on streaming services on Friday morning, and now the first post-album-release interview with our favorite unpredictable Gemini has arrived. In an interview published on YouTube on Saturday, West sat down with radio host Big Boy in Wyoming to talk about the new album, the origin of "ye," editing himself, and, naturally, mental health.
On the new-new album
When Big Boy pointed out that the seven-track album wasn't like what he previewed in the studio a few months back, West said he made a completely new album. "I wanted something that felt with the energy," West said. "Just with the universe was giving me, I wanted to matched that energy.
On where 'ye' comes from
"I believe ye is the most commonly used word in the Bible, and in the Bible it means 'you.' So I'm you, I'm us, it's us," West told Big Boy about the album's title. "It went from Kanye, which means the only one, to just Ye — just being a reflection of our good, our bad, our confused, everything. The album is more of a reflection of who we are. Just beings."
On finding his voice again
Big Boy said YE feels a lot more personal. "It feels like a moment a time that you put into a capsule," Kanye explained.
I think it came from me continually going against mass opinion and I was able to find my voice, my voice. Because I started off with my voice. And this is what happens to a lot of artists, they start off with their voice, and then they start having to do so many records for so many different people. Is this person going to be happy? Is that person? I just had to like stand in front of that board every morning and ask myself, 'Do these songs truly make me happy? Are these songs I want to play back? Does this song make me cry? Does this song take me somewhere?'



On addressing his TMZ statement in the album
Who can forget when West crashed the TMZ newsroom ahead of his TMZ Live appearance with his new BFF Candace Owens and said slavery was a choice? Certainly not Kayne, who mentions the tabloid news website in "Yikes."
I completely redid the album after TMZ. We just sat there and really honed in on the words. Also, we know now, it's all headlines. Every bar can be used … It's even bars that we had about that. I took a bar off the album. It was just too sensitive about that topic and stuff. I was like, Yo, I'm just going to chill right now. Let's just keep making some music.
On his mental health
Big Boy asked West about music being an outlet for him. "I'm so blessed and so privileged," he said, "because think about people that have mental issues that are not Kanye West, that can't go and make that [album] and make you feel like it's all good." He continued.
Think about somebody that does exactly what I did at TMZ. and they just do that at work, right? But Tuesday morning, they come in and they lost their job … That's why God put that on me at age 40. I've never been diagnosed so I was like 39 years old.
West clarified that he meant "diagnosed with a mental condition." Big Boy then asked if he thinks everyone has a mental condition. "I think everybody got something. But like I said on the album. I said it's not a disability it's a superpower," he said, referencing "Yikes."
Watch the full interview below.