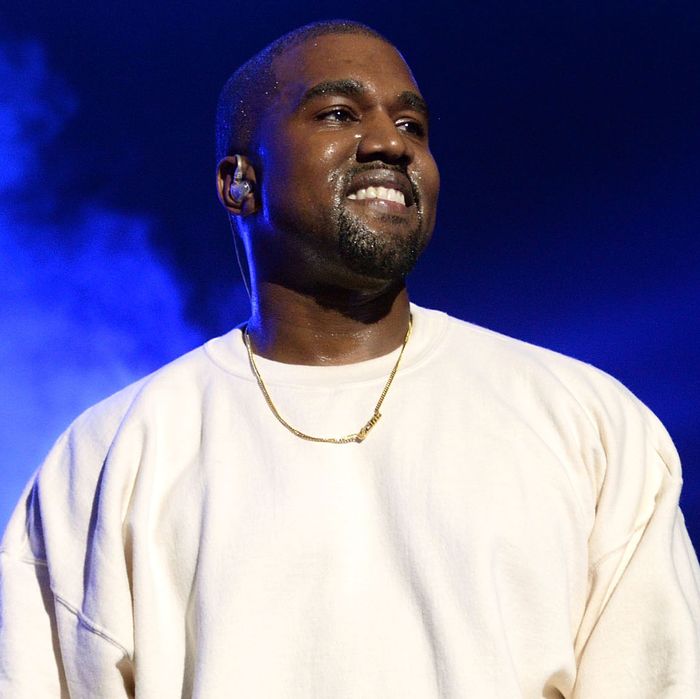 Photo: Scott Dudelson/FilmMagic
If your allergies have been acting up, it's because Yeezy season is in full swing. Take cover! Last night, Kanye West debuted his eighth album, semi-self-titled YE, with a little kumbaya around the Wyoming campfire for all his closest friends (Candace Owens, 2 Chainz, 2 Chainz's puppy!), family (Kim Kardashian West), and industry folk. The whole thing was livestreamed on a mobile app for those of us averse to the outdoors. The following morning YE was released to streaming services; it features seven songs, runs only 23 minutes long, and packs a whole lot to talk about in a short amount of time (#MeToo, mental health, Tristan Thompson — it's a doozy). So how do we make sense of the thing? With this handy, overcomprehensive guide answering all your questions and then some, of course!
How the hell did we get here?
Let's take it back to the beginning: When Kanye initially announced the follow-up to 2016's The Life of Pablo, it was called Turbo Grafx 16. But that was before his breakdown, before Kim Kardashian West's robbery, and before he started hanging out with Donald Trump. Plenty has changed since then. For nearly a year, he went dark on social media, only to return to Twitter in early April. Around then, he announced that he would be writing a philosophy book in real time, on Twitter, published one #deep musing at a time. Presumably, that philosophy book would cover his newfound school of free thought, inspired by conservative thinkers like Candace Owens. He spent the following weeks turning his Twitter into a MAGA platform, wearing the hat, professing his love for Trump, and gaining the support of right-wing darlings (Trump even thanked him).
Amid all of this, he also announced that his new album would be released on June 1 — and oh yeah, it'll be one of four other albums dropping in the span of a month. Also on the schedule: Pusha-T, Nas, Teyana Taylor, and a second Kanye album in collaboration with Kid Cudi (that's out next week). Kanye also seemed to be spending more and more time in Jackson Hole, Wyoming, where the majority of all these albums were made. To further tease his album, he dropped two songs, neither of which actually appear on it: "Lift Yourself" (the song about poop) and "Ye vs. the People" (a political debate with T.I.).
Closer to the album's release, in early May, Kanye sat down for a two-hour interview with The Breakfast Club's Charlamagne tha God (West's first in years), in which he spoke candidly (and sensibly) about his hospitalization, his relationship with Jay-Z, meeting with Trump, feuding with Barack Obama, and more. That same day, he also went on TMZ to say that slavery was a choice. Following that latest controversy, Kanye then took another Twitter hiatus (claiming he got rid of his phone) so he could focus on meeting his many album deadlines. The first of them, Pusha-T's Daytona, was met last Friday.
On May 31, with suspiciously little fanfare approaching his new album's release, Kanye announced a listening party to be held that night in Jackson Hole, Wyoming. He flew in journalists, industry insiders, celebrities (including Chris Rock, Jonah Hill, and his G.O.O.D Music crew), Kim Kardashian, and, yes, Candace Owens to join around a campfire and hear his new album against the mountainous backdrop. He livestreamed the whole spectacle on a mobile app, played the album back once, and that appeared to be it. Then, on June 1, the seven-song, 23-minute album hit streaming services.
Um, what's this artwork?
According to Kim Kardashian West, it's a photograph that Kanye took himself on his iPhone on the way to the listening party. (Which might explain why the album didn't hit streaming services until the following morning.) It's a photo of the Wyoming mountain landscape, scribbled with the words "I hate being Bi-Polar its awesome," which seems to be Kanye addressing his mental-health diagnosis in the most official capacity yet.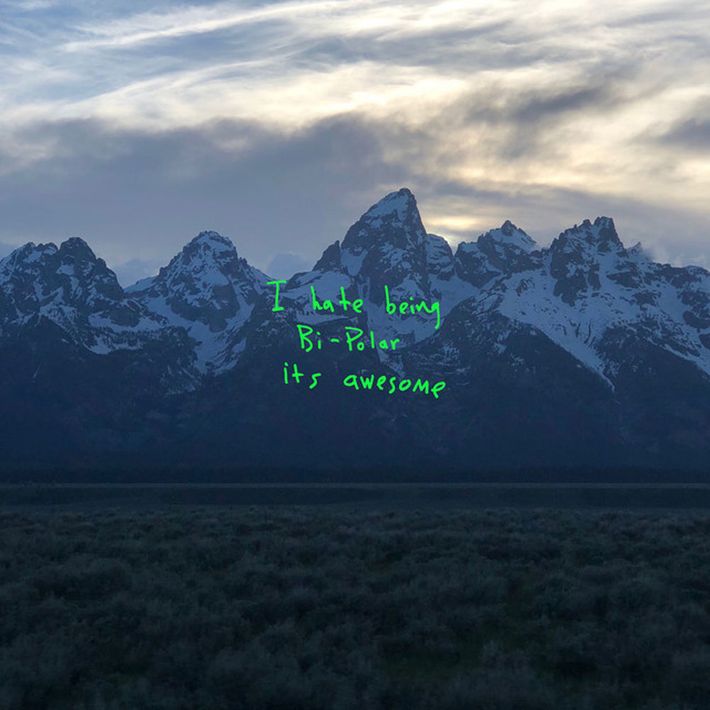 Does he address his mental health on the album too?
Yes, at length. For starters, the album art reveals he's been suffering from bipolar disorder, which he also references elsewhere on the album. On "Yikes": "That's what I'm talkin' 'bout / That's why I fuck with Ye / That's my third person / That's my bipolar shit, nigga what? / That's my superpower, nigga ain't no disability / I'm a superhero! I'm a superhero!" The first track, "I Thought About Killing You," delves into both suicidal thoughts and thoughts of wanting to kill someone else. On "Yikes," he also raps about scaring himself and needing to find help. On "Wouldn't Leave," he touches on the speculation about his mental health and alludes to his 2016 hospitalization as well as the lawsuit it sparked due to his having to cut his tour short: "Every time something happen, they want me sent to mental / We got an incident but I cover incidentals."
What about Trump?
Though Trumpian politics and conservative "free thought" were huge promotional vehicles for the album, and Kanye said in his Charlamagne interview that all the confusion about his views would be cleared up on it, YE avoids the subject entirely. Donald Trump and politics aren't mentioned; in fact, little beyond the intensely personal gets time on this album. That said, there is one sly reference to his pal Trump, and of course it's sexual: "I could have Naomi Campbell / And still might want me a Stormy Daniels."
What else did he say?
Quite a bit about his mental state, his relationship with his wife (he once again says he has a wandering eye, but she remains loyal), and his children (North has apparently made him a better man). But he also weighs in on subjects like #MeToo by bringing up the Russell Simmmons allegations and saying he's glad it wasn't him being accused (yet):
"Russell Simmons wanna pray for me too

I'ma pray for him 'cause he got #MeToo'd/

Thinkin' what if that happened to me too

Then I'm on E! News."
He also stands by his comments to TMZ about slavery being a choice, noting that he somehow could've said worse. He also reveals Kim's unsurprisingly panicked reaction to that whole debacle:
"They say, "Build your own," I said, "How, Sway?"

I said, "Slavery a choice," they say, "How, Ye?"

Just imagine if they caught me on a wild day

Now I'm on fifty blogs gettin' fifty calls

My wife callin', screamin', say, "We 'bout to lose it all!"

Had to calm her down 'cause she couldn't breathe

Told her she could leave me now, but she wouldn't leave."
And, naturally, he makes fun of Tristan Thompson for nearly destroying his family by cheating on sister-in-law Khloeé Kardashian:
"All these THOTs on Christian Mingle

Almost what got Tristan single

If you don't ball like him or Kobe

Guarantee that bitch gonna leave you."
Who's on it?
Many of the usual suspects who've been featured on his albums in the past, and then some: Francis and the Lights, Kid Cudi, Nicki Minaj, Ty Dolla $ign, Jeremih, Ant Clemons (Jeremih's friend and collaborator) Young Thug, Charlie Wilson, 070 Shake, the newest G.O.O.D. Music signee Valee, PartyNextDoor, and more.
The biggest feature comes from Minaj in the unlikeliest way, via a voicemail tacked onto the end of "Violent Crimes," a song about Kanye's relationship to women now that he's the father of two daughters. She says: "I'm saying it like, 'I want a daughter like Nicki. Aw man, I promise I'ma turn her into a monster but no ménages.' I don't know how you saying it, but let 'em hear this." Her message implies that she gave Kanye the idea for his line "I hope she like Nicki, I'll make her a monster / Not havin' ménages." (Though Nicki isn't credited as a songwriter.)
Drake also makes a surprise appearance, though you won't hear him. He's credited as a songwriter on "Yikes," which brings new meaning to that invoice he publicly sent to G.O.O.D. Music during his feud with Pusha-T.
070 Shake?
She's the least familiar name on the album's whole track list, but she's got one of its biggest vocal spots, singing after Kid Cudi to close out "Ghost Town." Her verse is emotional, cathartic, and troubling ("I put my hand on a stove to see if I still bleed"), but who is she? Along with Valee, she's another new signee to G.O.O.D. Music. The 19-year-old singer/rapper hails from New Jersey and is a member of the local 070 crew (hence the name), managed by internet star YesJulez. Along with this break on a Kanye album, she was also just featured on Pusha-T's new album, singing on "Santeria."
Who made this thing?
The album was produced entirely by Kanye West, but not without help: He is joined by his right-hand man Mike Dean on every song except the last. Also assisting on production for some songs are Francis Starlite (from Francis and the Lights); Benny Blanco (who also has a songwriting credit); former G.O.O.D. Music president Che Pope; Irv Gotti; 7 Aurelius (a.k.a. Channel 7); Mike Dean associate Apex Martin; Pie'rre Bourne (famous for working with Playboi Carti); English DJ Andy C; Francis and the Lights collaborator Aaron Lammer; and frequent collaborator Noah Goldstein.
Though Tame Impala's Kevin Parker originally said he lent a hand to the production on "Ghost Town," that is not the case; instead, he's credited as a songwriter on "Violent Crimes." He had previously told Australian radio station Triple J that Kanye asked Parker to send him beats he was working on. Parker sent him a beat that samples Vanilla Fudge's cover of the Supremes' "'You Keep Me Hangin' On.'" But when Parker didn't hear back from Kanye and wasn't invited to the Wyoming sessions, he assumed it wouldn't be used until he heard the livestream of the album listening party. "I had this weird premonition of this exact scenario," he said.
Other contributors – mostly on songwriting – include Bon Iver's Justin Vernon, G.O.O.D. Music's CyHi the Prynce, Jeremih Malik Yusuf, Consequence, Asten Harris (Ty Dolla $sign collaborator), Uforo "Bongo" Ebong (of L&F production), Carole Bayer Sager, Helen Jayne Culver, as well as British grime stars Skepta and Wiley. Caroline Shaw, who featured on The Life of Pablo, is credited as a producer and vocalist on "No Mistakes."
Talk nerdy to me
You asked, we shall deliver. As with any Kanye West production, the album contains many samples. You'll notice immediately that "No Mistakes" samples Slick Rick's "Hey Young World" on its intro; Slick Rick is credited as songwriter (under Ricky Walters). "No Mistakes" also samples the Edwin Hawkins Singers' "Children Get Together"; the late gospel singer Edwin Hawkins, famous for "Oh Happy Day" who passed away earlier this year, is also credited as a songwriter.
"Wouldn't Leave" samples Reverend W.A. Donaldson and Congregation's "Baptizing Scene," which Kanye previously sampled on his and Jay-Z's "Niggas in Paris." The reverend is credited as a songwriter.
The song samples Vanilla Fudge's cover of Dave Edmunds's "Take Me for a Little While"; Trade Martin, who wrote the original, is credited as a songwriter. It's inro also contains a sample of Shirley Ann Lee's "Someday," who is credited as a songwriter.
According to Berlin label PAN, "I Thought About Killing You" samples Kareem Lotfy's "Fr3sh," from the Mono no aware compilation.
"Yikes" interpolates the composition of '70s Kenyan psychedelic act the Black Savage Band's "Kothbiro" performed by Kenyan singer Ayub Ogada. Ogada is credited as a lyricist, while the Black Savage Band's Mbarack Achieng is credited as a composer. "Yikes" also interpolates Juvenile's "Ha" flow.