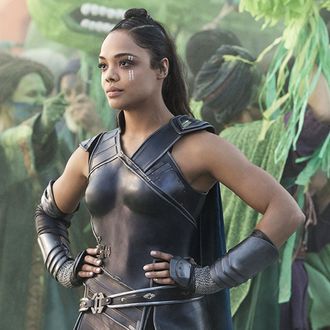 Photo: Marvel Studios/Walt Disney Studios.
Soon you'll be enjoying the Marvel Cinematic Universe on two different levels: taking in the CGI spectacle of superheroes brawling for the fate of the universe, and trying to guess which characters are queer in their day-to-day lives. Just kidding! You've been enjoying the MCU on both levels this entire time. According to new comments from Marvel Studios president Kevin Feige, however, the fact that certain superheroes are LGBTQ won't just be an unspoken subtext in the franchise's future. Their identities will actually be up there on the screen.
In an interview with the Playlist, Feige confirms more than one out superhero is in the works. "Yes," he replied, when asked if we will be getting any "Gay, Bi, LGBTQ, out" MCU characters any time soon. As for who will be repping the LGBTQ community in the superhero pantheon, Feige is a little less clear. On whether or not the Marvel queer contingent will be solely brand-new faces or if we will see figures we already know and love holding up that rainbow flag (at least metaphorically), Feige offered only, "Both ones you've seen and ones you haven't seen."
So why not speculate on who those characters could be? Tessa Thompson publicly claimed that her Thor: Ragnarok character, Valkyrie, was queer when she tweeted last fall, "She's bi. And yes, she cares very little about what men think of her. What a joy to play!" And in a Rolling Stone interview, the actress said they filmed a scene in which a woman could be seen leaving her character's bedroom. Unfortunately that shot — and any specific allusion to Valkyrie's sexuality — did not make the film's final version. Meanwhile, Black Panther actress Florence Kasumba revealed she had shot a scene in which her character Ayo flirted with Danai Gurira's Okoye. That moment, too, was eventually left on the cutting-room floor.