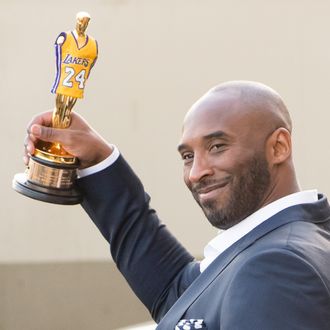 Kobe Bryant.
Photo: RB/Bauer-Griffin/GC Images
Former Los Angeles Laker Kobe Bryant will just have to settle for being an NBA legend and holder of several Olympic medals, because he will most likely not be joining the Academy of Motion Picture Arts and Sciences anytime soon. Since Bryant's Oscar win for the short animated film Dear Basketball, which he wrote and narrated with animator and director Glen Keane, the Academy's Short Films and Feature Animation branch had voted to grant him membership. However, Variety is reporting that the governor's committee voted to overrule and rescind the invitation.
According to Variety, the committee felt the basketball star needed to provide "evidence of a larger career in the field" before they could grant membership to him. Though the Academy has long been criticized for a lack of inclusion, Bryant's win for Dear Basketball ruffled lots feathers thanks to his 2003 arrest for sexual assault. People were a lot less chill about that this year for some reason.