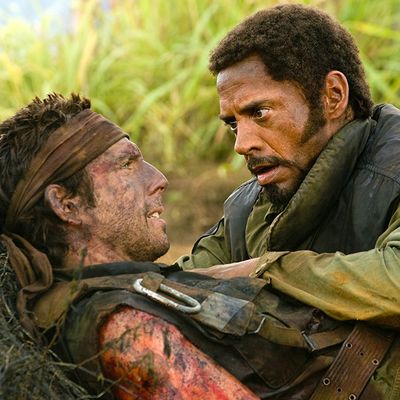 Photo: Paramount Pictures
Each month, several films and TV shows leave Netflix's library. We provide a list of departing titles and recommend a few standouts so you can watch them before they're gone forever (or are just available on a different site). For more coverage of the best movies and TV shows available on Netflix, including our top picks from last month and updates on what's new on Netflix this month, check out Vulture's What to Stream Now hub.
Leaving July 1
For movie-nerd laughs: Tropic Thunder
Idiot celebrities get stuck in a real war zone while trying to film a war movie. It's a brilliant comedic gambit that writer-director-star Ben Stiller pulled off like gangbusters, with a film resembling the demented stepchild of Galaxy Quest and Fitzcarraldo. Tropic Thunder plays best for crowds of Hollywood obsessives, who could easily identify the actor types being spoofed by Stiller, Jack Black, and Robert Downey Jr. (that blackface was a little much, though). Also, it's weird to remember how everyone went nuts for a spittle-flecked Tom Cruise cameo that's just … fine. Leaving July 1.
Leaving July 1
For lovers of magic and trickery: An Honest Liar
Magician turned fraud-detector James "the Amazing" Randi lets us inside his tireless crusade to root out people who use deception for ill gains in this wonderfully entertaining documentary. Through a series of capers, the goofy-grinned octogenarian escape artist with the Santa Claus beard takes on faith healers, self-proclaimed psychics, and poorly designed university studies, all while ruminating on the powers of fakery and the willingness of humanity to be fooled (his own coming-out narrative builds on this theme in powerful ways). An Honest Liar also packs in one of the wildest third-act twists you're likely to see in a documentary. Leaving July 1.
Leaving July 1
For fans of boardroom intrigue: Michael Clayton
This sleek, George Clooney-starring legal thriller holds up 11 years later, even if its Capra-esque redemptive arc feels more naïve with each passing day. Clooney got all the attention for his portrayal of the suave yet emotionally hollow corporate fixer at the film's center, a role that fit the actor like one of those finely tailored suits. But the real scene-stealer is Tom Wilkinson as the big-shot partner whose yammering mental breakdown at the prospect of defending an evil agribusiness firm ("I am Shiva, the god of death!") kicks the pressurized white-collar-espionage plot into gear. Leaving July 1.
Noteworthy selections in bold.
Leaving Netflix: TV Shows
Leaving July 8
Real Husbands of Hollywood: Seasons 1-5
Leaving July 15
Lockup: State Prisons: Collection 1
Leaving Netflix: Movies
Leaving July 1
• Alive
• Along Came Polly
• An Honest Liar
• The Art of War
• Beerfest
• Before Midnight
• Bring It On
• Bring It On Again
• Bring It On: All or Nothing
• Bring It On: Fight to the Finish
• Bring It On: In It to Win It
• Cocktail
• Extremely Loud and Incredibly Close
• Lethal Weapon
• Lethal Weapon 2
• Lethal Weapon 3
• Lethal Weapon 4
• Little Women
• Michael Clayton
• Midnight in Paris
• Mixed Signals
• More Than a Game
• Pandemic
• Piglet's Big Movie
• Rugrats Go Wild
• Scary Movie
• Scream 3
• Terminator 3: Rise of the Machines
• Tropic Thunder
• V for Vendetta
Leaving July 2
• Breakfast at Tiffany's
Leaving July 8
• Alpha & Omega: Journey to Bear Kingdom
Leaving July 9
• Ratchet and Clank
• Serena
Leaving July 11
• Alice Through the Looking Glass
Leaving July 14
• Wild Hogs
Leaving July 15
• Convergence
• Small Is Beautiful: A Tiny House Documentary
Leaving July 16
• Changeling
• Wanted
Leaving July 29
• The Den
Leaving July 30
• A Cinderella Story
• Hurricane of Fun: The Making of Wet Hot
• Swing State
For more coverage of the best movies and TV shows available on HBO, Amazon Prime, Showtime and Hulu, check out Vulture's What to Stream Now hub, which is updated throughout the month.