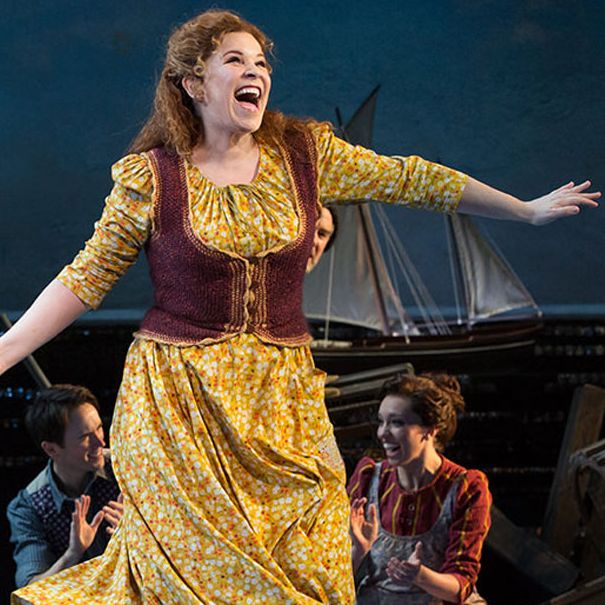 Lindsay Mendez in
Carousel
.
Photo: Julieta Cervantes
"Delightful," a man sitting behind me at a recent performance of Carousel shout-whispered the first time Lindsay Mendez left the stage. This would not be the only time he'd do this throughout the nearly three hours we'd spend in the theater. He's not wrong; Mendez, as the kindhearted Carrie Pipperidge, is delightful. You want to be friends with her. You want to eat some clams with her. You want to take her by the hand and chat about love and men and the world. Vulture caught up with Mendez, who is nominated for Best Featured Actress in a Musical, to discuss stepping into the role that won Audra McDonald her first Tony, perfecting that Maine accent (as you read, please imagine large portions of the interview were spoken without the letter "r"), and what it's like when your first Broadway soprano role involves sharing the stage with Renée Fleming.
Congratulations on the nomination. How does that feel?
I was definitely surprised and I'm so proud to just be in Carousel. I love the piece so much, but I think this just feels extra and awesome and I'm still not totally in my body that it's happening. I think maybe when I'm at Radio City, I'll actually be like, "Oh okay, yes, this is the Tonys," but for now it's a little out of body.
Let's rewind. Tell us about the audition process.
Well, I got the material and I thought that it was strange that they were considering me for Carrie, because I didn't feel like I was necessarily screaming Carrie. But after they sent me the materials I was like, "You know what, I actually think I know who this person is and I think I can do this in a really fun way." I went in and did the material once for Jack O'Brien [the director] and the creative team and they really loved it. They were like, "Can you come back and do it for our producer in half hour?" I did and then I left the building and on my walk to the subway they called me. So, it was the quickest job I've ever gotten.
When you say you don't see yourself as "screaming Carrie" what do you mean by that?
This is an ingénue-soprano part. Those things don't exactly scream me, at least not my perception of me. I'm a Mexican girl from California and I never grew up thinking I could be in a Rodgers and Hammerstein musical. I didn't really see myself in that. Not that I didn't grow up loving Rodgers and Hammerstein, but I don't know, I just never put myself there. I usually do contemporary stuff and I've never done a soprano role on Broadway before so, it definitely felt out of my comfort zone. I tend to thrive best when I'm terrified, so I thought, why not?
If you're going to be terrified of singing soprano, "Mister Snow" seems like a pretty good place to start. A classic audition piece for anybody who has ever owned a copy of The Singer's Musical Theatre Anthology and participated in high school theater.
[Laughs.] Yes, it's definitely in one of those books. I have a full musical-theater audition program that I teach consistently, and I teach privately, so I come across the song all the time, too. I think that's what was so fun. I've heard it sung my whole life, but I'd never really taken a look at just how good the lyric is. It's got just gift after gift of jokes and poetry, but also you can tell that in the music, the music doesn't fit, it's not perfect, it lilts and it has these weird turns. You can tell that there's fear there. She's flying by the seat of her pants and planning this life that she thinks she's supposed to have, but she's never actually experienced anything before. Being able to put that into the context of the piece and looking at Carrie and what's happening in her life, I've had so much fun really digging into the lyric. I definitely don't think about it as an audition song anymore.
Carrie Pipperidge is something of a star-maker role. Was that something you were thinking about coming into this?
I knew Audra had done it, but I didn't know the history of it. I knew she played it, but I didn't know it was her first Tony Award. I don't know, I didn't let myself really think about any of that and I didn't watch her ever do it or sing it. I thought that would just wreck me, because I worship her and she's such a legend.
Oh, same.
I didn't really know that, to be honest with you. That wasn't a part of my thinking going into the role of Carrie. But now people say it all the time and it's like, "Oh okay, cool, I'll carry that additional pressure with me."
Of course you're a seasoned performer yourself, but there are some, let's say, hella big names in this cast. What's it like working with Jessie Mueller and Renée Fleming every night?
Oh my god, yes. I was the last person to be cast in the show. I've known Jessie's work, obviously, and I've met her around town a few times, but I'm just such a huge fan of hers, so knowing that I was going to get to be alongside her in this was just huge. I learn from both of them every day and they're just the most warm, wonderful, smart women and we have such a great time in the building. It's a really happy place to go to work, because everyone is so skilled and sure of their craft, but also so generous and kind and we all know we're contributing to this huge piece that's bigger than all of us. I think everyone's just happy to do their part and be alongside everyone else. Especially for someone who's never sung soprano, to be singing with Renée Fleming was terrifying when I started, but she has been my biggest champion and supporter and helped me a lot along the way. She's always my cheerleader and telling me, "Just keep breathing and you can do it." Her and Jessie both gave me a ton of confidence going into the theater. I was just like, "Okay, I can do this," and now it feels easy, but it was a process for me.
There's a real ease to your Maine accent which immediately sets the tone.
The first thing that really helped me find Carrie was taking a look at where these girls are from. They're New Englanders, they're from Maine and the dialect is written into the text. This is in the late 1800s and they're mill-working girls, so they're real down home, salt of the earth people. Also there are no R's in the Maine accent. In California, we talk more horizontally, in Maine it's much more lateral. It took me a long time, we started rehearsal in October, and Jessie and I worked with our dialect coach almost every day for like a month. I got to spend my holidays just talking to my husband and dog in the dialect, which they really loved. I've never done a dialect in a show before. This was my first time and it was intimidating for sure, but now it feels like I wouldn't know Carrie without it.
Speaking of your previous roles, many of which have been in new musicals, does coming into a show with such a storied past change how you approached the role?
I approached it the same way that I do any musical. I think the main difference is that the writers aren't there, which kind of lets you off the hook a little bit. But there were so many things along the way that I thought, "Oh, I wish I could ask what this was or what they meant."
It feels like stepping into the role of Elphaba in Wicked might have a similar feel to Carousel in terms of a show with loyal fans and history.
Well, with Wicked I was stepping into a role that I didn't make, so that felt like I had more boundaries then I did with Carousel. I really got to start more from scratch with Carrie. Also just carrying the load of that show [Wicked] on my back was a lot different than doing this role. This feels much more manageable, vocally and stamina-wise.
I have to ask about the flying. I've always wanted to know what that's like behind the scenes.
There's a lot that has to go into you actually flying and it all happens very fast and in the dark. There are definitely times where you can mess up and you won't fly, because there's a lot of stuff you have to do to get the mechanism to work. So I found that to be stressful, and I had moments where I had no-fly shows, but once I figured it out, it was actually really fun. The one thing I'll say is the apparatus is small, so you're trying to belt these huge notes on this tiny thing. I had to figure out how to make that work.
It's funny that you mentioned no-fly shows, I have a friend who recently turned me onto a K-hole of terrible YouTube videos that is just bootleg videos of no-fly Wicked shows.
Oh my god, that's hysterical. I couldn't watch that.
Sorry, sorry. Let's go back to how it feels to perform for an audience that comes in to the show expecting a piece they know and love.
That didn't really hit me until our first preview of Carousel. I was like, "Oh my gosh, people know this show," like, they're coming in knowing it and my anxiety went up for a while. I thought, "Well, we're gonna give them a new version." I think that's what people are coming away with, that this feels like a new look into the piece and I'm thrilled about that.
There are obviously certain elements of the show, namely domestic violence, that feel both relevant and controversial in the 2018 #MeToo era we're living in. What's different in this production from past versions?
The original show was over three hours, which no one can really stand anymore, so we cut some stuff down. I think in a way it helps, it feels so direct. We have those moments where Carrie holds Julie to task and I'm thrilled that we did that. I think it really helps the audience feel okay, that Julie has someone that's gonna pull her out. Someone on her side. The piece has a lot of baggage around it of course, and so it was important for Jessie and myself and Renée to say, how are we gonna empower these women and how can we responsibly tell this story? For Carrie, that means her falling in love with this man and deciding to marry him and do things the right way. At the end of the play you see her ruling the roost and she grows to be wise and is in charge of her relationship. I love that, I love seeing her growth as she experiences all of this stuff and she takes everything in and then uses it all.
Carrie seems like a complete 180 from Rose, the role you originated in Pasek and Paul's Dogfight. She actually gets a "happy" ending.
She's so different from Rose. I have never played someone who wins at life. I loved working on Dogfight, but when I first read it and wrapped my head around the story I was a little horrified.
The premise of the story — Marines invite women to a party which is actually a competition between the men to see who can bring the ugliest date — is a little horrifying.
I had to step outside of Lindsay and step into Rose and say, "This character deserves this story." It's an awful thing that she goes through, but she ends up changing her own life and the lives of other people. I just fell in love with the story and with her.
There's a similar vibe to Carousel in 2018. Hearing it was coming back to Broadway definitely made a lot of people stop and think, "Hmm, why are they doing this now?" Was that ever a thought that crossed your mind?
There was so much emotional response to Dogfight. You just heard the audience: They were so horrified, they were sobbing, they were joyful at times. I've never heard an audience so loud as I did during Dogfight. It's the same way I feel about Carousel. It's not our job in the theater to make everything okay. It's our job to hold up a mirror to things that happened then and happen now, to be honest with you. To say, how do you feel about that? To send an audience away being like, you think about that. Talk about it. Form an opinion and have an emotional response.
Interview has been edited and condensed for clarity.