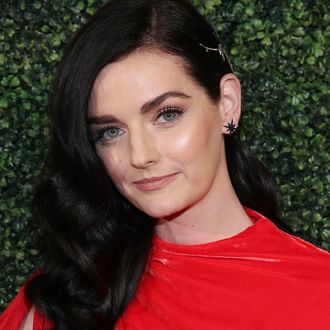 Lydia Hearst.
Photo: Jemal Countess/WireImage
Last week, actress and model Chloe Dykstra said in an essay posted to Medium that an ex-boyfriend of hers, whom she described as "a powerhouse CEO of his own company," had persistently abused her over the course of their three-year relationship. It was assumed that the ex was Chris Hardwick, founder of the Nerdist empire. Hardwick denied the accusations and said he was "blindsided" by them. Hardwick's mother-in-law, Patty Hearst, came to his defense on social media via a subtweet, and now his wife, Lydia Hearst, has issued a statement expressing her support of him. It was obtained by The Hollywood Reporter and reads as follows:
This is not a statement in defense, this is a statement of defense. Defense for all the women who have been sexually abused, raped, trafficked, and tortured; defense of all the people who this movement was started for. Over the last year the #MeToo movement has rightly aimed a spotlight directly on women whose stories needed to be told. As someone who has been involved in toxic relationships in the past, I know first-hand the importance of sharing these stories and do not take this situation lightly.




I have made the decision to come out in support of my husband not out of obligation, but out of necessity to speak the truth about the person I know. Chris is nothing but loving and compassionate and is the only person who has stood by me, never judged me, helped me heal, and feel whole. To defend my husband would be giving credence to any of these accusations. I will not do that. Chris Hardwick is a good man.
Last night, Dkystra posted new comments of her own on Twitter, thanking those who have responded to her with support.
Dykstra claims a pattern of abuse and extreme control that drove her to depression and an eating disorder, while Hardwick claims Dykstra cheated on him and pleaded with him to take her back. He also said, "As a husband, a son, and future father, I do not condone any kind of mistreatment of women." Since the accusations came out, Nerdist has removed Hardwick's name from its website; he's been dropped from San Diego Comic-Con and the Kaboo Festival; had his AMC talk show suspended pending an investigation; and is having his upcoming hosting gig for NBC's The Wall reevaluated by the network.