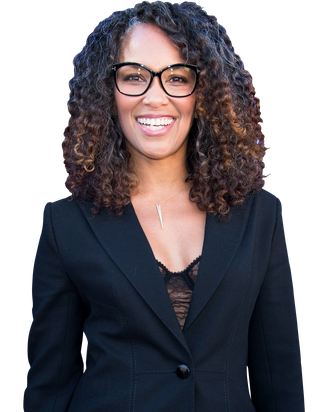 Everywhere you look, love is reclaiming its space. Pete Davidson and Ariana Grande are flaunting their newfound adoration for each other on the 'gram (and with a $93,000 engagement ring). Beyoncé and Jay-Z are confessing the trials, tribulations, and triumphs of their marriage in Everything Is Love. Ella Mai's "Boo'd Up" continues to dominate Billboard's Hot 100 chart. Now, Mara Brock Akil is ready to add to the conversation with the upcoming OWN series, Love Is_.
With over 20 years in the television industry, Akil has created quite a few important and popular shows — especially for black millennial women— including Girlfriends, The Game, and Being Mary Jane. But her new series put the veteran showrunner in uncharted territory. Love Is_, which stars Black Lightning's William Catlett as Yasir and Michele Weaver as Nuri, loosely follows the early days of Akil's decades-long relationship with her husband, director and Black Lightning showrunner Salim Akil. Set in '90s Los Angeles with plenty of era-specific R&B and hip-hop on the soundtrack, the series gives space to air out the complexities found in any relationship, even as it's rooted in a deeply personal story. Ahead of the show's premiere on Tuesday at 10 p.m., Vulture chatted with Akil about learning to be being "fearless," what it's like making a TV show inspired by your own marriage, and why she isn't "hustling and knocking on doors" to make a Girlfriends movie – even though she's written a script.
How did it feel to put something so personal on TV?
I was scared, which is what always catches my interest. When I'm scared, that's where I know I probably need to be. I wanted always to be a storyteller of the fullest expression. Now I'm doing that, and through the process, I have now become fearless. I'm really excited about having that added to my repertoire, but more importantly, I know I needed to be the one to do it because I was so concerned. I wasn't resting on my laurels. I wasn't like, "Oh yeah, I got this, I direct things all the time." No, I'm glad that I was nervous because I wanted to get it right.
What made you decide to make Love Is_?
I've been having a 20-plus year conversation with black women, starting with Girlfriends, moving through The Game, Being Mary Jane, even Sparkle. In Girlfriends, I was exploring the idea of having it all. In Being Mary Jane, I was exploring the idea that you have to be the center of everything. But really, I was exploring this idea about how women are lying — not just black women, but women. Now we're at a tipping point in terms of moving forward.
The women I've been having conversations with, they said, "We want to know how have you done it all" and "Can I write a book?" The idea is "No, I cannot write a book, but I can make it a TV show." It's time to talk about love … love of not just your romantic life, but how do we stay connected to our dreams? How do you stay connected to the people in your life? How do you even create relationships in the workplace? How do you make all of these things work?
Was there any part that was especially hard to write?
I do take creative license in the series, but there's a lot of facts and actual things that happen. The hard thing was episode nine. It's very brave of the both of us and we're offering this part of ourselves so that we can have a deeper conversation. We know we're not the only ones going through this, and we want to share that part of ourselves so that we can talk about how those things affect us in the now. Something that was painful in our past has come back to be a moment in our relationship that further bonded us together. And that was hard, because it's probably gonna require a conversation with our children.
I didn't think about that, how your kids might react …
Yeah, put all our business out in the street. I don't know how they're gonna take it. They're strong youngins themselves, but we know what will come with being so honest.
In the pilot, which details were based on truth and which were embellished?
Well, it's pretty spot on. Salim actually was walking down Melrose in his underwear, but he was passing them off as biker shorts — it was the style at the time. We literally walked down that stretch of Melrose when we saw each other for a second time, we were literally in that furniture store. Funny enough, the woman who owned it, she just became owner at the time that we met in '97 and she still owns it now. That was the actual corner in which we had that exchange. The essence of the series is always gonna be really close to the truth. Oh! And I cut my hair. We had the actual Michele Weaver get her hair cut by the same guy who cut my hair.
It's cool that a lot of the same people are still there, so you're able to revisit it years later.
It's magical, actually. Even though they exist, it doesn't mean they'll say yes to you shooting in their location or that you can afford to shoot in their location. Here's a fun little tidbit, on the day that we shot on location for the Melrose: In the far back corner, there are posters of Black Lightning and literally the night after we wrapped, they came down. It was like that kind of magic that kept happening around the show. It was just …
Serendipitous.
Yes, it really was. It gave me a lot of comfort in an effort to be fearless. I really felt like God got me.
What can we expect for Black Lightning season two?
Salim is the vision of that. But it's gonna be lit. I'm telling you that.
The Girlfriends hive would be mad if I didn't ask: Is there any chance of a reboot or movie?
Yeah, you can tell any studio in town: If they got 50 to 60 million, I already have the script. We can make an epic story and we can make a lot of money, but me hustling and knocking on doors begging to do this story is not where it is anymore. It deserves somebody to see the value in it and write that check. That's what it's about. People often think I have the power. Well, I have a lot of creative input, I know the vision of it, but I need the money. That's what this industry is all about — supporting artists and supporting storytellers and hearing the audience for what they want and need. There still is a lack of value for what black women want, yet we have proven to be one of the strongest consumers in the marketplace. Yet we still are undervalued about what we want and need So, yeah, I have a script. It'll be great. But I can't keep worrying about that and hustling that because I wouldn't have come up with Nuri and Yasir. I wouldn't have helped launch Black Lightning. I have a lot more stories in me. Begging someone to see the value of Girlfriends, I can't do it anymore.
Just to clarify, is it a script for a movie or a reboot?
I have a script idea for a movie.
This interview has been edited and condensed for clarity.