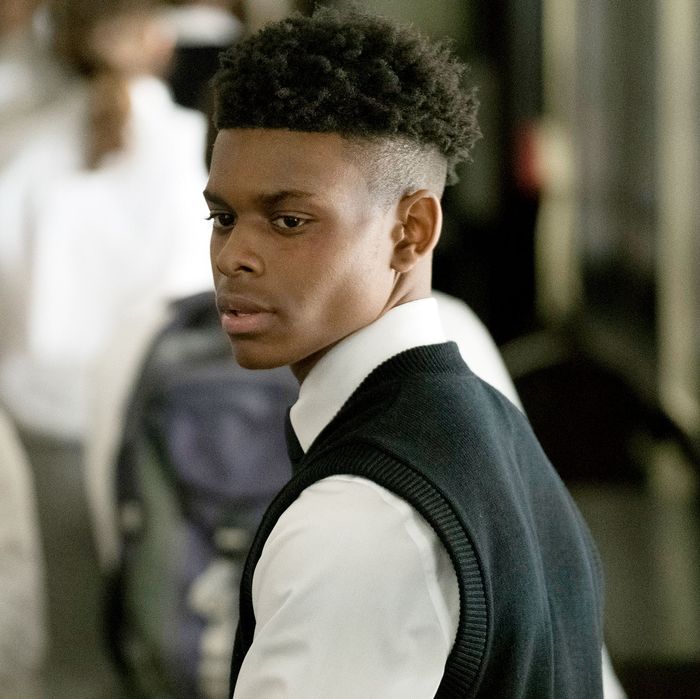 Aubrey Joseph as Tyrone Johnson in
Cloak & Dagger
.
Photo: Alfonso Bresciani/Freeform
Superpowers aside, and heroes and villains aside, there's an underlying tension throughout the premiere of Freeform's Cloak & Dagger. Its protagonists, Tandy and Tyrone, are living in New Orleans, a city that's wildly stagnated in race and class relations. And in the series opener, we're given a literal Tale of Two Cities: Tandy comes from a world of ballet lessons and slippers uptown, while our introduction to Tyrone features him "reacquiring" a car stereo, stolen from his brother, in the significantly less glossy Ninth Ward.
But neither of their backgrounds is seamless enough to prevent them from avoiding the series' catalyst: An explosion from a boat accident by Roxxon Energy, and two simultaneous tragedies, imbue Tyrone with the ability to "cloak" and teleport himself, and Tandy with the ability to create glass "daggers" with her bare hands. In a lot of ways, it's the quintessential Marvel story, and also one that lends itself to the series' setting as well — two people from wildly different lives are forced (a little less than willingly) to come to grips with one another. But Cloak & Dagger is also something we haven't seen from Marvel in years: a canon without the baggage of legions of fans, expectations, and pre-loaded storylines.
We spend most of the first episode (directed by Gina Prince-Bythewood!) inching Tandy and Tyrone together: In a new-enough twist, it looks like their respective families have swapped rungs along class lines. With Tandy's father dead (having crashed their car, with her inside, into a lake), her mother has slipped into an addiction to painkillers, beside halfhearted attempts to strike a case against Roxxon Energy. Tandy has moved out of their home and into an abandoned church. In her free time, she steals from rich kids with her sort-of partner, Liam. After one close run-in with a white guy in a nightclub, having followed him back to his place and drugged him and cased it, she decides that they aren't making enough cash — but Liam's heard about a party for private school kids in the woods. It sounds like an easy target. Tandy agrees.
It's a party that will be attended by Tyrone, who's fresh off of getting kicked out of his high school's state-qualifying basketball game. His parents chalk it up to aggression, and he chalks their accusations up to the death of his brother, Billy, who was shot in cold blood by a cop when he was a kid (a killing that Tyrone paid witness to, before falling into the same lake that Tandy's father flung their car into). The guilty cop was never charged, and a case never came to fruition. While Tyrone's parents have attempted to move on, Tyrone can't bring himself to do that.
But life around him went on, and Tyrone drifts through the motions of high school regardless. He's invited to that party in the woods by a young woman with a crush on him (in one of the episode's more natural interactions) — and it's where he meets Tandy, for the second time in their lives, unbeknownst to either of them.
Tyrone stumbles across his words, while Tandy plies gracefully for the two of them. But their conversation comes to an end. Tandy robs Tyrone. And, in the ensuing chase scene, after bouncing away from each other in a beam of brightness, resurfacing their respective powers, the heroes' "connection" comes to light — they come to the realization that they were the children who'd survived the accident way back when.
Honestly, if the chemistry between Holt and Joseph weren't so captivating, it'd be cringeworthy to sit through bouts of their narrowly meeting one another "out of the blue," only to be strung along by the episode's whims. But that isn't the case. They really are a joy to watch together. And both actors lean into their roles, allowing their characters to give and take from each other. If it's any indication of things to come, we have a lot to look forward to.
But the next day, Tandy attends a ballet with tickets she stole from her mark (the nightclub white guy) earlier in the episode, and after the performance, that guy runs her down with a pack of his friends. They corner her in an alley, and in the midst of assaulting Tandy she conjures a "dagger" and stabs the guy in his gut. It shocks the two of them, but Tandy doesn't linger to ask questions. She takes off leaving herself and the viewers wondering if her assailant survived the encounter.
And on the other side of town, Tyrone has his own run-in with the past: He finds himself finally, inadvertently, facing down the cop who murdered Billy years ago. After (another) chase scene, he finds himself at gunpoint with the man, but in a bout of quick thinking, he "cloaks" himself, only to find himself teleported safely away from the situation.
We end the episode with both characters reeling in confusion: Their pasts have resurfaced, despite how far they've come and the time that's passed. It looks like we'll spend the series seeing what it looks like when they finally crash into one another. But if Cloak & Dagger works — and if this introduction alone is any indication, it certainly does work — that success rests on its two protagonists. If Olivia Holt and Aubrey Joseph are allowed to maximize their chemistry, we could find ourselves with a challenging, engaging season of heroes in a landscape that's largely lacking those. Cloak & Dagger doesn't set out to combat the expectations of a Batman or a Spiderman, or even a Teen Titans — but with a free-flowing story line, loose dialogue, and dynamic characterization, the bar the series sets for itself could exceed even the expectations established by those respective fandoms. And that's saying a good deal.