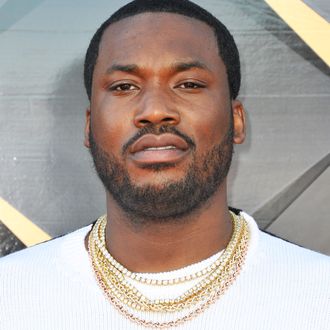 Meek Mill.
Photo: Allen Berezovsky/Getty Images
On Monday, the controversial judge in the Meek Mill's ongoing criminal case announced that the 31-year-old rap star would not be granted a new trial. "After an in-depth review of the record, court history, notes of testimony and evidence submitted at the evidentiary hearing," Judge Genece Brinkley said, according to court documents, "this court hereby denies defendant's petition for PCRA relief as the defendant failed to meet his burden of proof."
Mill's persistent legal problems stem from a now decade-old drug and gun charge that initially landed him behind bars for six months before completing mandatory community service in which he was barred from performing. Mill has been on probation ever since, which the judge in this controversial case says he flagrantly violated twice.
Throughout the case, Mill's attorneys have repeatedly asked the judge to step down, citing personal conflicts and perceived bias over her approach to their client. At one point, Judge Brinkley allegedly asked Mill to cover Boyz II Men for her.
The newest announcement comes more than a week after hundreds of Mill's fans rallied outside the Philadelphia criminal-justice center asking for the charges in the case to be dropped or that the rapper get a new trial. During the rally, Mill told his fans he was "fighting for my freedom," and vowed to stand up for others he says have been unjustly incarcerated, people, he said, "caught up in darkness who don't have the support."
Mill's case has stirred up a lot of discussions about mass incarceration, particularly as it relates to young black men. Add to it the fact that the District Attorney's office in Philly supported Mill's request for a new trial based on the fact that the arresting police officer in this case has been charged with lying under oath. The state's governor also supported Mill's efforts.
With so many community leaders, legislators and lawyers supporting Mill, Brinkley stunned everyone last year by sentencing the "Wins and Losses" rapper to two-to-four years for parole violations. The Pennsylvania Supreme Court released Mill in April pending a new hearing.
"We are not surprised by Judge Brinkley's decision," said Mill's attorney Joe Tacopina. "Despite the agreement of the District Attorney's office on the need for a new trial, and the granting of new trials to other identically situated defendants, Judge Brinkley made clear during the hearing on June 18th that she had already decided the matter. We continue to believe that this miscarriage of justice will be corrected upon further review, and that the public's confidence in the impartiality of the judicial system in Pennsylvania will be restored."
On Sunday, Mill gave a surprise performance at Avenue nightclub in L.A. after performing his new single, "Stay Woke," at the BET Awards. Wearing a "Guilty Until Proven Innocent" tee, the rapper said he collaborated on the line with Puma to benefit the nonprofit Gathering for Justice.
After the BET performance, Mill's friend comedian Kevin Hart, tweeted, "So happy & proud of my brother @MeekMill …..Great performance…Great message…STAND UP PHILADELPHIA!!!!!"