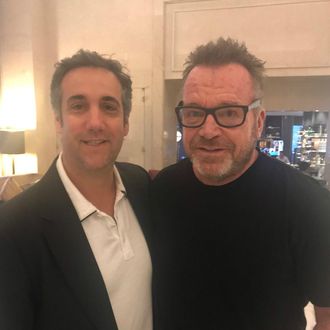 Michael Cohen and Tom Arnold.
Photo: Twitter/@TomArnold
Now, clearly Tom Arnold wanted you to get your hopes up about Michael Cohen giving him the dirty tea on Trump when he posted a selfie with the president's beleaguered lawyer yesterday. Arnold is, after all, currently creating a show for Viceland entitled The Hunt for The Trump Tapes, in which the actor attempts to unearth evidence of Trump wrongdoing. Unfortunately, both men took to Twitter on Friday to confirm their meeting was not a collaboration for the show, they didn't dicuss the president, and, even sadder, they do not hang out as buds on the regular.
Tweeted Cohen on Friday evening about the photo, "This was a chance, public encounter in the hotel lobby where he asked for a selfie. Not spending the weekend together, did not discuss being on his show nor did we discuss @POTUS." His message affirms Arnold's much cheekier denial, which the actor issued earlier in the day. "Michael Cohen didn't say Me & him were teaming up to take down Donald Trump!," he tweeted. "Michael has enough Trump on his plate. I'm the crazy person who said Me & Michael Cohen were teaming up to take down Trump of course. I meant it." So, there you have it. The pair just happened to run into each other and talked about whatever it is they could possibly talk about besides a hypothetical Trump tape. For example, Laurie Metcalf's tour de force acting abilities?