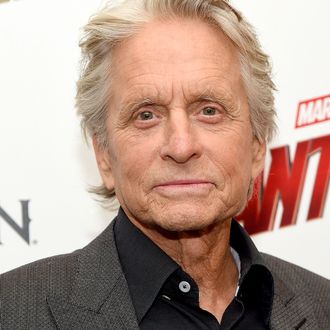 Michael Douglas.
Photo: Jamie McCarthy/WireImage
Dr. Hank Pym, a father, a scientist, and the first adopter of the Ant-Man suit, is proud of his super-daughter. And why not? The Wasp, played by Evangeline Lilly, is a badass, kung fu Tinkerbell. Just look at this sequence. She got her wings before Ant-Man (thanks, dad!), and there's no doubt that the true star of Marvel's forthcoming Ant-Man and the Wasp could take him. When asked who would win a fight if the two were to battle, Michael Douglas, who reprises his role as Pym, said the Wasp. "The Wasp would probably win since she's been well-trained," said Douglas, on the red carpet on Wednesday night at a screening of film, hosted by the Cinema Society with Synchrony and Avion. "I was her father. Janet was her mother, the actual Wasp. Whereas Scott, the part Paul Rudd plays, kind of came to this ass backwards. He was a burglar that stole my suit. He's just kind of learning how to do all this stuff, where she's got it."
Later, when Vulture asked Ant-Man (Paul Rudd) himself what would happen if he and the Wasp were to fight each other, he said, "I don't even want to go there."
Case closed. Hear that, Evangeline Lilly? You win everything.