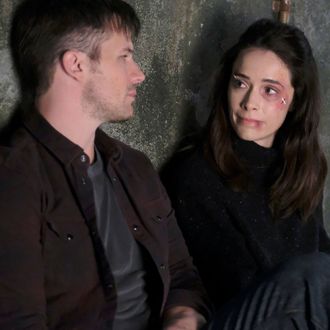 Oh no, Lucy and Wyatt!
Photo: NBC/Patrick Wymore/NBC
Timeless has been canceled for a second and what seems like will be final time. After killing and bringing back the series after its first season, NBC canceled Timeless today after its second season aired to modest ratings. Still, according to Deadline, the network may work with Sony Pictures TV to make a two-hour movie to wrap up the show's story (somebody save Rufus!). It's not the most likely, but stranger things have occurred. Someone get in the Lifeboat and make sure this happens.