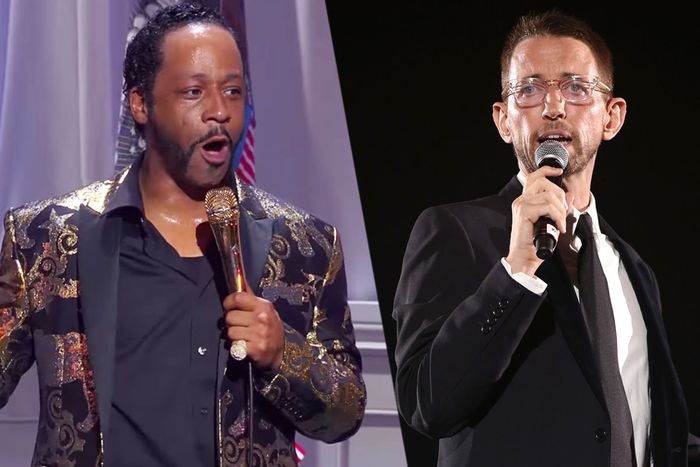 Photo: Netflix/Getty Images
Looking for some quality comedy entertainment to check out? Who better to turn to for under-the-radar comedy recommendations than comedians? In our recurring series Underrated, we chat with writers and performers from the comedy world about an unsung comedy moment of their choosing that they think deserves more praise.
After last year's critically acclaimed and emotionally exorcising 3 Mics special, Neal Brennan needed a release valve. The writer (The Daily Show With Trevor Noah), director (Michelle Wolf's HBO special Nice Lady), and stand-up is back on the road embarking on his Here We Go national tour, which kicked off in Chicago last night and makes stops in Milwaukee and Indianapolis this weekend.
The tour finds Brennan returning to form after experimenting in the confessional, revelatory realm that came with the personally raw subject matter of 3 Mics. "I don't really have any more sad stories to tell," Brennan tells me over the phone. "I'm sorry if that's what you've come to expect. Here We Go is just stand-up. It's jokes. It's just one mic. I'm keeping it nice and light. I got [the sad stuff] all out of my system."
Perhaps because Brennan is back in stand-up mode, he decided to talk about fellow comic Katt Williams's Great America Netflix special from January as an underrated comedy moment that has recently excited him. But not the special as whole — just the electric opener where Katt, in his inimitable animated style, describes in painstaking detail what he loves about the city of Jacksonville for over ten minutes straight (the special was filmed at the Florida Theatre). Katt takes a tried-and-true angle of generic crowd work and transforms it into something so impossibly specific and perceptive that to put it into my own words wouldn't do justice to Katt's.
It's funny – I never once thought to include Katt in an "underrated" conversation. Great America proves he's still got it.
Here's the thing — I don't think Katt is underrated. I want to talk specifically about the 12 minutes he opened his special with about Jacksonville, Florida.
Why this particular opening bit?
It's like comedic malpractice. It shouldn't work. But yet at the end of that 12-minute opener, I feel good. I'm in the palm of his hand. You know, most comics will come out and shout out the city they're performing in. Chris [Rock] famously did D.C., Chocolate City, for Bring the Pain, so of course he mentioned Marion Barry at the top. Everybody who plays New York will open with a food or neighborhood bit, yada yada yada. But to do 12 minutes on America's, like, 30th most populous city? The commitment alone is hilarious. And miraculously, you stay with him the whole time.
Why do you think it shouldn't work comedically? Is it overtly pandering to the hometown pride of the audience?
Honestly, it shouldn't work statistically. I'm looking at the stats for Jacksonville as we speak. So it's a city of 800,000 people. Sixty percent white, 37 percent black and Latino. That's pretty impressive for a major city. Percentage-wise, that's a large amount of black folks. At the same time, you're on a worldwide platform. Why should we care about Jacksonville? Katt just makes you care. He makes Jacksonville sound like the most interesting city on the planet.
He even dives into the specificity of the county.
"This the most famous county in the world!" And I had to look it up! I still didn't know the county. I thought it must be Dade, but it's not Dade. It's Duval. "People know the county and don't even know the city!" Every comedian friend of mine was texting each other, "Hey, do you know where I can find 12 minutes on Jacksonville?" We were all making fun of it, but we also all had the same conclusion, which was that it was still really funny. It's like he works for the Jacksonville Chamber of Commerce. I've never seen someone actively try to get the key to the city. Again, to punctuate all of this, I say it with awe because it totally works.
Even when Great America starts, Katt is introduced onto the stage as "the king of underground comedy." Why do you think Katt isn't readily accepted as a mainstream comic even as he packs theaters and is putting out specials on Netflix?
Because he's never turned to white people for help. You know what I mean? He's done HBO specials. He's done Netflix specials now. But he wasn't on a Disney sitcom. He didn't do the traditional late-night set route. He doesn't really "play ball," so to speak. He's like a street legend. He's in trouble with the law all the time. There isn't an image he tries to maintain. Sadly now when you hear about him, it's usually legal troubles. Katt is a modern success story yet he still feels like a throwback to another era.
I think there's a lot of prejudice towards comics who cut their teeth on the Def Comedy stage that are largely informed by race and class. I don't think white audiences accept Def stand-ups until they pivot into a "truth teller" role like Chappelle or something a bit more accessible like Kevin Hart. Katt is still very raw.
He's also more act-out oriented. His stool game is the greatest of all time. It's unprecedented what this guy can do with the stool. He'll ride it like a motorcycle. He'll hide behind it like an elephant leg. He can just do a lot of stuff with it physically. I'm sure he's worn it at some point. Look, there are still a lot of comics that are like Katt who are underground legends who don't get the sort of fame or notoriety he has or can play big arenas or theaters. There are guys that are as Def Jam-y as him but they never figured out how to translate it to a bigger stage. He's sort of his own thing. He might be on tours with other people, but Katt just goes his own way. He's such a unique dude.
Can you pinpoint a particular trend or trait that might've pigeonholed Katt in that "underground" box?
It's the legal troubles. Plus, I think Katt was really the last guy to make it almost off of just word of mouth. It wasn't "viral." I don't remember when The Pimp Chronicles, Pt. 1 came out, maybe like '05 or '06. The thing people don't remember is YouTube is only 12 years old. There was no YouTube fame. He was just a comic with an HBO special that had an all-timer bit about Michael Jackson. Dude just has incredible bits! It wasn't like, "and then this comedian got a sitcom on Thursday night on NBC!" Katt didn't parlay it into anything. No, he was a comedian first. Sure, he did movies from time to time, but he's a comedian and a person. It was never about him capitalizing on this for something else. A lot of comics don't mind being — or just want to be — comedians. Like, that's enough.
Remember when he was on Wild 'N Out?
That was one of the first things he blew up off of! When you watched that show and saw him perform, you knew it was an inevitability. He was this stand-up guy on an improv show and you'd go, "Who is that? He doesn't remind me of anybody. He's not like anybody I've seen before." Sort of like 50 [Cent] with those early mixtapes, sometimes you can overpower perception and the entire industry you're in. Like, even though he's on Shady Aftermath, arguably the biggest hip-hop label in the world at the time, you were still asking yourself how you got that tape at a store.
Great America doesn't avoid talking about the current administration, but nothing feels immediate or ripped directly from the headlines. Katt speaks to topical moments with a distance. You, on the other hand, are much more direct in your comedy — especially now with your segments on The Daily Show. Care to weigh in on the Roseanne and Samantha Bee controversies?
I think Samantha's was just stupid, and the blowback was even more stupid. Samantha made a bad choice. Roseanne has a track record of being racist. All these people are saying she may have been on Ambien or drunk or whatever. I literally saw somebody say, "That [shooting schedule] almost killed her!" She wrapped in December, dude. What are you talking about? She had five months to get her sleep schedule right. Roseanne is genuinely racist. It's not the first time she tweeted something like that. That's the first time Samantha has called somebody a cunt. That's the first one. For Roseanne, it's a repeat offense.
After he was elected, you went on record saying that comedy won't save us from Trump.
Sixteen months later and that is still my diagnosis.
Trump inserted himself into the comedy world by condemning Samantha and defending Roseanne. His followers made it into a bad-faith free-speech issue, failing to realize the false equivalency between Samantha's crude word and Roseanne's racism.
They don't care. They just want their guy to win. They don't care if he's immoral. Mostly they just want their money and to feel justified in hating poor people for "leeching" off society, even though that's what Medicare and Medicaid are and their parents are on it, if not them personally. It largely can be tracked back to: "These brown people are doing 'blank.'" You know that white lady calling the cops on the barbecue? That is basically what Trump voters did with the election. They went "Hey, this black guy is the president and I don't like it. Can you send somebody out?" And they sent Trump. That's how I feel. If you just want money and tax cuts and stuff, fine — just stop acting like you're moral. That's the thing that drives me crazy. You're not moral. You can't say you're moral and you can't say that you're consistent. I get that money is important, and it's scary to think that you won't have enough. At the same time, we can set up reasonable social safety nets and take care of everybody.