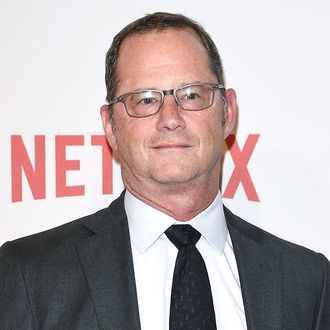 Jonathan Friedland.
Photo: Jacopo Raule/Getty Images
Netflix has fired its top communications executive after he used the N-word in a meeting with other Netflix staffers. According to The Hollywood Reporter, Netflix employees reported that Jonathan Friedland made "insensitive" remarks to his team. Netflix CEO Reed Hastings sent a company-wide email explaining Friedland's firing Friday afternoon. Friedland had been at Netflix for six years, joining in February 2011 as the vice-president of global corporate communications.
Friedland confirmed his exit to THR. "I'm leaving Netflix after seven years," said Friedland in a statement to the magazine. "Leaders have to be beyond reproach in the example we set and unfortunately I fell short of that standard when I was insensitive in speaking to my team about words that offend in comedy. I feel awful about the distress this lapse caused to people at a company I love and where I want everyone to feel included and appreciated. I feel honored to have built a brilliant and diverse global team and to have been part of this collective adventure in building the world's leading entertainment service." He tweeted the same statement, adding, in a since-deleted tweet: "Thanks. Rise high, fall fast. All on a couple of words…"
Netflix has yet to announce a replacement.