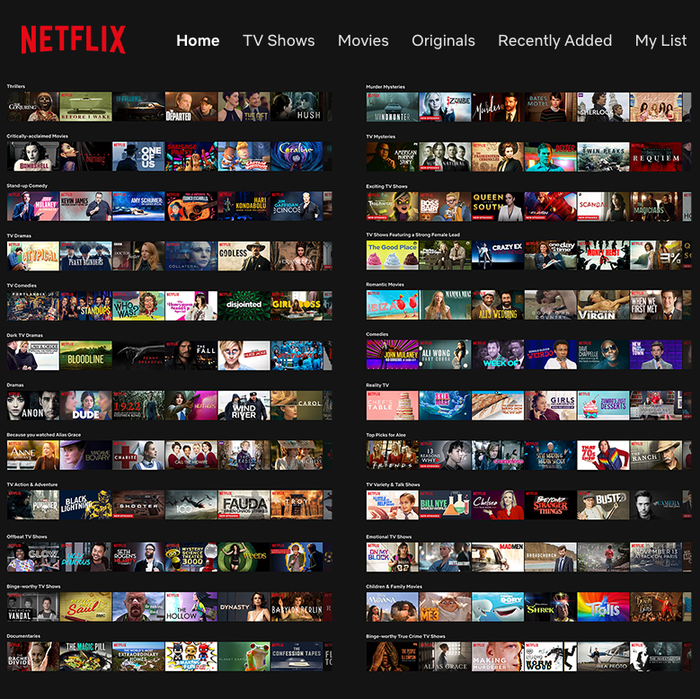 All this week, we're publishing a series of pieces to accompany our New York cover story going behind the scenes of Netflix.
One of the most frequent complaints Netflix's critics lob against it is that, in its rush to scale, too many of its shows (and movies) are getting lost. With the company now issuing almost daily press releases — about a new project, a renewal, or a content deal — it certainly is hard to keep up with everything Netflix is making. And even Hollywood agents whose clients desperately want to do deals with the streamer concede overload can be an issue. "The Achilles' heel of Netflix is that a lot of the content feels very disposable," one veteran talent rep tells me. "Creators and stars want to feel special, and they want to know the audience is responding to their work." Netflix content, the agent argues, too often "doesn't feel as special as it needs to feel."
Netflix execs vigorously dispute the idea shows or movies are disappearing amid the endless rows of programming. Todd Yellin, the Los Gatos–based Netflix VP of product — among other things, he oversees everything about how the tech of the service works — gets particularly animated about the matter. "This one is frustrating," he tells me. "These myths that the competition puts out there, and the media fuels, are absurd." Far from vanishing within the deep Netflix library, he says, most Netflix originals get far more viewership than if they existed on other platforms (or, in the case of movies, played in theaters). "It doesn't matter if it's a niche doc, or a huge TV series or movie, we are able to unlock more viewers than anyone," he says.
Yellin argues that critics underestimate the ability of Netflix's fabled recommendation engine to put eyeballs in front of shows and movies. Rather than pushing every title to every member the day it premieres, Netflix targets content to customers based on their past viewing habits. That means a big-budget movie such as Bright might not get play on your Netflix home page because there's a new documentary or stand-up special Netflix thinks is better suited to your tastes. "It's about getting that title to the right person," Yellin says. "If we plastered the whole service and everyone got Bright, what would happen to that documentary? We are able to unlock audiences for titles that you wouldn't expect. That argument applies as much to a big Shonda [Rhimes] or Ryan [Murphy] show as it applies to an indie film or documentary we're also putting up on the service." Yellin notes that director Ava DuVernay's award-winning documentary 13th was seen by "millions and millions" of viewers because of Netflix's ability to connect the show to an audience, something that might not have happened had the film had a more traditional theatrical release.
DuVernay agrees with Yellin's assessment, and goes further: Netflix critics who bemoan what the service is doing to the film business are missing a larger cultural reality. "When you talk about getting lost, [it] prioritizes a certain privilege that women filmmakers, filmmakers of color, and certainly women filmmakers of color — specifically black women — don't have," she says. "My concern isn't being lost, my concern is being somewhere, period." Because of Netflix (and streaming in general), "there are so many filmmakers who are gaining audience, who are asserting presence," DuVernay adds. She cites Moonlight director Barry Jenkins's first film, A Medicine for Melancholy, as a movie that would've benefited from exposure on Netflix. "People think he was just born with Moonlight, but he'd already made this beautiful film that was released traditionally in the way that all these traditionalists demand that their films be released, in cinemas, through IFC," Duvernay says. "Most black people didn't see that movie. All kinds of people didn't see that movie! If it was on Netflix, I'm telling you, they would've seen it. The point is for stories to be seen."
To make sure that happens — that movies and TV shows don't just fall into a content Matrix — Netflix has started relying on more than just its tech. It's also dramatically increased its marketing budget, with plans to spend $2 billion on external promotion this year, about 60 percent more than it did in 2017. Part of that budget goes toward a huge marketing, social media, and public relations team, numbering hundreds of staffers worldwide — much larger than most broadcast and cable networks. You'd think Netflix wouldn't have much need for marketing, given what Yellin's team is able to do through tech. And indeed, in an ideal world, "we're much better off if Netflix itself becomes the primary promotion engine for our titles," marketing chief Kelly Bennett says. But with the company still looking to dramatically expand its membership base, Bennett says outside advertising and social media help spread the gospel to nonsubscribers, while hyping content current users might have missed, despite the best efforts of the algorithm.
During multiple visits to Netflix this spring, I was able to see just how Netflix's marketing efforts work. I sat in on several meetings with the company's various social-media teams, led by former PR exec Eric Pallotta. What struck me was how granular some of the discussions were. You'd expect to see Netflix plotting ideas for how to promote season two of GLOW, but I also watched as one team spent five minutes picking apart a comedic viral video designed to engage Lost in Space viewers — in Canada. There was a debate over how to promote Netflix's true-crime and cult documentaries to members in Australia. Staffers on a relatively new Netflix social-media handle called Strong Black Lead talked about a video they'd worked on that used scenes from first-year comedy On My Block to explain why representation matters. One of them was so proud of how it turned out, she brought it to Ted Sarandos, Netflix's chief content officer, for him to watch.
While all TV networks now make extensive use of social media to promote their shows and brands, Netflix's efforts are, like everything else about the company, much more ambitious. Pallotta wouldn't put a specific number on the size of his staff, but said the company has "people in basically every major market around the world" (and Netflix is currently available in 190 countries). Based on conversations I've had with execs at some big linear networks, that's a considerably higher head count than average. "I don't want to disparage the other networks, but I just don't think that they make that same investment to try to go that deep," Pallotta tells me. "The social team isn't just a small group in the corner."
Pallotta's team tries to work closely with producers and actors to use social media to build out the worlds they've created with their series. And while some shows lend themselves more to social-media activity, "we have someone covering every single title," he says. The BoJack Horseman Instagram account, for example, imagines what the title character's daily life living in Los Angeles looks like. And when One Day at a Time snagged a season-three renewal earlier this year, Netflix helped producers with a video featuring the cast celebrating.
As Bennett noted, despite Netflix's ability to personalize its marketing messages to members via its algorithm, "right now, there are things that the algorithms just aren't capable of doing," Pallotta says. That includes building audience engagement with Netflix series, which is a challenge for a nonlinear service like Netflix, where shows don't air once a week at the same time and audiences often watch episodes weeks or months after they premiere. Even when a show goes away, someone at Netflix is still thinking about ways to connect with subscribers who are just starting to watch it. "Every night is a premiere night for someone," Pallotta tells me. "So even if we are not making new episodes of a show, there's always someone who's discovering it."