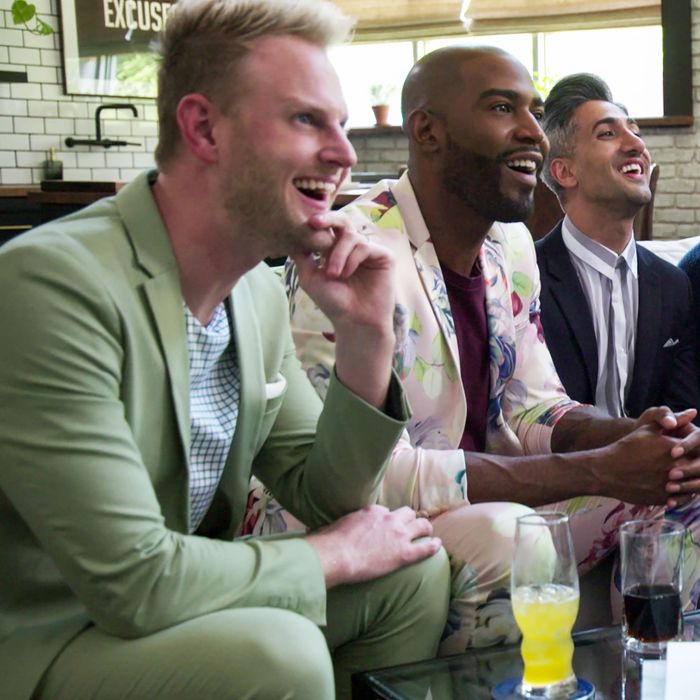 Queer Eye
returns for a second season on June 15.
Photo: Courtesy of Netflix
All this week, we're publishing a series of pieces to accompany our New York cover story going behind the scenes of Netflix.
Having already broken through with comedies and dramas, Netflix is now making a massive effort to conquer the wide world of unscripted TV. You've probably already seen (or at least heard of) some early offerings: the new Queer Eye; the intentionally comedic cooking competition Nailed It!; talk shows from Michelle Wolf, David Letterman, and Joel McHale. But just as it has with other genres, Netflix is planning to dramatically scale up unscripted, with up to 50 reality and talk shows slated to launch this year and more in the works for 2019. The planned output is so vast, the unscripted team has been traveling to various Netflix outposts around the world to give other staffers a look at how current shows are performing and to preview what's in the development hopper. Spoiler alert: It's a lot.
During an April visit to the company's gleaming new headquarters in Hollywood, I was able to sit in on one of these 90-minute sessions. Netflix is calling it a "road show," since the same presentation will be given over the next few weeks at Netflix HQ in Los Gatos, and offices in Singapore and Amsterdam. At least 100 employees from various units gather in what's basically a small movie theater as Bela Bajaria, a longtime NBC and CBS executive who joined Netflix at the end of 2016, opens the event with a status update on how unscripted shows are performing among Netflix subscribers. Like everything else at Netflix, original unscripted content has gone from barely existent (Chelsea Handler's now-dead talk show was its best-known series for years) to seemingly omnipresent in a matter of months. From this sudden volume, Netflix wants to figure out how subscribers interact with nonfiction programming: "We're going to learn a lot this year," Bajaria says.
She's only at the mic for a few minutes before turning things over to other execs, starting with Brandon Riegg, a former NBC colleague Bajaria recruited to be her top lieutenant for unscripted. He talks about how Netflix's status as an international company means it needs to apply a different lens to the production of reality shows, and explains how much of a potential opportunity there is in the space. An exec from Netflix's research team offers some insight on how the unit's originals are doing. One of the preconditions of letting me into the meeting was that I not divulge any specific data, but one nonspecific factoid stood out: More people have already watched McHale's new Netflix show than ever watched it on E!
As the road show goes on, there's lot of talk about planned experimentation: Netflix wants to do interactive reality shows and try to see if it can do competition shows where audiences vote, à la American Idol or The Voice. There 's a plan to do some short-form reality content, including something called Cooking on High. It's a cannabis-themed cooking show where each of the first season's 12 episodes will be a brief ten minutes. The splashiest project previewed, however, is a music-themed docuseries called Westside, and it's clear Netflix is hoping the show will generate the same sort of viral buzz as this winter's Queer Eye revival. Jenn Levy, a Bravo expatriate, outlines the concept of the show, which is being produced by Love Productions (the company behind The Great British Bake Off) and Madwood Studios. "It's a really never-done before approach to a docu-soap," she says. "It tells the story of nine aspiring musicians living in Los Angeles, working together, hanging out together. There's character development and plotlines you find in some of our best scripted series. But it's all done in a really raw and authentic way." And then there's the twist: "The hook is, they also break into song," Levy says. "Think The Hills meets La La Land or Glee with a whole lot more edge."
On paper, it sounds like it all go horribly wrong — the Cop Rock of reality shows. But when Levy plays a work-in-progress sizzle reel — featuring a bunch of passionate 20-something artist types emoting their heart out about the usual struggles of youth, as the final track of M83's Hurry Up, We're Dreaming plays in background — there's big applause from the group, and it doesn't sound like a pro forma "yay, team" reaction.
A few more unannounced projects are highlighted, including a big talent get for Netflix: British comedian Jimmy Carr, host of the long-running Channel 4 show 8 out of 10 Cats. He'll bring the panel format to America with The Fix, which will be produced by Embassy Row, the company behind Netflix's Beyond Stranger Things talk show. Each episode will have Carr and two permanent team captains — D.L. Hughley and Katherine Ryan— interacting with guest comedians and actual experts to tackle a massive issue facing the world (all in a comedic fashion). Netflix is also leaning into the confectionary category with Sugar Rush, a baking competition from Magical Elves (the producers of Nailed It!) where speed is key. Noted pastry chefs Candace Nelson and Adriano Zumbo will act as judges; Hunter March is set to host.
After the presentations are over, Riegg opens the floor to questions. A female staffer asks about the possibility of crossovers between various Netflix unscripted shows. "I don't always watch cooking competition shows, but I'd watch if Antoni were on it," the woman says, referring to one of the stars of Queer Eye. "That would get me into verticals I'm not super into." I suddenly hear the voice of Netflix chief content officer Ted Sarandos behind me; he'd slipped in from the back at some point during the presentation. He offers praise for the presentation, comments on some of the concepts mentioned, including the idea of testing out short-form unscripted content. Netflix is "agnostic" about the length of shows, he says: "We just want people to watch." He also brings up an earlier discussion about how the new Queer Eye has performed on the service. The viewership and completion stats are great, it seems, but the unscripted execs were a bit surprised the show's first weekend wasn't bigger, considering the show was based on an iconic brand from the early aughts. "I do like how our dialogue around this is, 'This thing took a long time to catch on — 15 days,'" Sarandos says to laughter from the room. "It took Seinfeld four years!" Sarandos offers an explanation for what happened: "We thought everyone would remember Queer Eye for the format. But it really was a completely fresh audience for this."
After the 90-minute presentation wraps up, I meet with Bajaria back in her office. It's even more modest than the one Sarandos works out of — a cubicle with walls — and a big contrast from the palatial-by-comparison digs Bajaria occupied when I visited her at NBCUniversal maybe five years ago. I ask her to explain more about the difference between working at a big legacy media company such as NBC and Netflix. "I've made shows for a long time in different places and ways, volumes of shows," she says. "There's such a speed here — of efficiency, of decision-making — and there's a lack of process and layers. There's just a quickness and a nimble, 'Let's try something, let's make something.'"