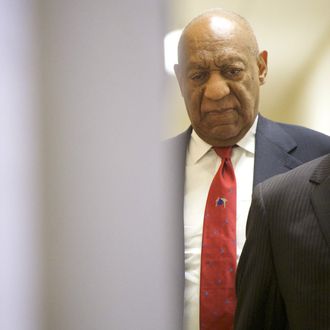 Bill Cosby.
Photo: Mark Makela/Getty Images
From the Kennedy Center to the Academy of Motion Picture Arts and Sciences to (allegedly) his own wife, Bill Cosby's lengthy legal journey to a felony assault conviction has seen many of his previous colleagues and compatriots do everything they can to remove themselves from their preexisting relationships with the disgraced comedian. While Cosby's rep has since denied rumors that Camille Cosby has moved out of the Philadelphia home she shares with her husband, the number of organizations attempting to disentangle themselves from Cosby's legacy continues to mount. According to The Hollywood Reporter, Northwestern University is the latest school to do so, retracting the Honorary Doctor of Humane Letters degree they awarded Cosby when he gave the school's commencement speech in 1997.
According to a news release from Northwestern, their board of trustees had waited until the end of Cosby's trial, which concluded in late April with the comedian being found guilty of three felony counts related to his sexual assault of then–Temple University women's basketball director Andrea Constand. Their decision marks the first time the school has retracted an honorary degree since it was founded in 1851. Meanwhile, Cosby is currently awaiting sentencing for his crimes in September, for which he could receive up to 30 years in prison.