Imagine a Broadway theater.
Imagine sitting in that Broadway theater.
Imagine sitting in that Broadway theater before the lights go down, when there is nothing happening onstage yet, nothing to do but thumb through your Playbill and take in your surroundings.
Imagine this is not just any Broadway theater, but the ideal one. The only thing a New York City space needs to be anointed by the Broadway League as a true Broadway theater is a minimum of 500 seats (100–499-seat theaters are Off Broadway; 1–99-seat theaters – the kind where Emma Stone's one-woman show in La La Land took place — are Off-Off). The rest is in the eye of the beholder. So what makes a theater magical? Comfy chairs? Ornamentation? Color scheme? An easily navigated lobby bar? Some other indescribable nostalgia-engendering bit of ephemera? Does the dream Broadway theater … exist? How would one even go about determining if it does? Why, by begging, borrowing, and scamming ("I think I left my phone here last night, and my family's flight back to Wyoming is in two hours!") one's way across midtown to appraise and rank all 41 Broadway houses, of course.
We tried to be as scientifically sound as we could be in our ranking, but your faithful ranker was only able to fulfill her STEM course requirement in college by taking "The Science of Happiness," so let's remember that numbers are hard and it's the thought that counts. We scored each theater considering five primary factors: (1) location; (2) seating, (3) bathrooms; (4) accessibility, with the help of wonderful artist and walker-user Ryan Haddad (in the event of a tie, we gave the edge to the more easily accessible theater); and (5) overall ambience. Ambience includes décor, famous ghost, and a "wild card" bonus question for modest extra credit: Has Audra McDonald Performed in a Show Here? "Why Audra McDonald?" you may ask, if you are so stupid. "Why Audra McDonald and not [diva who is not Audra McDonald]?" You scurrilous wench, does [diva who is not Audra McDonald] have SIX Antoinette Perry awards? That she won in competition? Before turning 45? No! Only AUDRA does! Only AUDRA could! Audra is the best of Broadway and any theater that she has ensconced in the warmth of her vibrato or simply GRACED with the GIFT of her LINE READINGS eight shows a week deserves to be considered a significant cultural landmark.
One final disclaimer: I, your faithful ranker, love theater, and I love Broadway. I would rather be sitting in the most claustrophobia-inducing Broadway theater than be sprawled out comfortably most anywhere else in the world, and even the lowest-ranked of these theaters is sacred to me. NOW. Let's blaspheme.
41. Hayes Theater, most recent tenant: Lobby Hero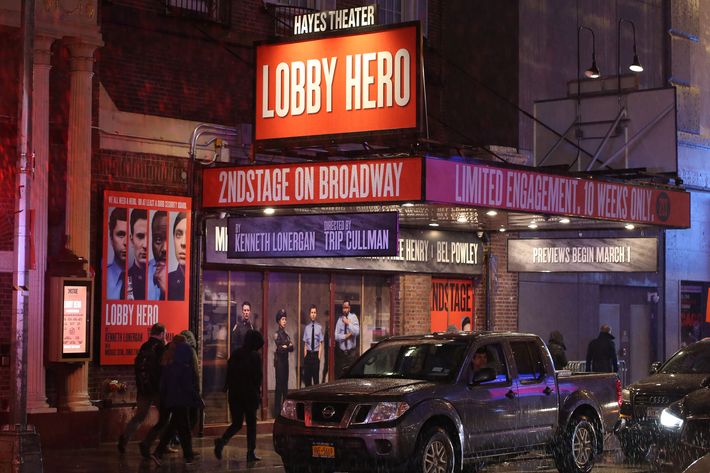 It is designed for Russian gymnasts and the contortionist from every Ocean's film. The Hayes is tiny and seems to delight in your discomfort; it is Rumpelstiltskin, but a place. The seats are so close to each other that the aftershocks of you uncrossing your legs will reverberate throughout your entire row. The theater will next house Straight White Men starring Armie "A Tree, But Fuckable??" Hammer, and I hope to see photos of him trying to squeeze into one of those seats in the audience during notes, like a porn parody of Gulliver's Travels. Audra McDonald has not done any shows here because she loves her fans.
40. American Airlines Theatre, current tenant: Travesties
You know how any movie you see at the Angelika downtown is jarringly underscored by the sound of every single train that could possibly be traveling through Manhattan? So it's sort of fun and immersive for Snowpiercer, but then you're sitting and watching Moonlight and wondering if there's an earthquake plot twist coming up and then you find out later that part was supposed to be completely silent and you're like "Oh, yeah, that probably would have been very effective dramatically"? The American Airlines is the Angelika for live theater. Located smack dab in the middle of 42nd Street, it is constantly plagued by outside noise, and unfortunately, is often home to small plays that are not served by persistent interruptions of 21st-century cacophony.
39. Friedman Theatre, current tenant: Saint Joan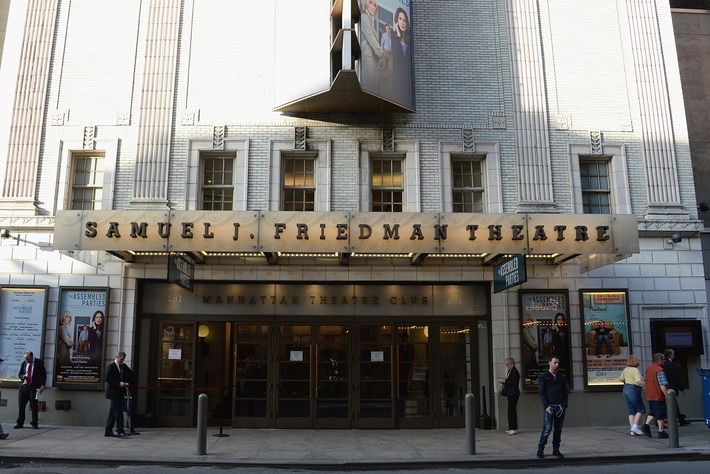 The Friedman is all browns and beiges. It is sepia-toned as hell and when I go to the theater, I want vibrancy! I don't want Kansas, I want Oz! Limited choices for wheelchair seating. Boo.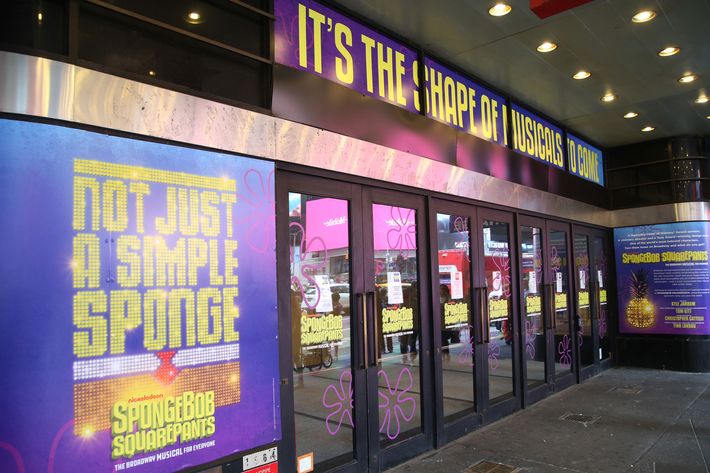 Entering the Palace lobby from Times Square feels like walking into a T-shirt store at an amusement park; you are happy to get a moment of comparative quiet and a cool blast of air conditioning, but you're also too keenly aware of the zoo outside to be truly put at ease. To sit in the balcony is to be stuck atop a Ferris wheel, frightened and far from your friends below. Sight lines are also tough; I've heard from numerous people that they sat too far back at the recent Sunset Boulevard revival and couldn't see Glenn Close's entrance, making the five to seven hours it took her to descend several tiers of steampunk scaffolding an extended production of Waiting for Godot.
37. Ambassador Theatre, current tenant: Chicago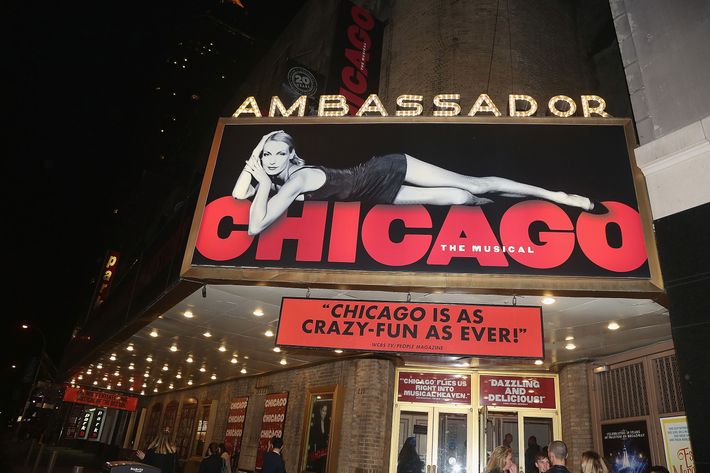 No lobby to speak of, and a very awkward layout going in. This theater makes no effort; it knows that if you're here, you're here to stumble in a little drunk and see whatever star of the moment they've squeezed into tights and a leotard. Because of the lacking lobby situation, the area outside gets completely overrun with people anxious to see the cast of Vanderpump Rules do "Cell Block Tango." (That hasn't happened yet but it is conceptually phenomenal.)
36. Golden Theatre, current tenant: Three Tall Women
The color palette (dark beige, coral, brown) at the Golden gives it a real "Nana's house" feel. Musty. Plus the only wheelchair-accessible restroom is off premises. If you are going to have a grandparents' basement atmosphere, the least you can do is make it easy to navigate for them? It gets bonus Audra credit for Master Class, which allows it to eke out a spot beyond the bottom five.
35. Schoenfeld Theatre, current tenant: Come From Away
A lot of cobalt, which is the most distinguishing thing about it. Sight lines are frustrating from the sides. I loved Bridges of Madison County here, but if you ask me anything specific about the space … it all … fades away.
34. Majestic Theatre, current tenant: The Phantom of the Opera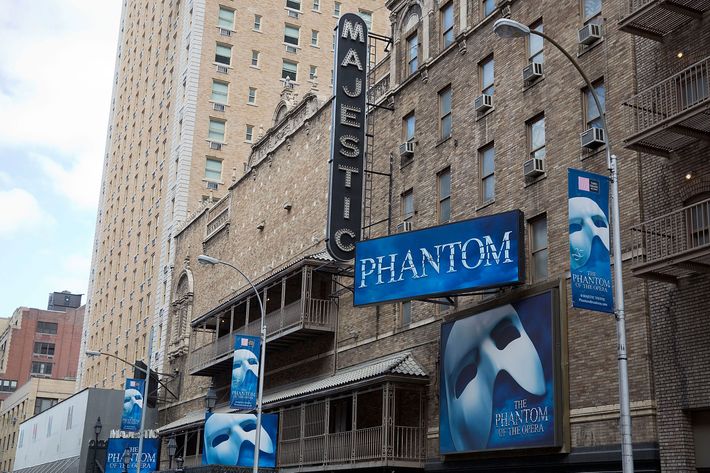 The Majestic is the theater where Phantom of the Opera is. If you want to see Phantom of the Opera, go to the Majestic, because that is where Phantom of the Opera is.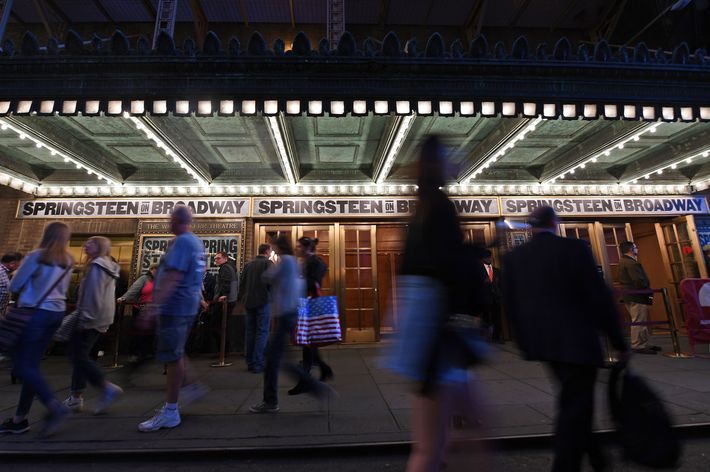 DO NOT EVER, EVER, UNDER ANY CIRCUMSTANCES, SIT IN THE BALCONY HERE. THE DROP IS PRECIPITOUS, and I say that as an extremely BRAVE and ADVENTUROUS roller-coaster rider.
32. Cort Theatre, most recent tenant: M. Butterfly
A tender little theater trying its best. A "Meadowlark" sung entirely in head voice. Pleasant, inoffensive, forgettable.
The Lunt-Fontanne generally houses shows with recognizable titles that tourists feel comfortable plunking down money for, and the seating is fairly cramped, so there's always a good chance when you come here that you'll be sitting uncomfortably close to a family that decides to become the Von Trapps every time they identify a song.
The Marquis theater is inside the Marriott Hotel, and it certainly is … inside a hotel! Whenever I venture into this theater, I am suddenly aboard a cruise and heading over to watch the ship show because who doesn't love a truncated non-Equity production of Legally Blonde? If you bought your tickets on StubHub, you can use the business center to print. Neat!
29. Sondheim Theatre, current tenant: Beautiful
Best bathrooms on Broadway. SPACIOUS. OPULENT. They feel like the bathrooms at a fancy restaurant in a romantic comedy during a scene where The Jig Is Up and High Jinks Are Ensuing. Design-wise, though, this theater is too sterile and futuristic for my blood. There are wooden slats? It is like a rustic spaceship and I don't enjoy it. The Stephen Sondheim Theatre should be a Stephen Sondheim Indoor Theme Park with rooms modeled after his shows. This is what I want and this is what I deserve.
In Oh, Hello on Broadway, John Mulaney was able to wring a huge laugh from the audience by stating a simple fact about this theater: that it is "basically on Sixth Avenue." Yes! True! It's a stone's throw from Bryant Park, but my Bryant Park mind-set and my Broadway theatergoing mind-set are completely different! If I'm seeing a Broadway show, I shouldn't be able to see … trees. It is nice to be far from the foot traffic, but slightly unnerving to feel so close and yet so far. On the outside, looking in. Almost like I am … waving through a window? Oh, that's good. Think I will use that for something!
27. Barrymore Theatre, current tenant: The Band's Visit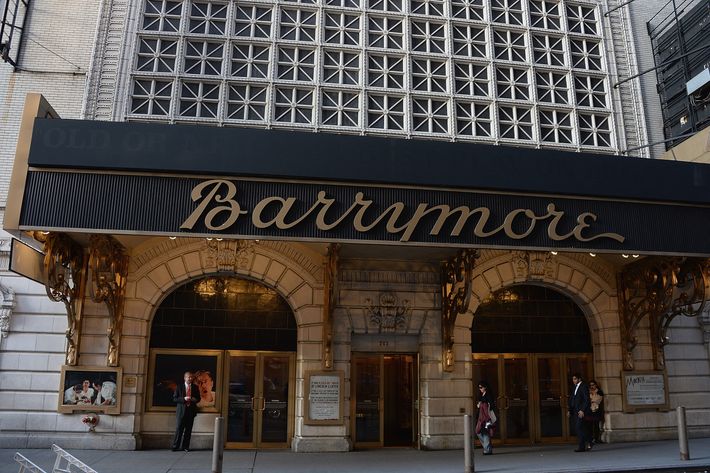 The acoustics! I very rarely notice acoustics in the theater, especially because so many shows now have the microphones jacked up so loud regardless (reading this, I have decided to check into a retirement home), but sound carries beautifully here. Unfortunately, that's about all there is to say about it. Decidedly middle-of-the-road, divorced from the action onstage.
26. St. James Theatre, current tenant: Frozen
I'm glad the St. James is now being taken over by women screaming high Hs before throngs of adoring girls and gay men, because the theater's general vibe to me has always been "all the shows your dad will like" — The Producers, Bullets Over Broadway, Michael Keaton's play from Birdman, et cetera. Extra credit for Audra in The Secret Garden, back when she was Audra ANN McDonald. Ann's ghost looms large here.
25. O'Neill Theatre, current tenant: The Book of Mormon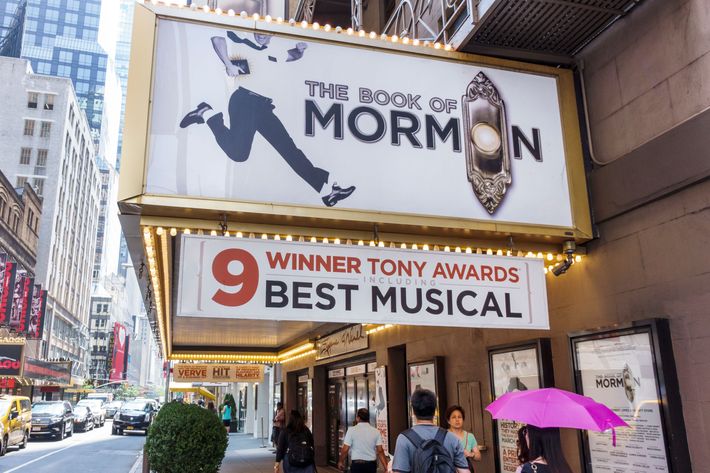 This theater feels Very Grave, with dark aubergine seats and Roman tableaux. An irreverent show may be shacking up there right now, but the Mormons can't eradicate the sense that there might be dusty copies of Ulysses in the walls. The O'Neill is a 34-year-old podcaster whose profile picture is him wearing a hat and suspenders and smoking a pipe and you don't know if it was a murder-mystery party or if this is just how he dresses and you also don't know which is worse.
24. Brooks Atkinson Theatre, current tenant: Waitress
Ambience points gained for the smell of pies in mason jars, something I hope will last here for years to come. Pies in mason jars at the Atkinson now, pies in mason jars at the Atkinson forever. Pies in mason jars for shows that have nothing to do with food service. The rows are VERY close together because the theater is designed for width rather than depth; when I saw Karen Cartwright in Waitress, my knees became Public Enemy No. 1 of the older women in front of me. It's located on what the kids tell me is a "hip block." Go to Glass House Tavern after the show if you want to spot a Broadway star and pay approximately one million dollars for an alcohol.
23. Hudson Theatre, most recent tenant: The Parisian Woman
This is a very new theater, and as is typical of new theaters, it's got incredible bathrooms and luxurious seats, but feels a little clinical. I am distrustful of anything too young and too clean. (Etch it on my tombstone.)
22. Hirschfeld Theatre, current tenant: Kinky Boots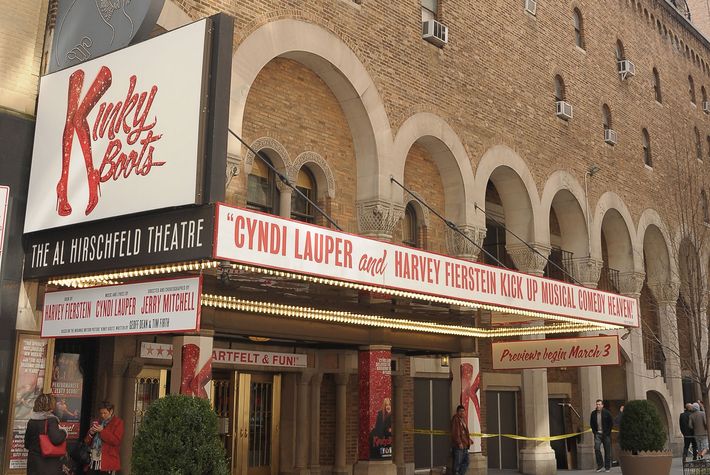 Too narrow, and if you took away the artwork done by Al Hirschfeld himself, you'd be left with a very bland space looks-wise. That said, the Hirschfeld caricatures peppered throughout the theater do delight, bringing whimsy to history like Helena Bonham Carter on The Crown.
21. Longacre Theatre, current tenant: A Bronx Tale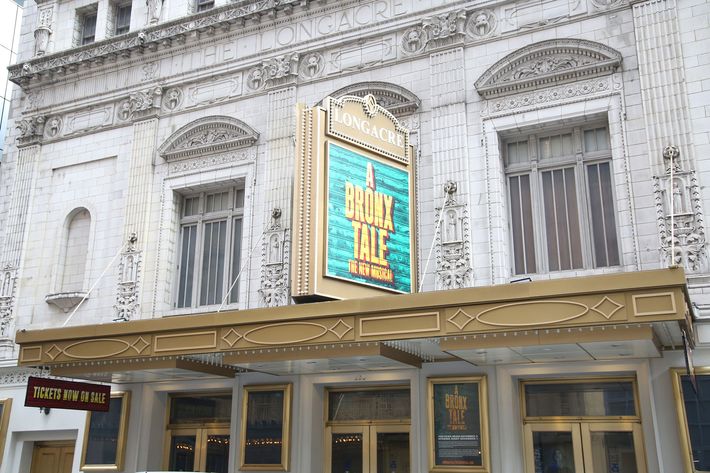 This theater is nothing from the outside, but inside, it comes alive — the ceiling, the lighting sconces, the carpeting; it is luxurious. The opulence does not extend to the seating, though, and while I wish I could say the warmth and radiance of the décor would make it a great place for a show in the winter, there is no coat check so you'll have to try to roll up your outerwear like a sleeping bag or spend the show feeling bad for taking up space in an already claustrophobic environment. As a WOMAN, I am TIRED of APOLOGIZING for taking up SPACE. I hate when beautiful things are anti-feminist!
20. Minskoff Theatre, current tenant: The Lion King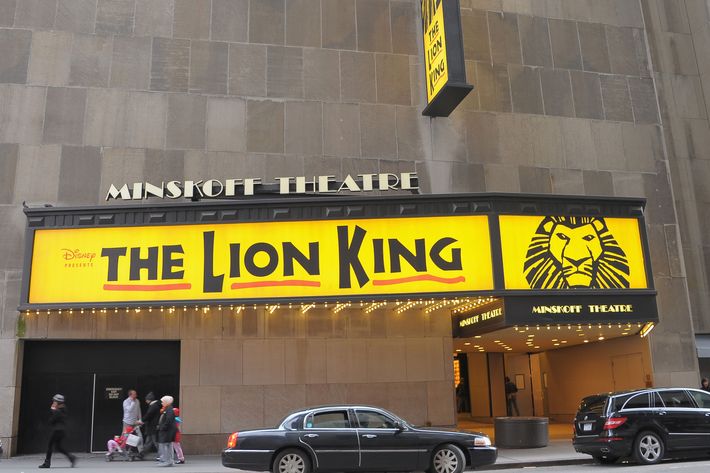 This theater is quietly iconic for serving as annual host to the Jimmy Awards. If you are unfamiliar with the Jimmy Awards, they can best be described as "the Tony Awards of high school theater" and "the Jimmy Awards of being better than the Tony Awards." Gorgeous staircase. So much space. But the bottom line is: the Minskoff is the place to watch two 16-year-old Sweeney Todds perform dueling versions of "Epiphany" while Gomez Addams, Joseph (of Dreamcoat fame), and Valjean nervously step-touch behind.
19. August Wilson Theatre, current tenant: Mean Girls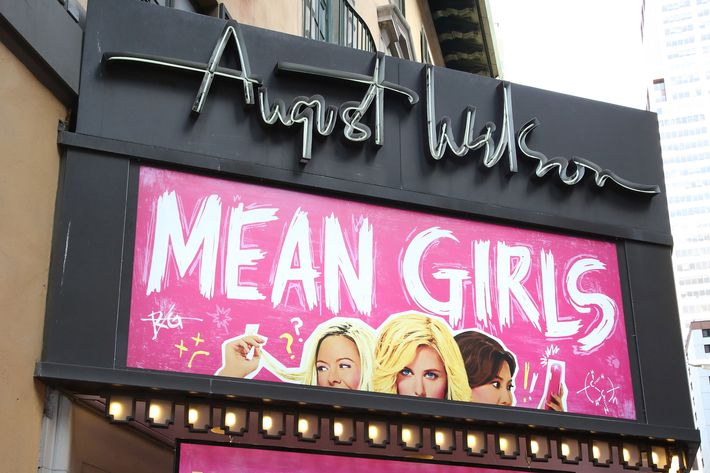 August Wilson's namesake theater, now housing my favorite play in his Pittsburgh Cycle, Mean Girls: The Musical. Lots of room in the lobby, not so much inside the theater. A big plus of the current inhabitant is that the bathroom is gorgeous and optimized for mirror selfies (I know people usually take selfies with an air of condescension or internalized misogyny, but nowhere to be found here! I took a very successful one and was proud of my work!), and the line is a well-oiled machine, with multiple attendants supportively guiding you through like base coaches.
18. Broadhurst Theatre, current tenant: Anastasia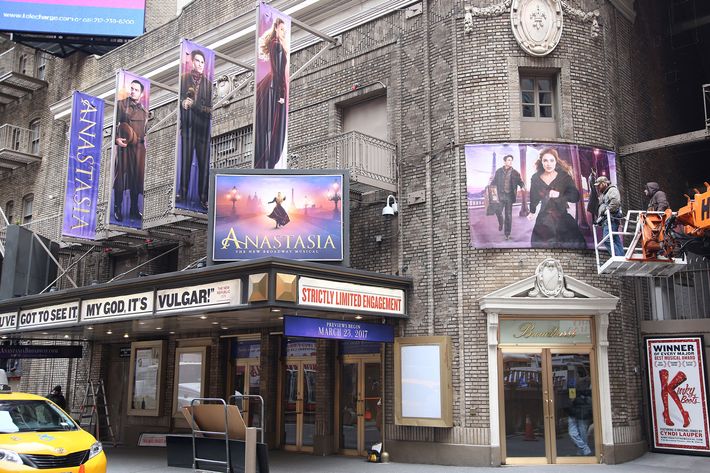 The Broadhurst gets high marks for accessibility and for its location right near Shubert Alley, but it exists very much in the shadow of the Shubert. The Shubert is Marcia, and from me, the Broadhurst gets a hearty "Sure, Jan."
17. Broadway Theatre, most recent tenant: Rocktopia
The Broadway was originally built as a moviehouse, and still seems like it wants to be one — the orchestra starts feeling very distant very fast on the way to the back, so large-scale spectacle-based shows work well (Miss Saigon, for example), but quieter character-driven pieces can get eaten alive depending on where you're sitting. Old-school and rickety, like the Cyclone at Coney Island.
16. Nederlander Theatre, most recent tenant: War Paint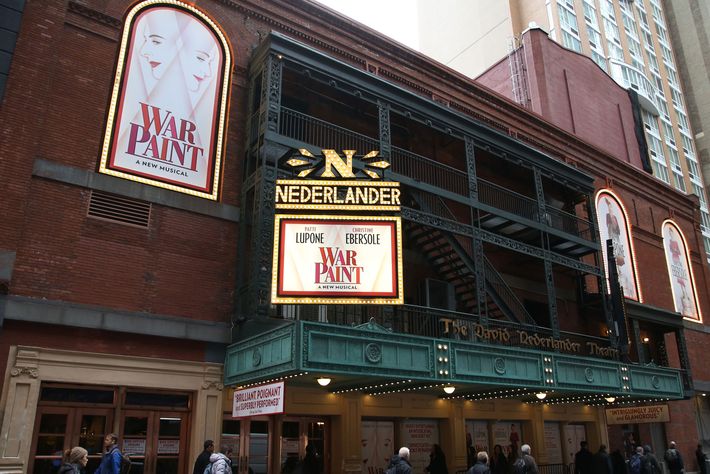 The Nederlander needed a renovation 20 years ago, but the Rent producers were convinced its shoddiness was useful in immersing us in the world of Rent, because we are dumb and need the whole theater instead of just the stage to remind us of the wet-towel smell in our college boyfriends' apartments. However! As soon as those squatters were out, it was refurbished in a spruced-up neoclassic style. Gentrification! With War Paint having just closed and Pretty Woman coming in soon, the Nederlander is fast asserting itself as Mom Plaza to the St. James' Dad Cave.
15. Gershwin Theatre, current tenant: Wicked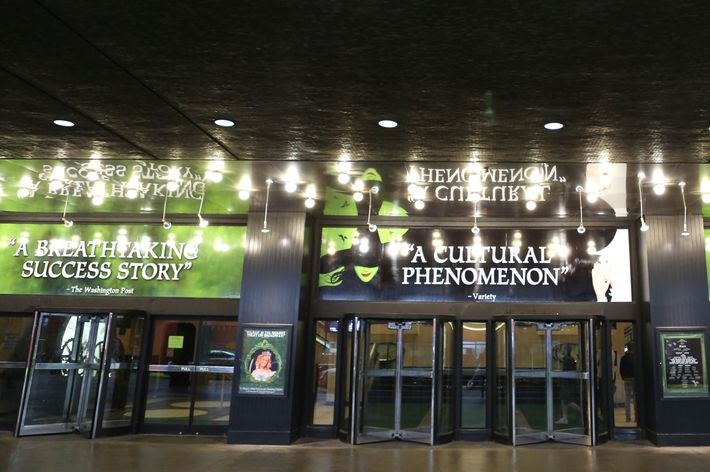 Speaking of caves! The Gershwin is a cave of wonders, where the wonders are the vocal node surgeries necessitated by its golden goose inhabitant. Congrats to ENTs everywhere! As with the Majestic, it is incredibly difficult to separate the theater from the long-running show housed there, and to me, the Gershwin would be unrecognizable without the Wicked dragon sitting atop the stage, keeping a dutiful eye on everyone making bootlegs to contribute to the next "BEST NO GOOD DEED 'FIYERO' RIFF???!?!1" compilation video. It has notably comfortable seats with a decent amount of leg room, the sight lines are good, and it gets atmospheric points for how enormously moving I find it to see young girls spilling out of the theater with their beleaguered parents. I was once a teen with emotions as well!
14. Neil Simon Theatre, current tenant: Angels in America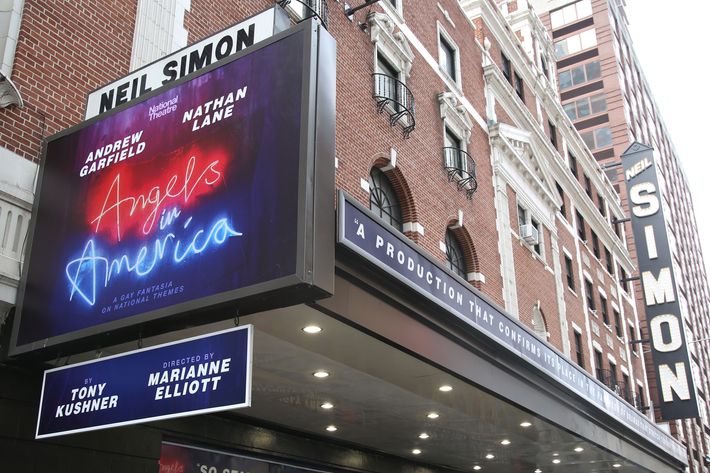 Sight lines are generally great here. The house feels downright cozy for how many seats there are, but there is still enough space between those seats that when I saw Cats with my ex-boyfriend, I did not notice that another ex-boyfriend of mine was sitting right next to him until intermission (a performance of Cats seems as apropos a place as any for me to spend an evening beside two men with whom I have had heterosexual intercourse). On another occasion, while shuffling down to my seat in the middle of the row at Angels in America, I was able to trip and fall without touching anyone's lap or stepping on their feet, so … congrats to the Simon on not being cramped, congrats to me on being an Al Hirschfeld caricature of a rom-com heroine, congrats to Lee Pace on his face and body, congrats all-around.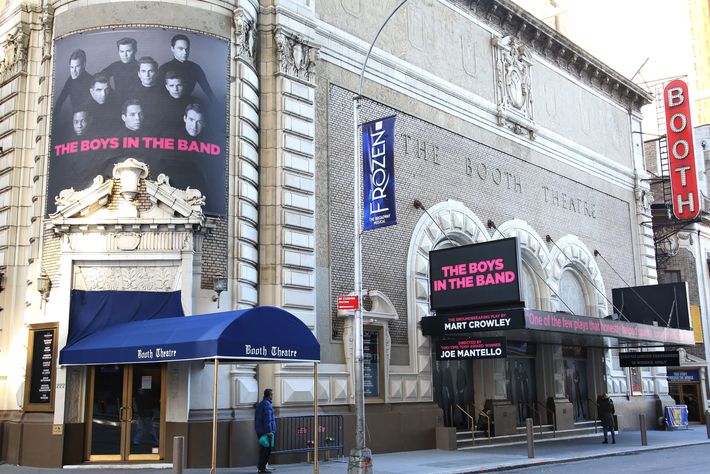 The Booth is named for Edwin Booth — the brother of John Wilkes — and, appropriately, has hosted its fair share of dysfunctional families: the Wingfields of The Glass Menagerie, the Goodmans of Next to Normal, George and Martha and their (spoiler alert for a classic play from 1962) nonexistent son in Who's Afraid of Virginia Woolf, et al. The Booth is incredibly intimate and accessible and nondescript-looking. He will be a good second husband to you and to me.
12. Circle in the Square Theater, current tenant: Once on This Island
THIS IS THE ONLY BROADWAY THEATER WHERE YOU CAN MEET AN ACTUAL GOAT! Circle in the Square is a wildly malleable space with a thrust stage that easily lends itself to in-the-round pieces, so even if you despise the production you're seeing, you can at least find some interesting audience members across the way to people-watch. If you love the show too much, be prepared afterward for a stranger to ask if you are okay because they were distracted by your heaving sobs (may or may not have happened to me post–Lady Day at Emerson's Bar and Grill. AUDRA!). This theater is an eccentric aunt you adore who then says one colossally weird thing at Thanksgiving that you cannot shake. Circle in the Square's dealbreaker? Disabled patrons have to use a separate entrance from able-bodied ones. Aunt Circle! I was rooting for you! I want you to think real hard about this before I see you again at Christmas or you will not be receiving a Target sweater in a White House Black Market box.
The ceiling of the Belasco is stunning Tiffany stained glass, and descending from that ceiling every now and again is the theater's namesake, David Belasco — the most notorious ~BrOaDwAy GhOsT~. Many have reported sightings of Belasco sitting in his box on opening nights, made doubly creepy by the fact that he is always wearing the "priestly garments" that so characterized his aesthetic on Earth he became known as "The Bishop of Broadway." And he did this pre–Heavenly Bodies Met Gala. Okay, fashion ghost! Couture wraith! Miss Davïd brings it to you every ball. This theater has lovely ambience, perfect sight lines for me to examine how much better than mine every single Hedwig's legs were during that revival, plus a ghost? Treasure.
10. Shubert Theatre, current tenant: Hello, Dolly!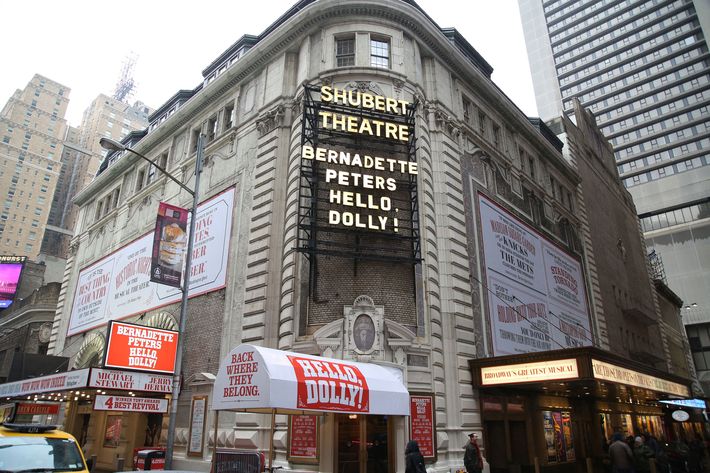 What do you want? The theater has its own ALLEY, you termagant! It is a fixture! The signage out front is legendary, and every time it changes, it feels like a true changing of the guard, calling all to gawk. Sight lines on the sides aren't so good, and the seats leave something to be desired (that thing is space), but you're not going to the Shubert for comfort; you're going to see the diva du jour hanging her hat there. Or because Sardi's is right across the street and your grandparents want to have a nice night out.
9. Bernard B. Jacobs Theatre, current tenant: The Iceman Cometh
Oh, a sleeper hit. Though the space is small, it has committed to an ornate look, with red velvet and ruched curtains. Yes, diminutive bordello! Charming … yet luxe? The seats are so comfortable that when I begged my family to take me to see Bloody Bloody Andrew Jackson, my mom slept like a baby through the entire (very loud!) show. Bonus Audra credit for Raisin in the Sun, a production whose opening night led to the No. 1 photograph of all time: Audra McDonald and Viola Davis. Look on their works, ye mighty, and despair.
8. Winter Garden Theatre, current tenant: School of Rock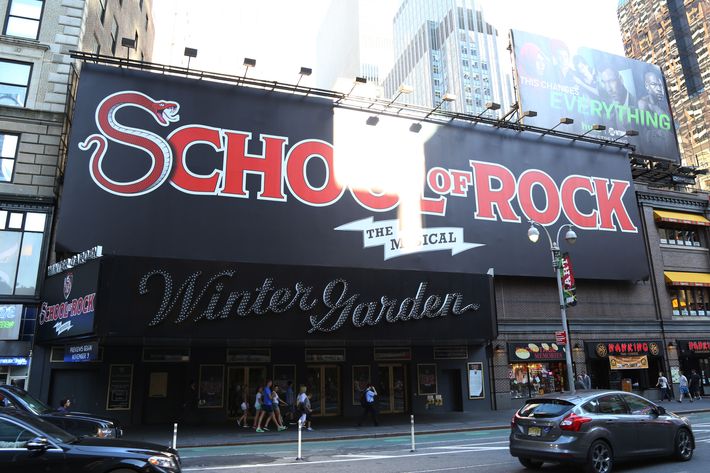 The location of the Winter Garden makes me yearn for the days of Mars 2112. Sure, there's still Ellen's Stardust Diner, but what of the dramatic actors in alien costumes who wanted to force their BFAs on restaurant patrons? The sign outside the Winter Garden (1) fills me with envy for people who have nice handwriting/remember how to do a cursive G and (2) makes any show seen there feel like a true event. The theater was originally built as the American Horse Exchange — a place where wealthy New Yorkers could exhibit and trade their horses — and because of this unique origin story, the space is super wide, making the whole theater feel very expansive. Another plus: I always love a bathroom with a lounge (I needed a sensible fainting couch after seeing Andy Karl shirtless in Rocky).
7.
Imperial Theatre

, current tenant: Carousel

There is a 2003 episode of "A Makeover Story" wherein the well-intentioned people of the Learning Channel give Sutton Foster a makeover involving low-rise kick flares, a one-shoulder top emblazoned with floral imagery just this side of Ed Hardy, and blonde hair with chunky streaks. She looks amazing (in a very 2003 way), but also so unlike herself that you know that she is gonna go back to a brunette middle part ("Healthy Fosca") once the cameras are off, and you are just proud of her for trying new things. The Imperial is the Sutton Foster of our countdown; the space was completely reinvented for Natasha, Pierre & The Great Comet of 1812 — transformed into an immersive Russian supper club — and looked unbelievable, but ultimately returned to her old look this season in Carousel, and guess what? We love her for doing her. A classic.
6. New Amsterdam Theatre, current tenant: Aladdin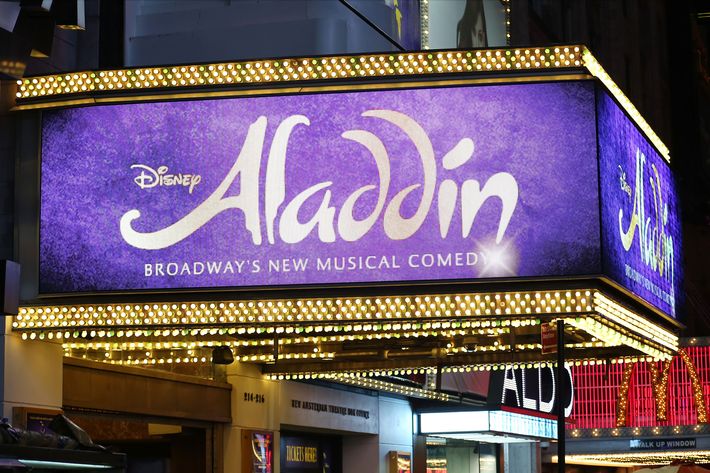 The New Amsterdam is on the same block as the American Airlines, but it generally houses much louder fare (e.g., Disney musicals) so the sounds of the street are not as distracting as when you're trying to listen to Cherry Jones toss off a deadpan bon mot at the AA. Say what you will about the Disneyfication of Broadway — they've got the funds to make a theater nice, and because they've had the space for so long (Lion King was here before Aladdin), it is fairly pristine. It's also NEXT to the Times Square subway exit on 42nd and Seventh, so if you play your cards right, you can avoid any and all couples who refuse to stop holding hands in midtown. The only thing standing between that exit and the theater? A Sephora that is open till midnight. This Sephora SAVES me on occasions where I mistakenly agree to a social event post-show and need to Fenty up quickly.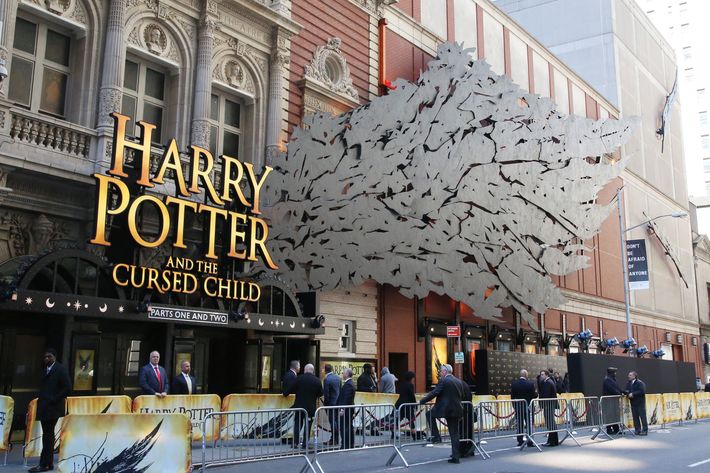 The Lyric got through Spider-Man: Turn Off the Dark alive and well and now houses one of the hottest shows in town — we admire and celebrate a resilient bitch. The Lyric has undergone enough name and appearance changes in the comparatively short time it's been in operation (four since opening in 1998) to suggest an involvement with the Witness Protection program, so it is a pleasure to now see our girl settled and thriving. I'm sure Audra, who did the original production of Ragtime here when it was the Ford Center for Performing Arts ("Wheels of a Dream" is the greatest car commercial of all time), is proud.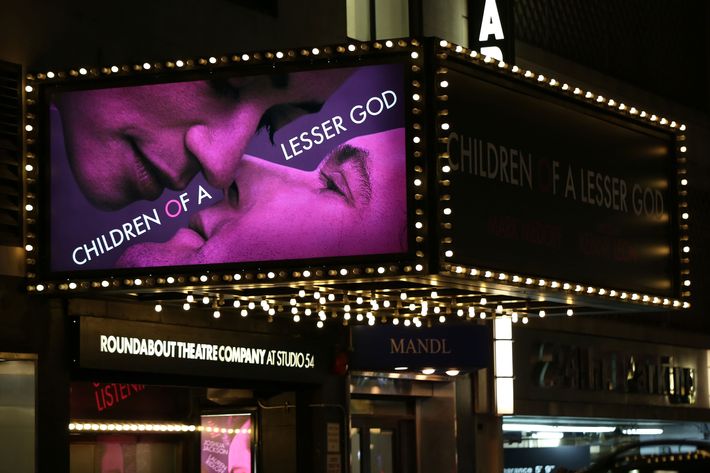 This is primarily the Roundabout Theatre Company's revival haus, and has hosted many gems through this partnership. Accessibility points. Points for the fact that it is a theater made from the bones and ash of Studio 54, so you know there are ghosts everywhere. Coked up ghosts. Coked up celebrity ghosts (a friend of mine is absolutely convinced he saw Truman Capote watching Cabaret a few feet away from him.) It's also located a block away from the 55th street exit at the 57th/7th subway stop, so you can mosey over to your theater at a leisurely pace and stare downtown to admire the hustle and bustle from afar/thank your lucky stars you aren't currently on 47th trying to figure out how you got stuck behind a fleet of baby strollers. Bonus Audra credit for 110 in the Shade, which is the show I saw in high school that made me want to be an actor (this would be a more inspiring addendum if I were a famous actor).
3. Music Box Theatre, current tenant: Dear Evan Hansen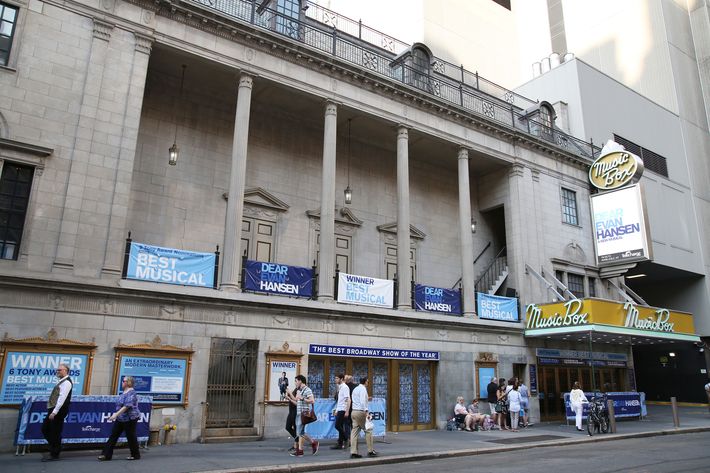 Playwright Moss Hart described the Music Box as "everyone's dream of a theater," and I concur that it is a cherubic little gem. The signage outside is like a delightful old-timey diner, acoustics are wonderful, sight lines are great, and the stage is now a flourishing garden watered by the tears of any and all Evan Hansens. Audra starred in Shuffle Along here while pregnant with Will Swenson's baby, so the Music Box is essentially Broadway Nazareth.
2. Vivian Beaumont Theatre, current tenant: My Fair Lady
You want to be far from the ceaseless hellscape of Times Square? You want architecture? You want to be ENVELOPED in CULTURE? If the Marquis is a cruise ship, then the Beaumont is how I imagine Amal Clooney's husband's villa on Lake Como. It lost a couple points for seating (too close together for my blood, though sight lines are wonderful) and ambience (the subscribers can seem like country club extras in Caddyshack), but it was able to stage a glorious comeback because, well … "Has Audra performed here"? Tender heart, Audra has taken to the Beaumont in not one, not two, but THREE different productions — Carousel, Marie Christine, and Henry IV. Lincoln Center belongs to Audra (she hosts their PBS specials like Jackie O giving tours of the White House). The Beaumont is a pied-à-terre she sometimes very generously Airbnbs to Barlett Sher.
1. Richard Rodgers Theatre, current tenant: Hamilton (have you … heard of it?)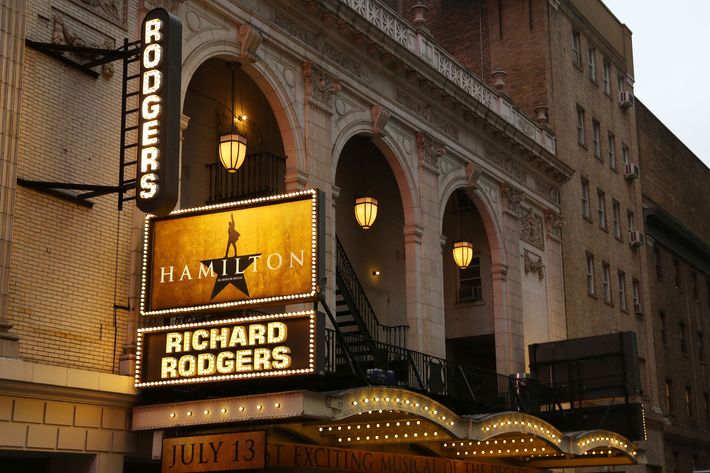 Perfect score — the sliver of a point deducted for the occasional distressing sight line is made back by its bonus for Audra in Porgy and Bess. The Rodgers is a stunning space. It is the quintessential Broadway theater you imagine when you're hypothetically growing up in Northern Virginia unsuccessfully feigning interest in "lacrosse" at school, but rushing home each day to scour LiveJournal for bootlegs of the 2001 Actor's Fund Dreamgirls concert. The design is baroque by way of Broadway with elements of the Greco-Roman; plush red velvet, gold patterns, gorgeous murals, the works. The theater's exterior has now become arguably even more iconic than the inside, with the Ham4Ham shows making it recognizable to nerds across America and establishing the Rodgers as reigning queen bee (but a benevolent one!) of a densely populated theater block. The Rodgers made Hamilton feel like a timeless classic from day one; Hamilton made the Rodgers about as "cool" as a Broadway theater can be. They are an ideal match, which makes it even more heartbreaking that the show is doing so badly and will be closing any moment. Let's hope this win gives them the momentum to stay afloat.