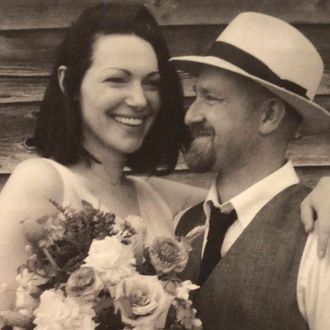 Laura Prepon and Ben Foster.
Photo: Instagram/@lauraprepon
Wait, did you think Ben Foster was still with Robin Wright? Where have you been? The Hostiles actor and the Orange Is the New Black star posted a "Just Married" Instagram photo earlier today, so please get with it. Just kidding, you can be forgiven for letting this specific romance fly under your radar. Prepon and Foster, who got engaged in 2016 and had daughter Ella in August 2017, tend to keep things pretty private. Which means the pair probably loved the fact TMZ reported back in May that they were spotted in New York getting their marriage license. All in all, a good reminder that you can learn a lot about celebrity relationships if you just commit to hanging out at the city clerk's office every day of the week.