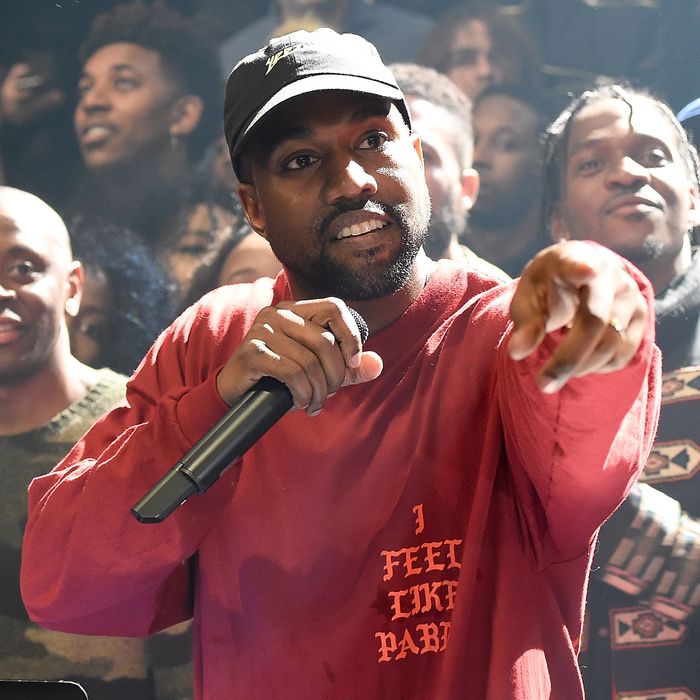 Photo: Kevin Mazur/Getty Images for Yeezy Season 3
The first time I heard Kanye West say he admired Donald Trump was on my birthday, when news broke of the rapper telling a Saint Pablo tour crowd in San Jose, "If I voted, I would've voted on Trump." Some gift, I thought, just days after an Election Night spent getting powerfully drunk with friends in hopes we could steal a few hours away from a terrifying new reality. I woke up and dropped my laptop's Kanye West folder — a collection of studio albums, mixtapes, loosies, and mild rarities that took some care in assembling — into the trash. The rapper spent most of the next year keeping relatively quiet. He deleted Twitter and Instagram and threatened to leave Tidal; for months, the only place he could reliably be seen was paparazzi candids, where he looked a little happier and burlier than he had the year prior. I used the downtime for a self-imposed "Kanye sabbatical." It's dumb to think about in retrospect, but I felt a little betrayed after years of fielding trash talk from friends, colleagues, and strangers online for suggesting that Ye's message was worth the trouble he often kicks up. Fandom isn't supposed to feel unrequited, but that November, liking Kanye West suddenly felt morally conflicting and psychically exhausting.
When West returned to Twitter this spring, he seemed different. More Zen. More relaxed. The string of self-help screeds he posted in his first week back — "Sometimes you have to get rid of everything," "distraction is the enemy of vision" — looked like the result of some necessary, albeit pat, soul-searching. ("I like TED Talk Kanye," I joked on the rapper's first day back.) But the sentiment didn't last. West hadn't come back to apologize for letting us down again, like he did in 2010 when he decamped to Hawaii to win the public back after his (first) Taylor Swift awards-show fiasco. This time, Kanye came back wrong and loud and proud. He came back admiring public intellectuals of dubious renown like Jordan Peterson and Candace Owens. He came back wearing a Make America Great Again hat. He made a public show of friends' private pleas to get him to reconsider his position, to honor the power of his platform with responsible politics. He groused about "free thought" and accused acquaintances and collaborators of using their access to try and manipulate him. Suddenly some of the resounding excitement for new music withered. Many rap fans swore they wouldn't listen. Others held out hope for explanations.
Today's new Kanye West album, Ye, doesn't offer these answers. You won't find out what Ye sees in Republicans or how he reconciles his pro-blackness with his embrace of a presidential administration that coddles nativists and racists, questions he has softly dodged in the last month of interviews and television appearances. There's no clarity about the MAGA hat or the "slavery was a choice" remark, although "Wouldn't Leave" describes talking Kim Kardashian West through a meltdown as she worried that her husband's behavior would destroy the whole family. Ye is an album about making things right with the people who share your blood and your name, about securing prosperity for family, the rest of the world be damned. The only people it answers to are Kim, North, Saint, and Chicago. (The rest of the Kardashian clan barely even comes up, barring a line in "All Mine" about Tristan Thompson losing Khloé over "THOTs on Christian Mingle.") If your last name isn't Kardashian or West, you might finish the record a little perplexed. Why sell this music with that drama? Is there nothing Kanye wants to say to his fans for the wringer he is putting them through right now? Does he know that his plot to unite his liberal and conservative friends is causing all of them a great deal of stress? Does he care?
After spending the day replaying Ye, plotting a proper review, I decided that I shouldn't have come into it with all these expectations, that not getting certain closures I was looking for isn't the end of the world. Kanye doesn't think he's wrong, and he clearly doesn't give a shit what anyone thinks about his choice of president. That alone makes me think his compass needs recalibrating, but the album's lurid stories about skirting divorce, drug addiction, and financial ruin suggest that Trumpism isn't nearly the biggest fire in the Kardashian West camp. Ye's grappling with bipolar disorder and drugs and self-image and fidelity. "Shit could get / Menacing / Frightening / Find help." I hope Ye finds the help he's looking for, and I hope someday he makes it back to a place where supporting his art doesn't present a challenge to my lofty ideas about ethical consumerism. We're not quite there yet. We'll talk more about why next week.