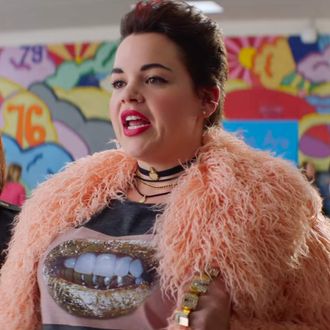 Chaos might have killed the dinosaurs, darling, but a generation of young viewers who are not here for fictional violence in a high school might have potentially ended the new Heathers reboot. After months of uncertainty, The Hollywood Reporter reveals that Paramount Network won't be moving forward with the series.
"This is a high school show, we're blowing up the school, there are guns in the school, it's a satire and there are moments of teachers having guns. It's hitting on so many hot topics," Paramount president of development and production Keith Cox told THR. "This company can't be speaking out of both sides of its mouth, saying the youth movement is important for us and we've done all these wonderful things to support that and at the same time, we're putting on a show that we're not comfortable with."
As you may recall, the Heathers premiere was pushed back from its initial March 7 debut date out of respect for those killed during the Marjory Stoneman Douglas school shooting in Parkland, Florida, which occurred on February 14. On March 14, all of Viacom's channels aired 17 minutes of silence for the 17 victims to coincide with the national student walk-out against gun violence. Cox says the network hopes to find the series a new (non-Viacom) home, as the season two scripts are close to completion. Since the show is an anthology, the second season does not take place in a high school.