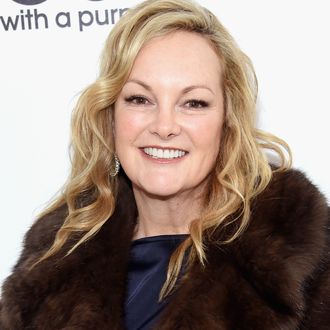 Patty Hearst.
Photo: Jamie McCarthy/Getty Images for EJAF
Patty Hearst, whose daughter Lydia is married to Chris Hardwick, seems to have come to his defense on Twitter. On Friday, the heiress to the Hearst family fortune tweeted an image that read "Beware the person who stabs you and then tells the world they're the one who's bleeding." She followed up on Saturday by tweeting "'ME' Carthyism" along with a photo of Joseph McCarthy, a reference sometimes made by those critical of the #MeToo movement. She also shared an article titled 'Welcome To The Kangaroo Court Of Social Media' and has been retweeting stories about Hardwick's denial of the allegations that have been leveled by his ex-girlfriend Chloe Dykstra.
Deadline also reports that she responded to a TMZ story about the claims with the words "Bunny Boiler," a possible reference to the movie Fatal Attraction, though that appears to have been deleted.
Hearst is most famous for being kidnapped by a guerrilla group and serving time in prison for committing crimes alongside them. She later claimed to have been brainwashed by the group and was pardoned. Hearst has previously praised the #MeToo movement's empowerment of abuse victims while condemning an unauthorized book written about her kidnapping, saying the movement was "where so much progress is being made in regard to listening, and providing a voice, to those who have suffered abuse."