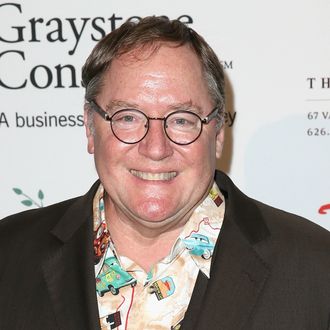 John Lasseter.
Photo: Joe Scarnici/Getty Images for The Walt Disney Family Museum
Following reports of inappropriate workplace behavior and a subsequent six-month leave of absence, Pixar and Walt Disney Animation chief creative officer John Lasseter will leave both studios at the end of 2018. "The last six months have provided an opportunity to reflect on my life, career and personal priorities," he said in a statement. "While I remain dedicated to the art of animation and inspired by the creative talent at Pixar and Disney, I have decided the end of this year is the right time to begin focusing on new creative challenges. I am extremely proud of what two of the most important and prolific animation studios have achieved under my leadership and I'm grateful for all the opportunities to follow my creative passion at Disney."
A founding employee of the digital animation studio, Lasseter was accused of inappropriate workplace behavior, including touching and kissing employees, fostering a "sexist and misogynistic culture" at Pixar and allegedly requiring a "designated escort" around actresses hired as part of a Tinker Bell-based fairy product line. "It's been brought to my attention that I have made some of you feel disrespected or uncomfortable," Lasseter said in November when announcing his sabbatical, admitting to "missteps." Lasseter will reportedly serve as a consult to Disney through December.