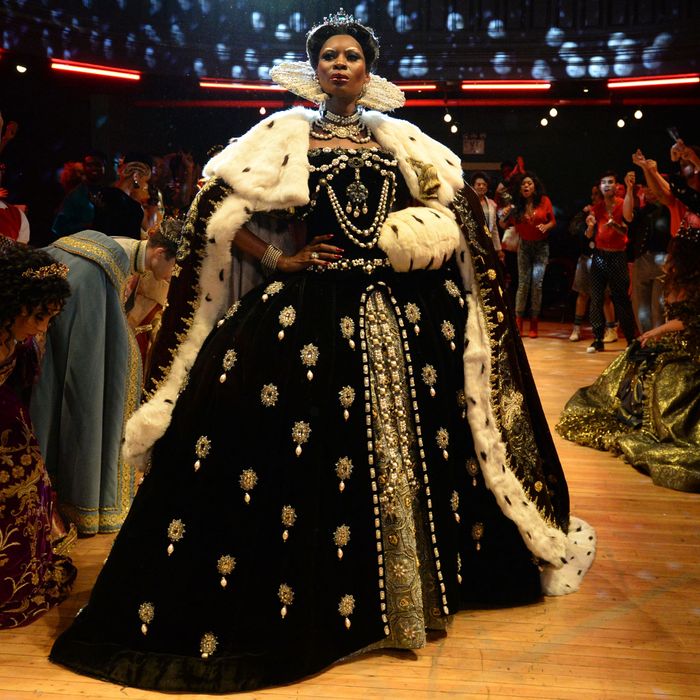 Photo: JoJo Whilden/FX/FX Networks.
Ryan Murphy's queer musical-dance series Pose is a TV event so unprecedented that any attempt to compare it to other series or films falls apart fast. Though the FX series sometimes has trouble balancing earnest kitchen-sink drama with the otherworldly flamboyance of its '80s New York ballroom scenes and the innately didactic quality of some of its main characters' arguments and moments of crisis, the totality hangs together quite well. Maybe that's because Murphy and his regular collaborators (including series co-creators Brad Falchuk and Steven Canals) are working for a network that has already staged so many of their hybrid series (including Nip/Tuck, American Horror Story, and American Crime Story) that viewers have learned to expect the unexpected and give the creators time to either find a vibe or implode in glorious, scatterbrained overreach.
The pilot episode, which debuted Sunday, sets the major players in motion: Blanca (MJ Rodriguez), a wannabe leader withering in the shadow of the imperious Elektra Abundance (Dominique Jackson), breaks free and starts her own house as Mother of the Evangelistas, recruiting fresh blood that includes Damon Richards (Ryan Jamaal Swain), a black cis queer teen from Allentown, Pennsylvania, who is only starting to redefine himself in the big city. The rivalry between Blanca and Elektra proves as grandly melodramatic as the conflict in a Shakespearean tragedy or an old-school gangster picture about warring New York tribes, particularly when Elektra holds forth, hectoring her charges and verbally pummeling Blanca with the zeal of George Sanders's Addison DeWitt in All About Eve (a classic tale of an older woman panicking at the prospect of generational obsolescence). The Blanca-Elektra war serves as an adamantine backbone for all the subplots to come, including Damon's struggle to create his own identity after being rejected by his homophobic parents, and the relationship between Angel (Indya Moore) and her white cis male lover Stan Bowes (Murphy regular Evan Peters), a rising executive in the Trump organization. At the same time, Pose still makes space for grandly entertaining sequences, like the museum heist that yields the period finery that powers Elektra's family toward victory in a royalty-themed ball in the first episode.
This is an unusual series for Murphy, in some ways the culmination of everything he's been working toward as an out gay man who makes chimerical genre-bending TV that tries to grab the widest audience possible without downplaying social issues that the industry was too skittish to frankly address when Murphy was a TV-loving '80s kid. Pose melds the organizational infighting and zest for personal vindication that powered Glee with the burning passion for social justice that drove the second season of American Crime Story (subtitled The Assassination of Gianni Versace) and Murphy's HBO film version of The Normal Heart. The result is something like an alternate-universe glam epic: a tale that unfolds alongside the ones depicted in such '80s touchstones as Wall Street, Working Girl, The Bonfire of the Vanities, and Fame (a film and TV series that Murphy & Co. regularly reference), but that mainstream audiences never got to see, thanks to virulent homophobia and the AIDS panic. A liberating, cathartic energy pervades all the scenes of theme and costume development, self-motivation and self-improvement, and the result is often so ecstatic to watch that it balances the bummed-out realism of discrimination, social hypocrisy, and official neglect.
I've seen the first four episodes of Pose, and without getting specific enough to give anything important away, I can say that the series continues to refine its stories, its characters, and, perhaps most important of all, its tone. By the time you get to episode four, "The Fever," which contains a couple of seismic plot developments, much of the initial awkwardness that sometimes hampered the pilot has faded away, and the writers and filmmakers have put their well-manicured fingers on a storytelling sweet spot, somewhere between '70s downer-movie grit and fantastic midnight-movie splendor.
More significant than any display of craft, though, is Pose's utter confidence as it shows American audiences a world that has never been visualized on television at this length and at such an obviously grand budget level. The camera swings and swoops, glides and tumbles as in a Scorsese epic like Gangs of New York; in both the outdoor street scenes and indoor crowd scenes, it's obvious that FX has spared no expense to get the clothes, the cars, the streets, the business signs, and even the distinctive yellow-brown glow of streetlights correct (although the dialogue still has a few anachronisms, like the 21st-century buzzword "creatives" as a descriptor for artists). The key to a truly groundbreaking production isn't just boldness, but serenity and wisdom. The smartest play is to act as if you're not doing the first series of its type, but the seventh or eighth. That's what the Pose crew does here, hour by hour. The show carries itself as if it's not doing something unique and important, but instead refining concepts that have been around forever — a neat trick that invites viewers to race along and keep up, like the earnest Damon drinking in the overwhelming sights and sounds of New York as he evolves from one kind of person into another.