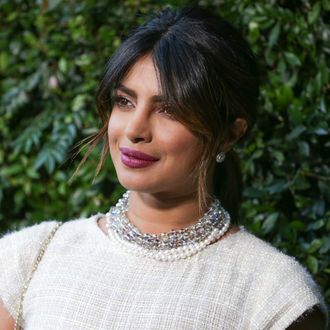 Priyanka Chopra.
Photo: Rich Fury/Getty Images
This weekend, Quantico star Priyanka Chopra took to Twitter to apologize to fans offended or otherwise hurt by the depiction of Indian terrorists in an episode of the ABC drama that aired on June 1. "I'm extremely saddened and sorry that some sentiments have been hurt by a recent episode of Quantico," Chopra tweeted on Saturday. "That was not and would never be my intention. I sincerely apologise. I'm a proud Indian and that will never change." The episode in question, entitled "The Blood of Romeo," depicted Indian nationalists stealing weaponized uranium in an effort to frame Pakistan for a terrorist attack on an international summit in New York.
The network also offered an apology for the content of the episode. "ABC Studios and the executive producers of Quantico would like to extend an apology to our audience who were offended by the most recent episode, 'The Blood of Romeo,' " ABC Studios and the show's producers said in a statement. "The episode has stirred a lot of emotion, much of which is unfairly aimed at Priyanka Chopra, who didn't create the show, nor does she write or direct it. She has no involvement in the casting of the show or the storylines depicted in the series."
Much of the criticism, as EW points out, as been heaped on Chopra, an India-born actress, for appearing in an episode that depicts Indian people as terrorists, and that fictionalizes the real-life historical tension between the two countries as a plot point. If it helps, ABC Studios points out, Quantico has had villains of all different nationalities throughout the series. The network's statement concludes, "Quantico is a work of fiction. The show has featured antagonists of many different ethnicities and backgrounds, but in this case we inadvertently and regrettably stepped into a complex political issue. It was certainly not our intention to offend anyone." Quantico, which was canceled in May, will come to an end after its current third season.