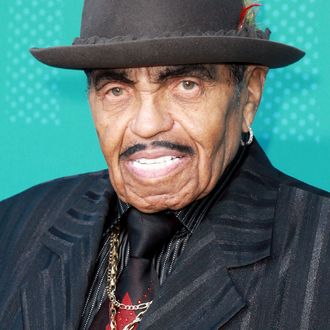 Jackson.
Photo: Leon Bennett/Getty Images for BET
Joe Jackson, the Jackson family patriarch, has died at 89, TMZ reports. He had reportedly battled cancer and was hospitalized in June. According to TMZ, he died on Wednesday in Los Angeles surrounded by his wife, Katherine, and some of his children and grandchildren. Jackson infamously managed his son Michael Jackson during his early career, as well as Michael's brothers – Jackie, Jermaine, Marlon, Michael, and Tito – as part of the Jackson 5, as well as Janet and her sisters Rebbie and La Toya separately. Jermaine Jackson had recently confirmed his father's poor health. In 2002, the Rock and Roll Hall of Fame named Joe Jackson the Best Entertainment Manager of All Time.
The Michael Jackson estate has shared the following statement to Rolling Stone confirming Joe Jackson's death: "We are deeply saddened by Mr. Jackson's passing and extend our heartfelt condolences to Mrs. Katherine Jackson and the family. Joe was a strong man who acknowledged his own imperfections and heroically delivered his sons and daughters from the steel mills of Gary, Indiana to worldwide pop superstardom. Mr. Jackson's contributions to the history of music are enormous. We had developed a warm relationship with Joe in recent years and will miss him tremendously."
This post contains breaking news and will be updated accordingly.