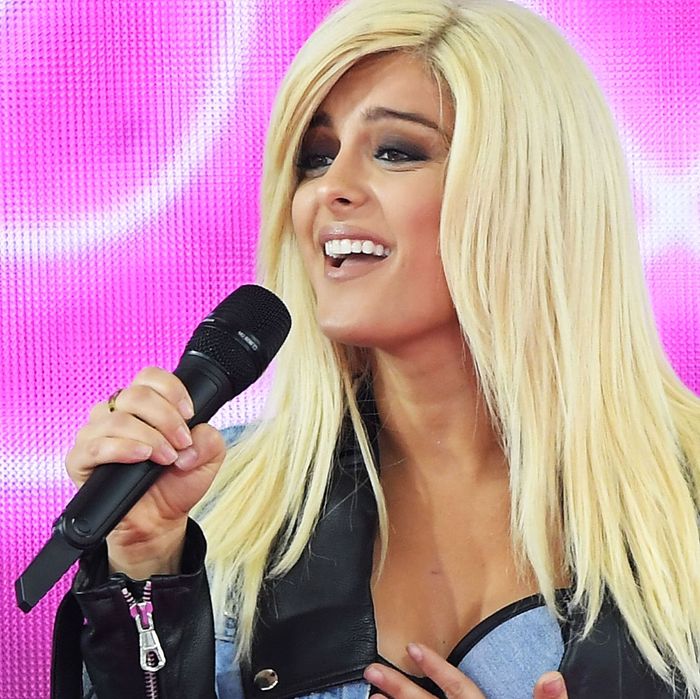 Photo: Mike Coppola/Getty Images
Last year, I complained because I felt that pop music was consolidating values from outside genres into a bland mixed vegetable soup, that with everyone grasping after the same ingredients, the same mix of light EDM and rock production values served over the same trap drums, listening to everyone's records and to radio and streaming service playlists had become a bit of a chore. One of my favorites of the "pop centrist" crop of 2017 was the Brooklyn singer Bebe Rexha's Florida Georgia Line collaboration "Meant to Be," because it is one of most airtight pop-country singles this side of the Sam Hunt catalogue, and because just like country singer Maren Morris's massive dance-pop smash "The Middle," it's proof that a great voice can flourish in any genre alongside the right producers and songwriters. Rexha's debut album Expectations is a showcase for the versatility of her instrument, which is both high and hearty and also a little wan, capable of hitting incredible marks in its upper register at the cost of coming in a little shrill.
"Ferrari" opens the album introducing its primary emotional currency: soaring, genre-busting examinations of weird, bad feelings. The singer recently explained to Billboard that the title of her album references the gap between her dream of what life would be like with a little fame under her belt and her new reality upon attaining it: "I thought money would bring me happiness and being famous would bring me happiness, but I find that … this wasn't what I expected at all." "Ferrari" opens Expectations up by likening the dizzying pace of the singer's new life to the sight of scenery whizzing by a fast-moving sports car. The song's downcast chorus line — "Living in the fast lane is getting kind of lonely" — is a direct descendant of the dejected moves-to-Cali blues we've heard from songwriters since Neil Young and Joni Mitchell decamped to Topanga Canyon from the Canadian north, and Albert Hammond wondered why SoCal never gets rain.
Sadness is as much of a muse for Expectations as Los Angeles is. The new single "I'm a Mess" is a jam about faking positivity until your circumstances change. The hook interpolates the Meredith Brooks Lilith Fair–era jam "Bitch": "I'm a mess, I'm a loser, I'm a hater, I'm a user." "Sad" is about lying alone in the dark and trying not to get swept away up in negative thoughts. Rexha's refrain of "Maybe I'm just comfortable being sad" is both a bit of relatable personal reckoning and a mirror on Kurt Cobain's lyric in the old Nirvana song about doomed actress Frances Farmer: "I miss the comfort in being sad." "Don't Get Any Closer" warns a dude to keep his distance over a beguilingly sweet guitar lick. If you like your pop music a little forlorn and introspective, you'll find plenty of candidates here for rainy-day mood playlists.
The secret weapon through singles and deep cuts like "I'm a Mess," "Don't Get Any Closer," and the Quavo collab "2 Souls on Fire" is producer Justin Tranter. His work as front man of the NYC electro-rock band Semi Precious Weapons and as co-writer and co-producer on records by Gwen Stefani, Fall Out Boy, and 5 Seconds of Summer gifts Expectations a grip of foreboding guitar sounds as its bedrock. Elsewhere, hitmakers like Louis Bell, Hit-Boy, and the Stereotypes toss bits of classical guitar ("Shining Star"), wistful folk-pop ("Knees"), trap ("Mine" and "Steady"), and Beatles-esque balladry ("Pillow") at the singer, and she cuts through everything with the same blend of dark candor and airtight vocals.
Bebe Rexha's poise comes from years spent working as a hired songwriter and a capable session singer. (Did you remember her as the vocalist from Pete Wentz's Fall Out Boy side project Black Cards? I forgot!) Credits on Eminem and Rihanna's "Monster" and Iggy Azalea's "Team," and guest spots on David Guetta's "Hey Mama" and G-Eazy's "Me, Myself & I" sharpened the singer's chops as she plotted a solo career. Expectations enjoys the kind of precision that only comes from patient refinement. The melodies are ace, and the lyrics are straightforward, if occasionally cloying. The beats are almost mercenary in their melding of sounds that ought to jibe. Like "Meant to Be," every song shows up, unloads a battery of intriguing ideas and memorable hooks, and vanishes at or around the three-minute mark. Brevity, honesty, and professionalism make Bebe Rexha's debut a pleasant surprise on the 2018 pop circuit; an album that wasn't expected to turn heads is one of the week's easiest pleasures.