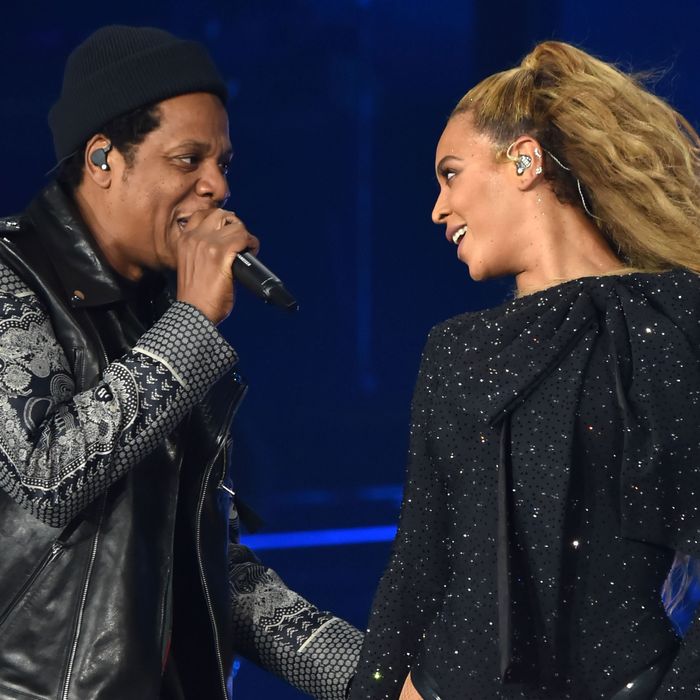 Photo: Kevin Mazur/Getty Images For Parkwood Entertainment
"This is your final warning, you know I give you life / If you try that shit again, you gon' lose your wife." — Beyoncé, "Don't Hurt Yourself" (2016)
"I apologize, often womanized / Took for my child to be born to see through a woman's eyes." — Jay-Z, "4:44" (2017)
"You did some things to me, boy, you do some things to me / But love is deeper than your pain, and I believe you can change." — Beyoncé, "Lovehappy" (2018)
Across 2016's scabrous Lemonade, 2017's conciliatory 4:44, and now this weekend's thermonuclear warhead of a surprise joint album Everything Is Love, Beyoncé and Jay-Z have accomplished something not seen since Marvin Gaye passed from the hot lust of I Want You to the naked remorse of Here, My Dear and the renewed vigor of Midnight Love; not since Richard and Linda Thompson busted up on Shoot Out the Lights and sifted through the wreckage with Hand of Kindness and One Clear Moment; or since Loudon Wainwright III and Kate McGarrigle traded barbs like "What Happened to Us" and "Go Leave" across Unrequited and Kate and Anna McGarrigle. They are performing a marriage in real time, from both sides, in sickness and in health, "Shining," as we've already been told that they do, through rumors of breakups and miraculous makeups. It's a gripping trilogy; there's enough cyclical, generational pain to make William Faulkner wince and enough sky-high ambition and gilded wealth to make Edith Wharton or F. Scott Fitzgerald giggle. Small wonder that these two would jump at the opportunity to soundtrack Baz Luhrmann's Gatsby adaptation. Both Jays are self-made men whose gift and curse is wanting more than what the world offers.
On Lemonade, we're informed through context cues that Jay-Z's hunger for more had reverted him back to the careless philandering he celebrated in another life, in songs like "Girls, Girls, Girls" and "Big Pimpin," a mentality he appeared to swear off when he became a married dad. (The twinkle in Bey's eye in concert whenever she immolated an unnamed liar in the B'day stunner "Resentment" always pointed to a different story.) On 4:44, the same tenacity pushed him, finally, toward candor and tenderness, but this time, on penalty of self-destruction. Everything Is Love is Jay-Z in full range: He's a doting father and husband, an entrepreneur and altruist with ideas about how everyone else should handle their businesses, a king-tier braggart, and a rap legend who hasn't gotten this much of a charge from a sparring partner since the Beanie Sigel and Scarface showdowns of the Dynasty days. Jay's verse in the opener "Summer" illustrates how a man who appears to have everything can be driven by memories of rock bottom: "I remember summer nights in the projects, bullet rounds interrupting my chi / When the worst thing that could happen zipped up his jacket and ran back down the street / In Bel-Air, only the nights get cold, I wrapped a yellow jacket around Bey / It's not lost on me … music has my kids sound asleep."
Beyoncé's role throughout Everything Is Love is that of reigning R&B heavyweight who wants you to know that the 20 years of elite radio singles like "Say My Name" and "Flawless" under her belt have made her the music biz's No. 1 supplier of state-of-the-art party jams and excruciatingly relatable love anthems. More important, decades of nailing tricky cadences have made her one of our most formidable rappers. If that wasn't apparent back when Lil Wayne stole the "Upgrade U" flow on his finest solo mixtape, Da Drought 3, Everything Is Love has a flurry of dizzying Beyoncé bars for you to reckon with. The Migos and Pharrell collaboration "Apeshit" closes out in a triplet flow so hard ("Look at my jewelry, I'm lethal / These diamonds on me, they see-through / I'm a Martian, they wishing they equal / I got m's on the back like Evisu"), Jay screams "She went crazy!" in disbelief. "Friends" adopts the low lilt of a hit OVO Sound single better than "Shining," a song with actual input from Drake's capo PartyNextDoor. It feels like Jay and Bey are dipping their toes into the popular sounds of the era, proving to themselves they could have formidable careers as trap artists if that's what they wanted.
What Jay-Z and Beyoncé really want this year is peace among themselves, prosperity for their children and their children's children, justice for black America at large, and embarrassment for enemies. Like the best closers to riveting trilogies, the odds on Everything Is Love seem insurmountable, and the foes are powerful. Jay gets serious about prison reform, pointing out that he helped get his Roc Nation signee Meek Mill freed from prison this spring and rebuking people who don't even bother blessing their incarcerated friends with cash for commissary. Bey dresses down Tidal's rival streaming service Spotify using Guillermo Diaz's "Fuck you, fuck you, fuck you, you're cool" line from Half Baked. Jay snaps at the SEC over an ongoing investigation into the sale of Rocawear. ("After all these years of drug trafficking, huh? / Time to remind me I'm black again, huh?") On "Friends," the Carters appear to shade Kanye West for saying he was hurt that his friends missed his wedding. (Jay: "I ain't going to nobody's nothin' when me and my wife beefin' / I don't care if the house on fire, I'm dyin', nigga, I ain't leaving.") Ironically, the deft balance of boasts and political commentary the album displays makes it a worthy spiritual successor to Jay and Kanye's Watch the Throne, an album about how racism still stalks the wealthy that was mistaken for an album of taunts for those who don't have Obama and Oprah on speed-dial.
Like Watch the Throne, Everything Is Love runs the risk of being misunderstood as naked imperialism by cynics not willing to engage with its ethical compass. But like 4:44, its belief that black entrepreneurialism is the key to the future is good-intentioned in form but maybe sort of shaky in practice. (The lyric in "Boss" where Bey proudly looks out over a walled compound is, when viewed through the prism of increasingly terrifying news about racist American border policy, eerily reminiscent of the novel and Academy Award–winning foreign film The Garden of the Fitzi-Continis, where a family of wealthy Jewish Italians attempts to wait out the advance of Benito Mussolini's fascist "racial laws" as Europe's uneasy 1930s descend into the all-out warfare of the 1940s.) The Carters are doing and showing the work, though, funding HBCU scholarships and thinking proactively about bail reform. But you'd think the injustice they acknowledge here and in other records in the trilogy, like "Freedom" and "The Story of OJ," would sap their faith in the systems that mitigate wealth and prosperity in the United States, not reinforce the idea that perseverance is a game of buying a plot of land and then willing it to your offspring. Lyrics about hustlers getting out of the life and husbands treasuring wives and couples securing friends they could trust to take care of their children are perhaps a touch cloying, but they make Everything Is Love marginally more accessible than Jay-Z's album of advice for millionaire rappers.
The overarching message of the album is not so much that squirreling away expensive things can save us. It's more of a promise that love will. Work, therapy, compromise, and collaboration saved the Carters. As such, each song here is the rare team-up where both parties sound like they're pushing each other to greater heights, not just waiting till the other person finishes a line to post up another one or, like last week's Kanye West and Kid Cudi album, sagely buttressing each other's shortcomings. Jay has a blast playing the rare role of the proud hype man and biting into the plump, left-of-center beats that populate modern-day Beyoncé albums on records like "Boss" and "Heard About Us." Bey is a natural holding court over the soul chops Jay historically favors on "713" and "Lovehappy." Everything Is Love is a balanced marriage of styles, the kind of collaboration that can only come from knowing the other person inside and out. It's the sweetest possible ending to the trauma of the last two records, husband and wife united in shade and shit-talk, celebrating black dance, music, and beauty in front of the literal Mona Lisa and Venus de Milo. The message isn't "Y'all could never do this." It's that against all odds, two of us just did.
*A version of this article appears in the June 25, 2018, issue of New York Magazine. Subscribe Now!