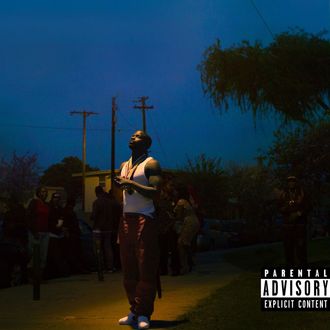 Photo: Top Dawg/Interscope
There's a moment in the grainy trailer for Top Dawg Entertainment rapper Jay Rock's new album Redemption, which is shot like a record label's vintage VHS electronic press kit, that speaks plainly to the Watts rapper's unusual role in his crew. "Rock went out there and took all the punches," TDE's in-house engineer MixedByAli says. "… We needed to have that to be able to build what we have today." Before Pulitzer Prizes and platinum albums, Jay Rock was TDE's foundation, a bridge between gangsta rap's streetwise, pop-literate past and its plush, cerebral future. He arrived between two West Coast hip-hop gold rushes, after The Game's The Doctor's Advocate but before Tyga's "Rack City" and YG's 4 Hunnid Degreez; his 2011 debut album Follow Me Home got lost in the shuffle as hip-hop media's attention shifted further toward the wellspring of talent in and around Atlanta.
Top Dawg learned fast: That same summer, they wisely started labeling Kendrick Lamar's Section.80 a "warm-up" and a "mixtape," buying the Compton star time to hone his craft before stepping into the critical and commercial spotlight with 2012's good kid, m.A.A.d. City. When good kid took off, TDE's roster had a new center. The question of how to push Jay Rock persisted. His 2015 sophomore album 90059 leaned into craft, spinning dense rhymes and intense stories about trust and paranoia without fishing for big singles. The release strategy — which involved putting up a preorder and urging fans to buy the album to secure a street date for it — suggested that the label knew the product was gold but worried that it might not find the audience it deserved. 90059's modest commercial haul proved the concern to be prescient.
Album No. 3 is often the one where great rappers start to stretch out in the world they created on the first two; think of OutKast merging rap with rock and country on Aquemini or 2pac mixing stern introspection and syrupy funk on Me Against the World. Jay Rock has a different plan for Redemption. It's a much more pointedly commercial release than 90059. The first half of the album is a string of short songs with breezy hooks. "Rotation (112th)" lets Rock's sung chorus marinate for the better part of a whole minute before the rapping starts. "Tap Out" sees him bouncing sex raps off of Chicago R&B singer Jeremih. "Knock It Off" and "Troopers" are the kind of lilting summer party jams you'd sooner expect to find on a Ty Dolla $ign album than a TDE one. Redemption is a lot like Schoolboy Q's Oxymoron album in that both works are concerted efforts to float grizzled street rap onto the charts by force of catchy melodies, but Rock lacks the flexibility as a singer to spark accidental goon-soul magic like Q's "Studio."
The more Redemption focuses on Jay Rock's knack for passionate storytelling, instead of flashy hooks and repetition, the better it fares. "For What It's Worth" opens on a crushing verse where the rapper gets drunk off cognac and considers torching his music career by plotting a revenge hit. ("If I do, I can't rap, and that's suicide / 'Cause niggas telling turn you to felons … 25.") "Broke +-" meditates on the choice between following the law and living check-to-check or making money breaking the rules: "You either chasing this dirty money or living righteous, broke." ("Broke +-" also likens the success of TDE to that of the Jackson 5: "I'm just part of a winning team, call me Marlon Jackson." It's a wild line. Why not claim Jackie Jackson, as the elder of his group, or Jermaine, a utility player with personality?)
Jay Rock works great on his own, but guests also help sharpen his instincts. "Wow Freestyle" turns the clock back to TDE's early years; it's just Jay Rock and Kendrick Lamar trying valiantly to outrap each other. "OSOM" revisits the same era, recounting the story of the ill-fated Warner Bros. deal that presaged TDE's breakout 2011–12 run. ("Fairy tales don't end well when the fame and fortune not here.") "OSOM" features a verse and some vocals from J. Cole, whose KOD was, among other things, a great exercise in unconventional vocals and harmonies from a talented rapper who isn't the greatest vocalist. Cole's approach works wonders for Jay Rock. Elsewhere, SZA gives the title track the kind of soaring chorus she excels at lately, and the Black Panther soundtrack song "King's Dead" appears, albeit without the James Blake interlude and the Kendrick "red light, green light" verse from the original. The song still cooks, but it feels a little too slight for its own good now, which is also a read on the whole of Redemption.
Redemption is a solid effort without any obviously bad songs, but the handful of songs that try on the simplistic melodicism of a SoundCloud rapper are peculiar moves, since Rock's excels at crafting involved narratives out of limber internal rhymes. The approach is different from KOD, whose excursions into XXXTentacion cadences and the like were exercises in method acting on an album about the vices some young famous men follow to their doom. Here, it feels like Jay Rock is still trying to find himself, when he arrived at the hip-hop mainstream shockingly fully formed ten years ago. Redemption's poppier moments feel like concessions for greater accessibility from a rapper who should be a made man already. Is he making this stuff because he wants to or because he feels as though he has to?