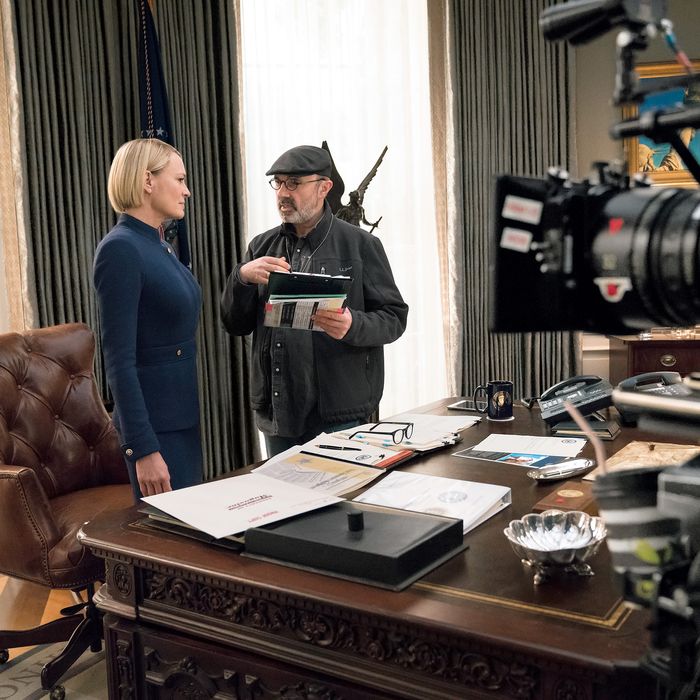 Photo: David Giesbrecht/Netflix
In many ways, Robin Wright will have had to play commander-in-chief twice when House of Cards returns for its sixth and final season. On the show, Claire Underwood will move up in the D.C. food chain from First Lady to Madam President. Off-screen, too, Wright received a promotion: For the first time, she's the sole star of the series now that Kevin Spacey has been fired from the show for sexual misconduct. In New York's latest cover story, Netflix chief content officer Ted Sarandos details how the transfer of power went smoother than most real-world presidential shifts.
"[Spacey] had acknowledged all of the accusations and they were potentially criminal. The hard part was, what about the 300 people who make this show?" Sarandos says, of the decision to bring back the show for a final season. 'Why should everyone be punished for what transpired?" Netflix then regrouped and told Wright they were open to a "Kevin-free solution for the last season" that would involve her taking lead. "We liked what they came up with and we were able to move forward with it quickly," he continues. "It delayed the launch of the last season, but I think that the fans are going to be very happy." See Wright and her power skirt-suit in what is now Claire's Oval Office in Vulture's exclusive first-look photo above. Nothing but respect for our Netflix president!