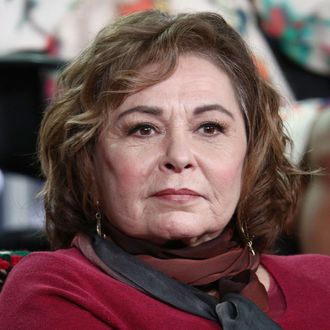 Roseanne Barr.
Photo: Frederick M. Brown/Getty Images
Roseanne Barr and Judd Apatow's relationship goes back over two decades, when Apatow was hired in the early '90s to help write and produce one of her comedy specials. In fact, the duo remained so friendly in the subsequent years that Barr was interviewed by Apatow for his recent book Sick in the Head, which featured intimate interviews of his favorite comedians. Apatow hasn't spoken with Barr in awhile, and she has blocked him on Twitter. But he's still trying to understand what has led his "old friend" to regularly spew racist rants on the internet, a habit that ultimately led to ABC canceling Roseanne. As he sees it, the main issue at hand is Barr's mental health.
"I think you have a person who's in a moment of success and maybe that's uncomfortable for her, and whatever urges she has to be rebellious have overtaken her in some way," he told Vanity Fair in a new interview. "I haven't spoken to her recently to know where her head's at generally, but I see it more as someone who's crying out for help than someone who's a hateful person … for the most part, I hope she's okay and I feel bad for people who got hurt in that. Everyone who worked with her, it's tragic." As to whether ABC made the right decision in canceling her show, Apatow didn't have an answer, choosing to elaborate further on why it's a mental health issue:
She's not really built to be on top of that pyramid, in charge of a lot of people, responsible for them, because she has her own struggles. I've never heard her say anything that was racist in decades. So I don't know where that comes from. It's as mysterious to me as anybody else. But there's a lot of people who get pulled into these worlds of conspiracies and I really don't understand it because all she was was a proponent of women … the only way I can process it is, in some way, Roseanne is in some sort of altered state of her mind. And I just hope that she finds her way back to the values that were really important to her when I first met her.
Barr officially granted ABC permission this week to create a Roseanne spinoff, The Conners, which is set to air this fall. A network spokesperson confirmed that Barr will have "no financial or creative involvement in the new series."