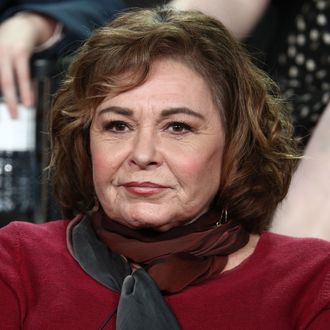 Roseanne Barr.
Photo: Frederick M. Brown/Getty Images
The five stages of grief seems to have finally reached "acceptance" for Roseanne Barr. In her second interview with Rabbi Shmuley Boteach since ABC announced that a Roseanne spinoff, The Conners, would be going forward without her creative or financial involvement, Barr is clarifying that she indeed didn't request any money for the spinoff to be greenlit. "I didn't ask to be paid off," she explained. "I asked for nothing, and I just stepped away … because that is penance. I put a lot of thought into it." In her other tear-filled chat with Boteach earlier this week, Barr expressed remorse and said she "horribly" regretted her racist tweet about former Obama adviser Valerie Jarrett, a tweet that caused Roseanne to be canceled by ABC. As she rationalized:
I'm a lot of things. I'm a loudmouth and all that stuff, but I'm not stupid, for God's sake, and I never would have wittingly called any black person … say they are a monkey. I never would do that! And I didn't do that. And if people think that I did that it just kills me. I didn't do that, although they think I did. And if they do think that I am so sorry that I — ya know, it was so unclear and stupid. I'm very sorry but I don't think that, I never would do that.
The Conners is expected to air on ABC this fall. The ten episodes will find the family "forced to face the daily struggles of life in Lanford in a way they never have before" after "a sudden turn of events." So, start taking bets on how you think Barr's character will be killed off.