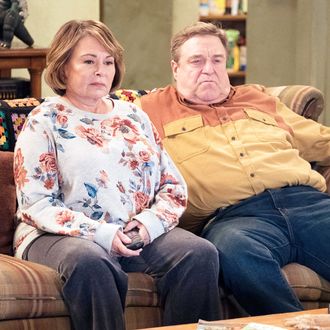 Roseanne Barr and Dan Goodman.
Photo: Adam Rose/ABC
With ratings that good, we guess ABC would be fools not to try to make something work, anyway. Following its cancellation because of a racist tweet from Roseanne Barr, ABC is still in the midst of securing a Barr-less Roseanne spinoff, with the network getting one step closer in doing so. Per THR, Barr has agreed that a spinoff, should it happen, can continue forward as long as the series retains her appropriate credit and grants her "substantial fees and backend on any spinoff." (While she didn't create the show, Barr's specific credit is "based upon a character created by Barr," although she got full "created by" credit with this past season.) If the spinoff were to move forward, it's likely to focus on Sara Gilbert's Darlene and how she intertwines with the Conner family, and THR writes that John Goodman and Laurie Metcalf are "tentatively" on board for this series. Darlene has a nice ring to it, no?