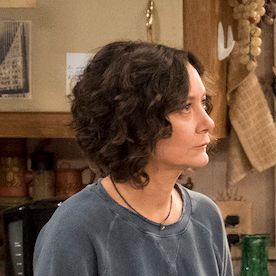 Roseanne is dead; long live The Conners. Less than month after canceling the revival of Roseanne Barr's eponymous sitcom because of her racist tweet, ABC has closed a deal for a Barr-free spinoff series centered around the Conner clan.
The network has given a straight-to-series, ten-episode order to the project, tentatively titled The Conners, and plans to debut the series Tuesdays at 8 p.m. this fall. In a press release, ABC said the new show would find the family "forced to face the daily struggles of life in Lanford in a way they never have before" following "a sudden turn of events." John Goodman, Laurie Metcalf, Sara Gilbert, Lecy Goranson, and Michael Fishman have all signed on for The Conners, and ABC said additional cast members will be announced later.
Not long after ABC canceled Roseanne in late May, word began leaking out that Tom Werner, one of the show's executive producers, had started talking to ABC about ways to continue a series sans Barr. The biggest obstacle, per multiple reports, was ABC's insistence that Barr not profit off the new endeavor. That seems to have been settled to ABC's satisfaction: "Roseanne Barr will have no financial or creative involvement in the new series," the network's release said. What's more, Werner and Barr issued a joint statement confirming that she'll have no "further creative or financial participation." Said Barr: "I regret the circumstances that have caused me to be removed from Roseanne. I agreed to the settlement in order that 200 jobs of beloved cast and crew could be saved, and I wish the best for everyone involved."
What's not immediately clear is whether Barr is getting a payout to settle any potential claims against ABC or Werner related to the cancelation of Roseanne. (The word "settlement" suggests she might.) Barr created the Roseanne Conner character, and could conceivably claim that any future spinoffs related to that character are indirectly her creation as well.
In any case, the deal for The Conners solves two big problems at once: Hundreds of staff involved with Roseanne won't lose their jobs, and ABC's Tuesday lineup won't have a massive hole in it this fall. The show's remaining cast issued a joint statement expressing relief at the new series order. "We have received a tremendous amount of support from fans of our show, and it's clear that these characters not only have a place in our hearts, but in the hearts and homes of our audience," the statement says. "We all came back last season because we wanted to tell stories about the challenges facing a working-class family today. We are so happy to have the opportunity to return with the cast and crew to continue to share those stories through love and laughter." The Conners will be executive produced by Werner, Gilbert, Bruce Helford, Dave Caplan, Bruce Rasmussen, and Tony Hernandez. Helford, Caplan, and Rasmussen will also write the show.