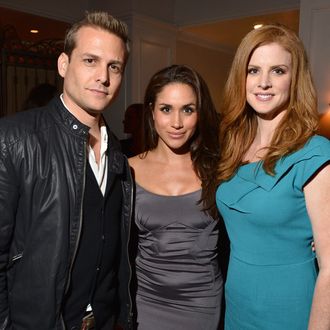 Friends!
Photo: George Pimentel/WireImage
The fact that Meghan Markle's wedding is over has not stopped people who tangentially know Meghan Markle — okay, fine, Meghan, Duchess of Sussex — from talking about it constantly. Case in point: Meghan's former Suits co-stars Gabriel Macht and Sarah Rafferty "raved" to Entertainment Tonight about all their favorite parts of the event. Do you want to know what those favorite parts of the event were? Too bad! I'm telling you anyway.
Here's what Macht told ET:
"It was surprising to see Elton John play 'I'm Still Standing,'" Macht, who attended the wedding with his wife, Jacinda Barrett, recalled to ET's Keltie Knight. "He's still standing, he was incredible and that was an incredible moment."
He went on:
Macht also joked that Prince Harry wasn't the only Harry he met that day. "I met four different Harrys, which was really cool," he revealed.
Here's what Rafferty said:
"It was a wonderful moment to get to see [Meghan] on that day and in that moment," she exclaimed. "It was special."
She went on:
"Seeing [Meghan] walk in on her own, in that moment before she met up with Prince Charles to walk the rest of the way, that was amazing," Rafferty shared.
Suits will return to the USA Network this July, while Meghan will remain in the U.K. Katherine Heigl is also joining the show, which you are now obligated to watch because you know things about it and therefore care deeply for its stars.