As the world straps in, braces itself, and prepares for the finale of RuPaul's Drag Race season ten — a season that has inundated us with gag after gag on the runway — it's important to look back and pay respects to the slays of the past. With that in mind, Matt Rogers and Bowen Yang have ventured on a fool's errand to rank the 100 best runway, entrance, and reunion looks in Drag Race herstory using a simple rubric: Bitch, how hard did we gag?! Oh, and to make sure half of the spots weren't automatically taken, we've banned RuPaul herself from this list. Sorry, squirrel friend!
100. Roxxxy Andrews: Latex Extravaganza (All Stars 2, Episode 2)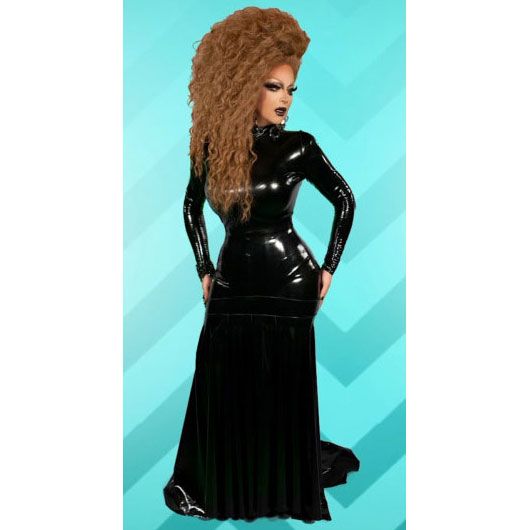 Shapely. Sexy. Probably terrifying in person.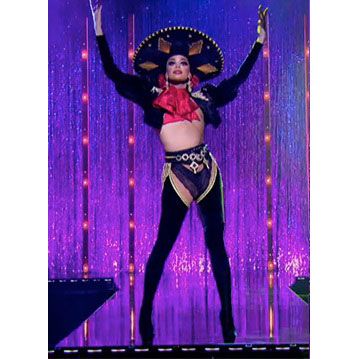 Repping Los Angeles's Mariachi Plaza, this was a stunning introduction to Valentina and her dazzling cultural tributes. The hat, the jewelry, and the chaps-boots hybrid are all to die for.
98. Sasha Velour: Night of a Thousand Madonnas (Season 9, Episode 6)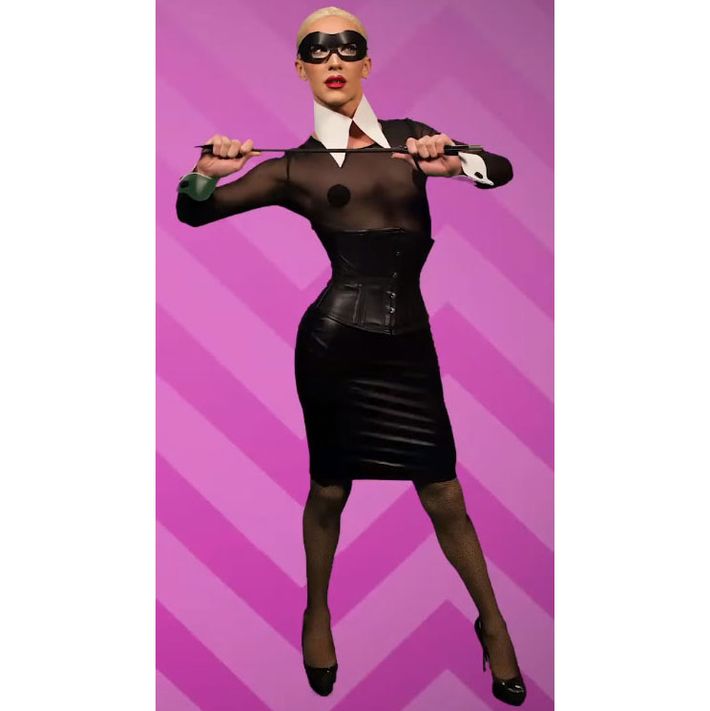 It's a perfect reproduction of Madonna's "Erotica" video look, and a whip-smart choice of a reference. Extra points to Sasha for painting in some gaps on her teeth.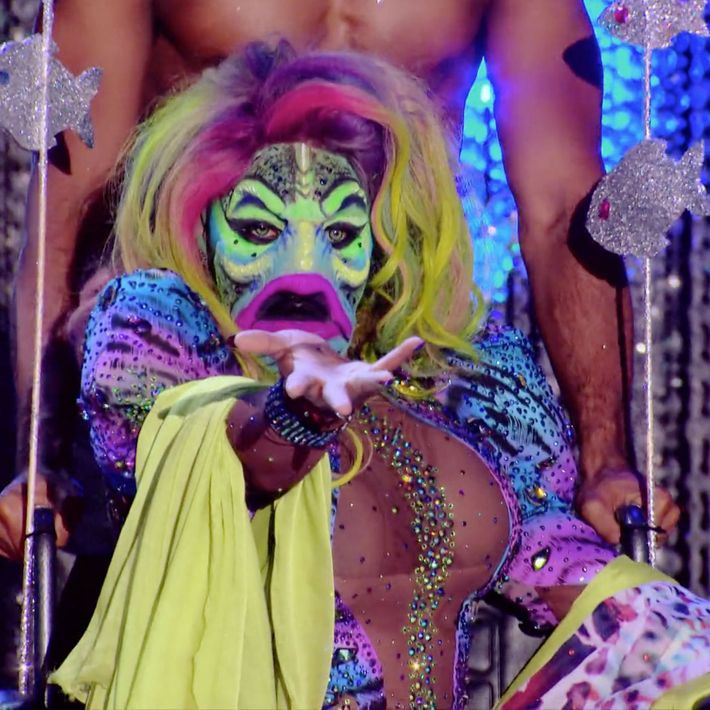 The fish mask is one of the funniest images to come out of season ten. The fact that it really looks to be a part of her face when she talks is mind-blowing. This is canon.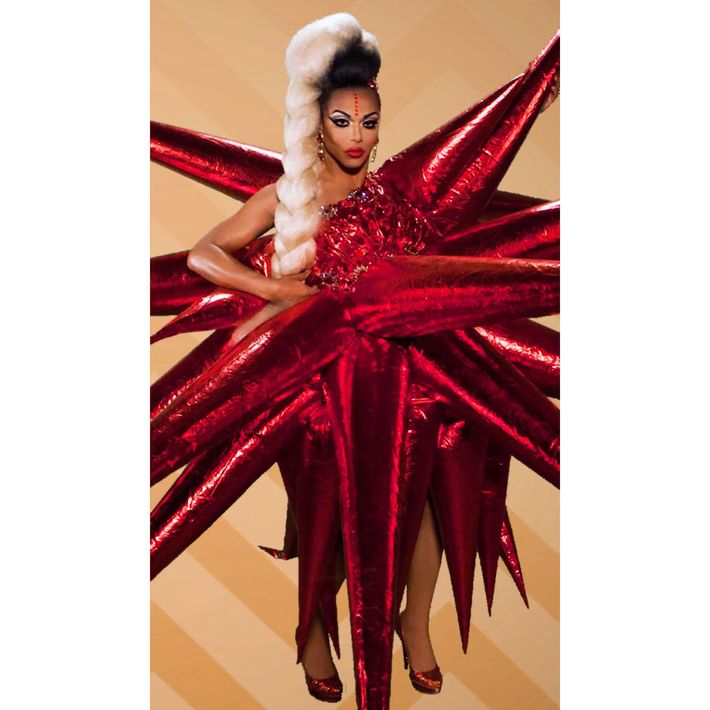 The inflatable spikes are obviously the draw (and a knowing tribute to Lady Gaga's 2014 sea-urchin dress), but stay for the comically large braid that surprisingly works, and we are sufficiently gagged.
95. Chad Michaels: Best Drag (Season 4, Episode 5)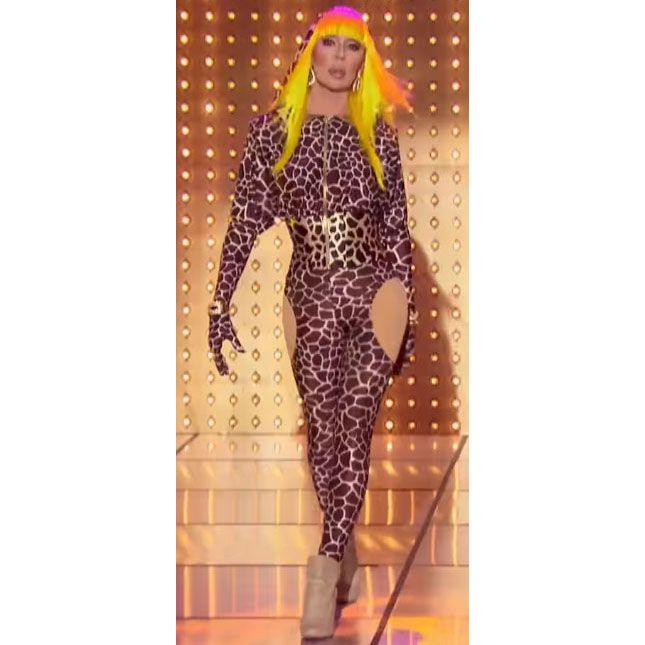 Anything inspired by Queen Shania's "That Don't Impress Me Much" music video is a winner in our book, and the giraffe print is a cheeky left turn from its reference. Same goes for the acid-neon hair, which is something special and something else.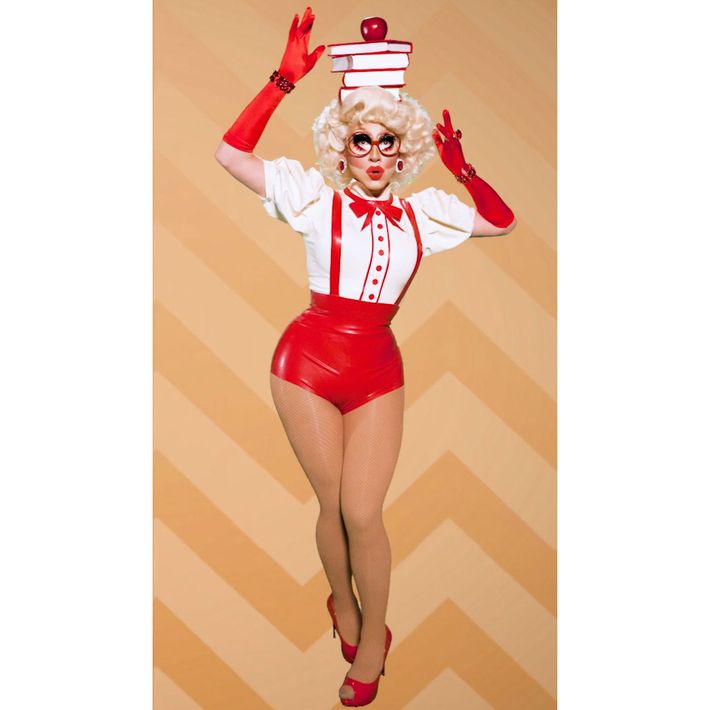 This exemplifies Trixie at her best: conceptual yet classic, and most importantly, fun. The latex adds a shiny and sheeny finish to the ensemble, and the books make us immediately straighten our backs, in reverence.
93. Asia O'Hara: Final Four Eleganza Extravaganza (Season 10, Episode 12)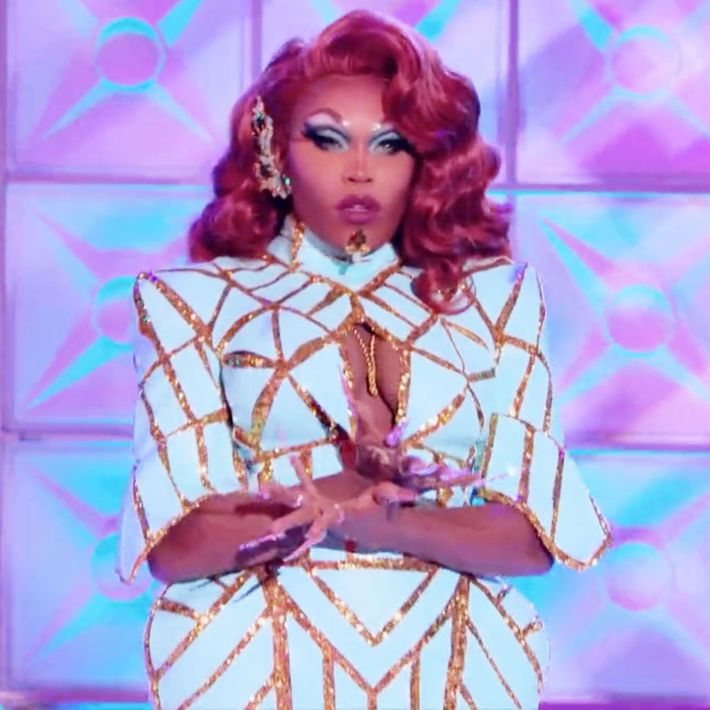 When you consider Asia, you may not automatically think "runway queen," but she turned out some of season ten's most iconic moments, culminating in this gorgeous final effort. The shape, the color, and the cheeky jewelry placement all make a compelling case for her victory.
92. Kim Chi: Black and White Realness (Season 8, Episode 7)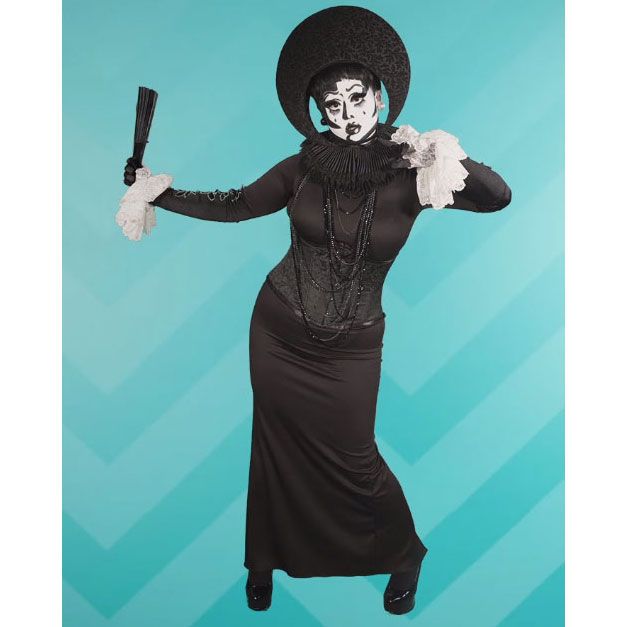 Whether it was on purpose or not, this look leaned into how Kim Chi felt at that moment in the competition. A fully realized character that fully supplemented her crying on the runway during that week's judging.
91. Vivacious: Entrance Look (Season 6, Episode 1)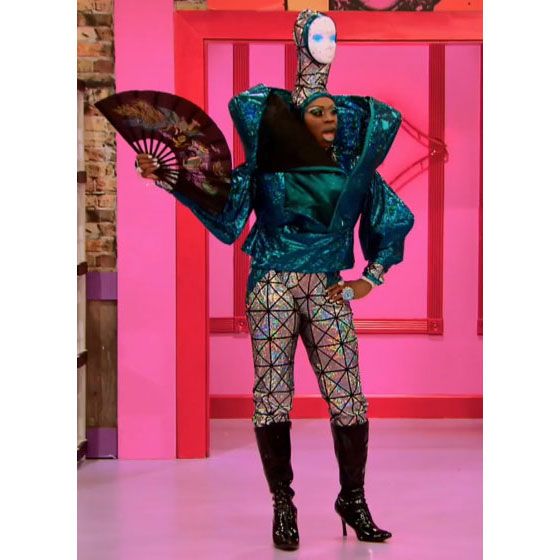 The head stack seen 'round the world. Memorable amongst fans and the queens alike, this introduced us to one of the series' most important supporting characters. Don't sleep on Ornacia. Maybe we'll see her on All Stars 4?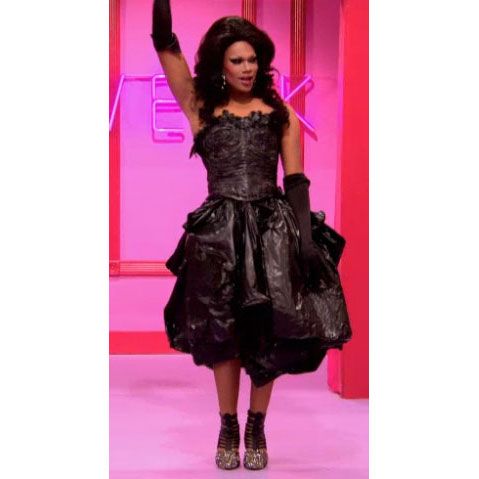 Creative, and a terrific intro to this crafty queen. It's even better in hindsight when you consider her journey from this moment. Chi Chi has always created magic with nothing but her talent.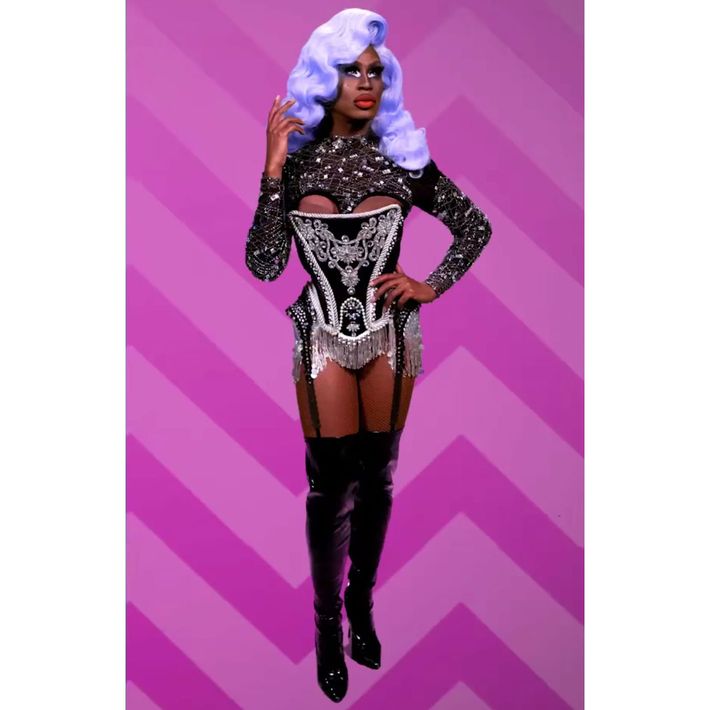 A gorgeous finale look that made the case for her victory strongly and plainly. We also love her in this hair! She does glam so, so well.
88. Alexis Michelle: Night of a Thousand Madonnas (Season 9, Episode 6)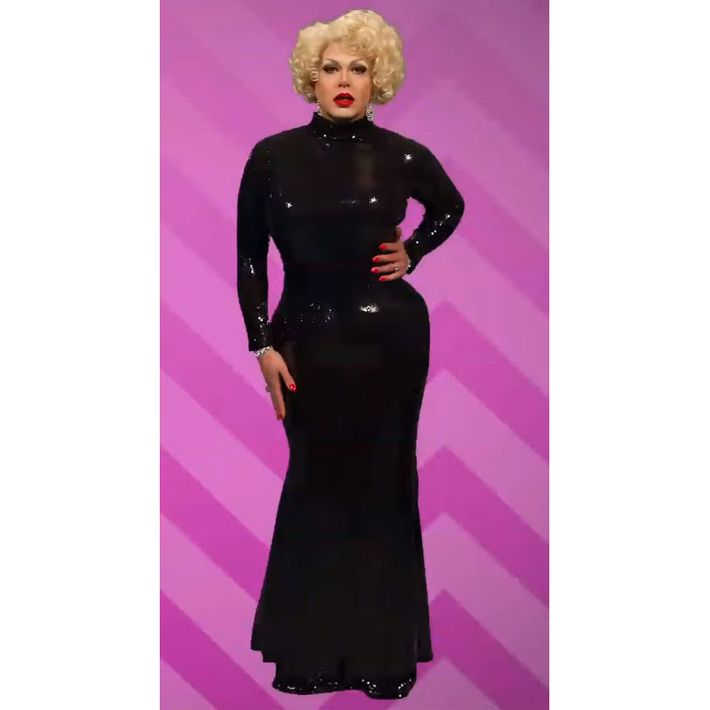 Alexis wisely chose something no one else would in this Breathless Mahoney reference, and she stuck out for good reason. Say what you want about the occasional Untucked theatrics, but Alexis is snatched. This is her best look.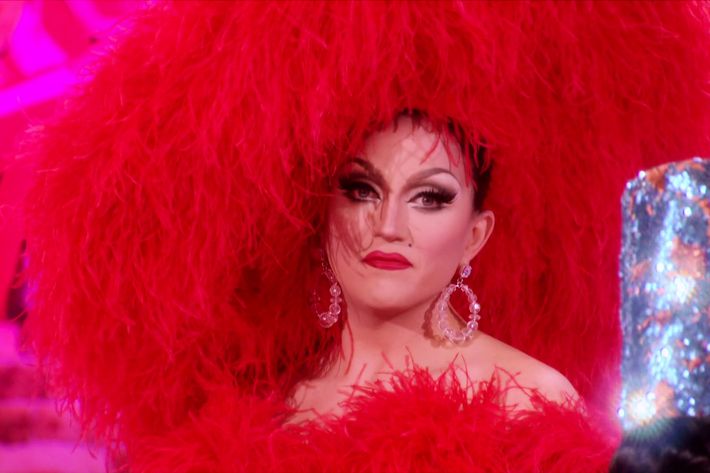 Wealthy heiress fish or Hello, Dolly! eleganza — take your pick. If you were heartbroken when Ben left the competition on her own volition, this had to hurt even more. Imagine this walking the runway? She's an absolute beast.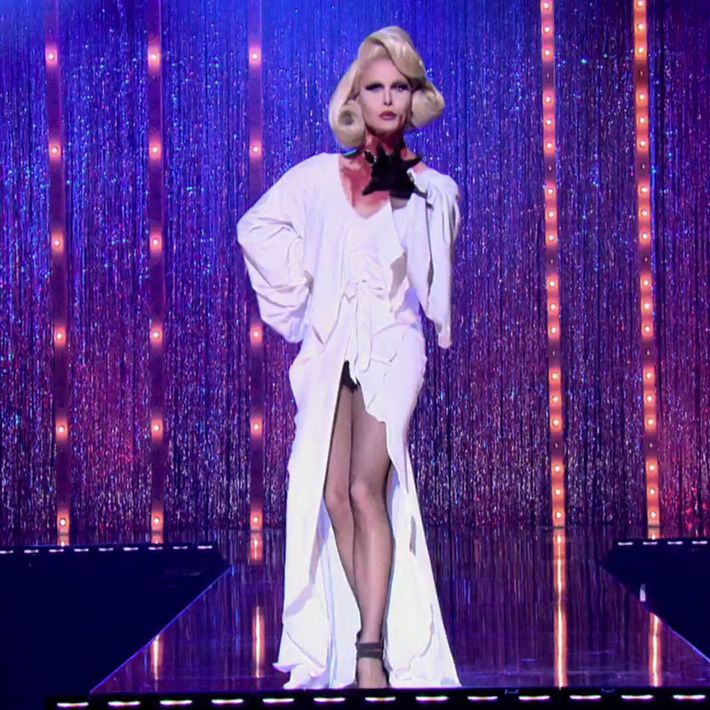 Well-characterized and embodied by the surprisingly kooky Trinity Taylor, who made a risky choice here selecting a Gaga we had all seen fairly recently. It paid off in spades. Kill us, Trinity! Eat us!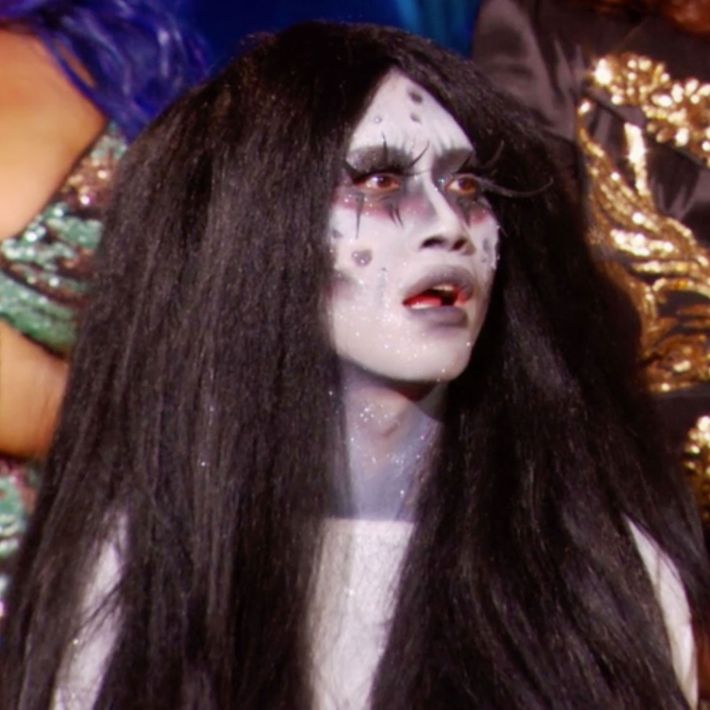 While we're in horror territory, you have to give it up and gag it up for this look. A riff on The Ring's Samara, or really any Asian killer ghost, this look put Yuhua's sense of humor on display. Simple, singular, and hilarious.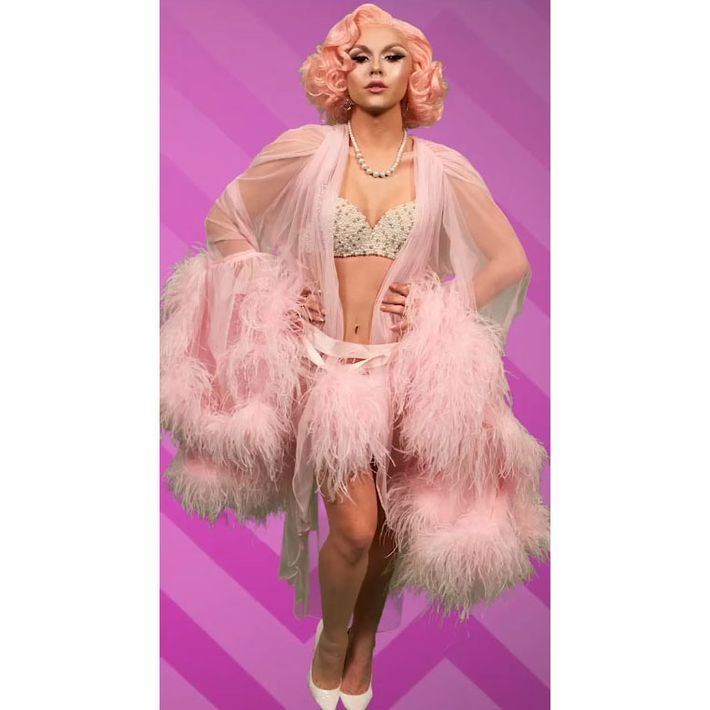 Exactly how you want to see Farrah Moan. She is, with all due respect, a hot piece of ass. Inviting. Sexy. Like a polite hooker angel.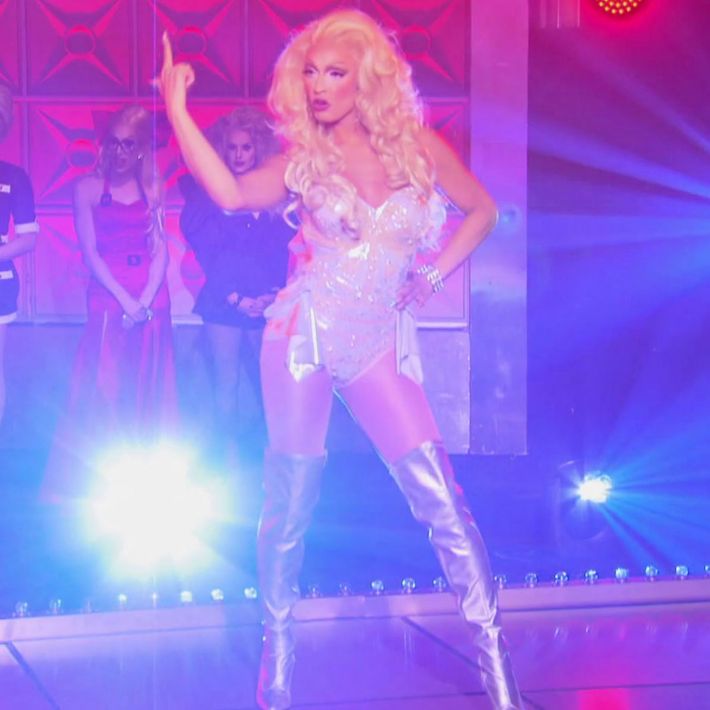 Speaking of angelic fish! Tatianna got most of her good notices on this episode for slaying the lip sync versus Alyssa. But this look? Worthy of some daaaaaamns.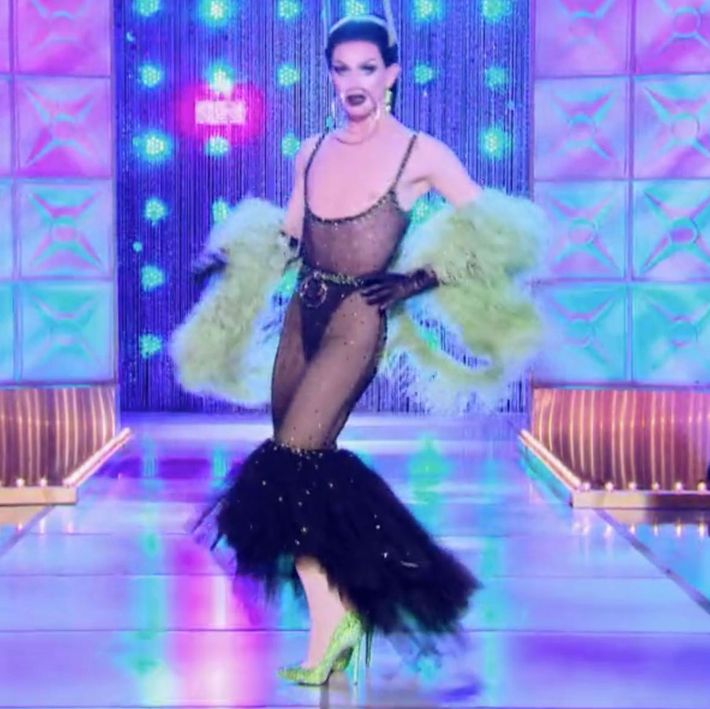 This look pulls focus in ingenious ways. Between the flounce in the skirt, the boa, the sided headpiece and, of course, the oversize nested septum rings, there are flashes of brilliance everywhere you look. Extra points for selling Michelle Visage on a green color story.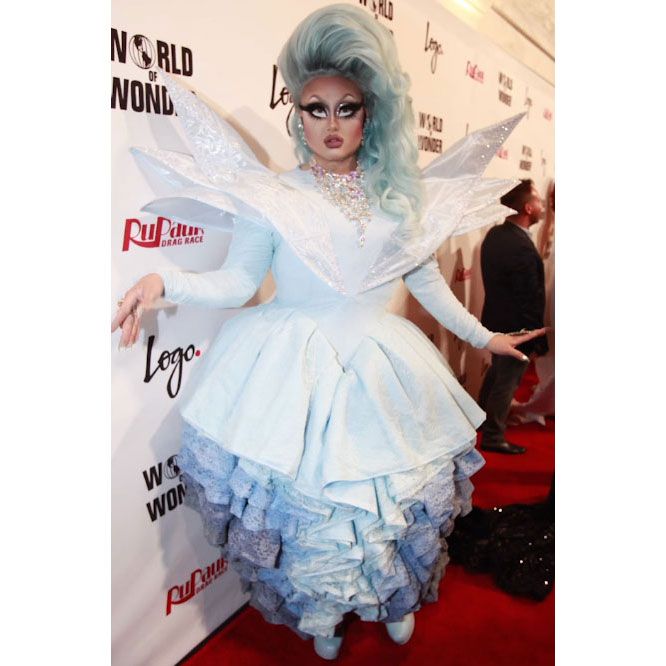 It's almost as if you took her entrance look and peeled it open. The queen has blossomed. An amazing ending to arguably the strongest runway season of any queen in the herstory of the show. She always looked flawless, or at least edible.
80. Miss Fame: Ugliest Drag (Season 7, Episode 9)
We're sure Fame would rather we rank one of her more intentionally beautiful efforts, but this globular mess stands out. She nailed the assignment in that it's hideous, and the fact that her face is as beat as ever is truly hilarious. It's so bad that it's great.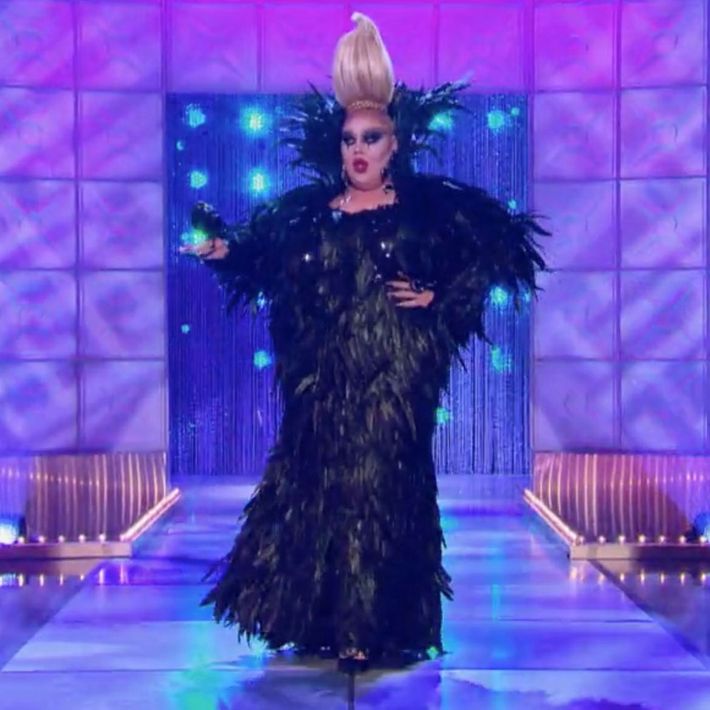 It's been said before, but,"Edgar Allan Ho." The ravenesque look is striking, her red, glowing eyes are terrifying, and she's on brand with the loaf, gawd. This was the moment in season ten that confirmed Eureka's inclusion wasn't novelty; she came to win.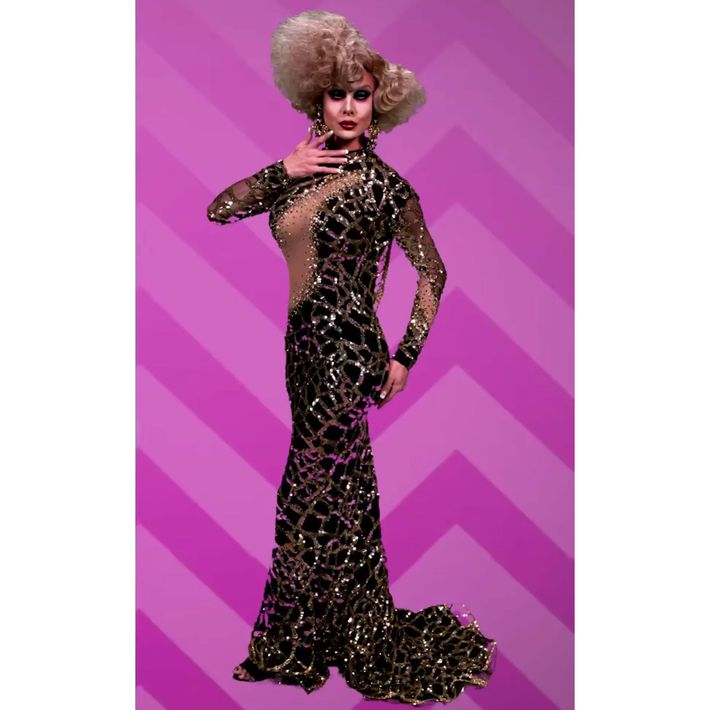 While the dress screams pageant, its sequined lattice detail elevates the entire look. Trinity's flattened and angled hair also give this the perfect editorial touch, and it was a great, graceful exclamation point on Trinity's wildly versatile run on the runway.
77. Katya: Bearded and Beautiful (Season 7, Episode 3)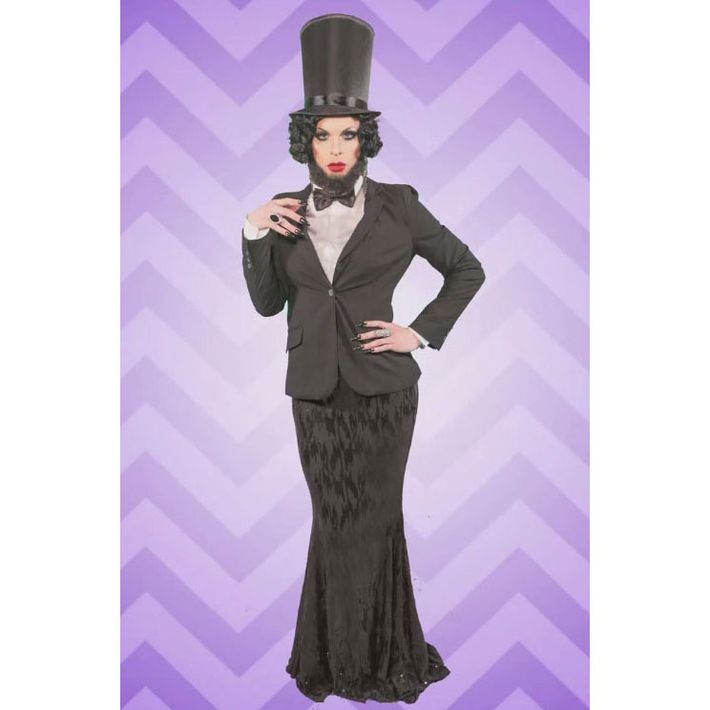 As (literally) historic a runway look as they come. The stovepipe hat and the beard drive the Abe Lincoln reference home, but the tuxedo top and sequin skirt are the real winners. We're gagged for Gettysburg, babe.
76. Pearl: Best Drag (Season 7, Episode 12)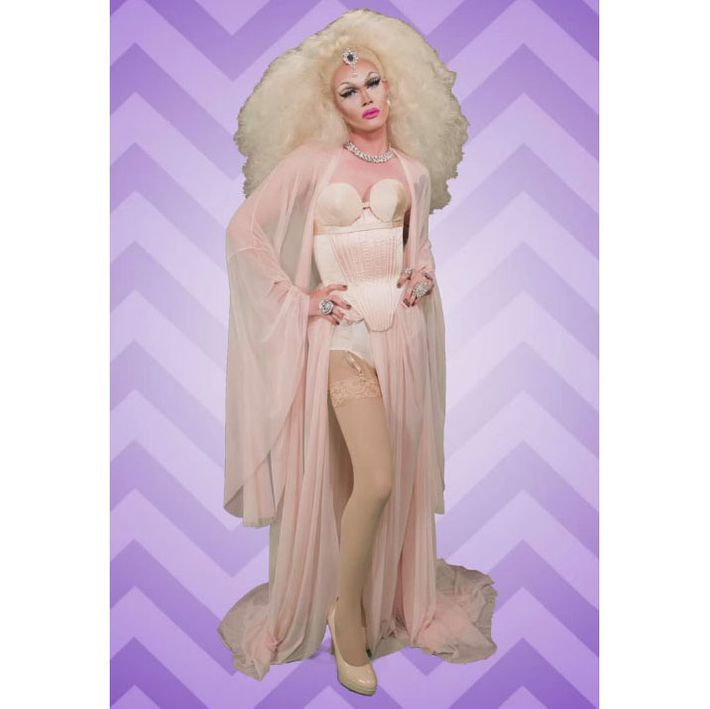 It's tough to embellish a lingerie-heavy outfit like this one, but Pearl's pre-finale runway managed to look ethereal and airy while staying simplified. We appreciate how effortless this looks, and her bouncy hair and season-long bindi motif all culminate beautifully.
75. Kameron Michaels: Miami Summer Realness (Season 10, Episode 4)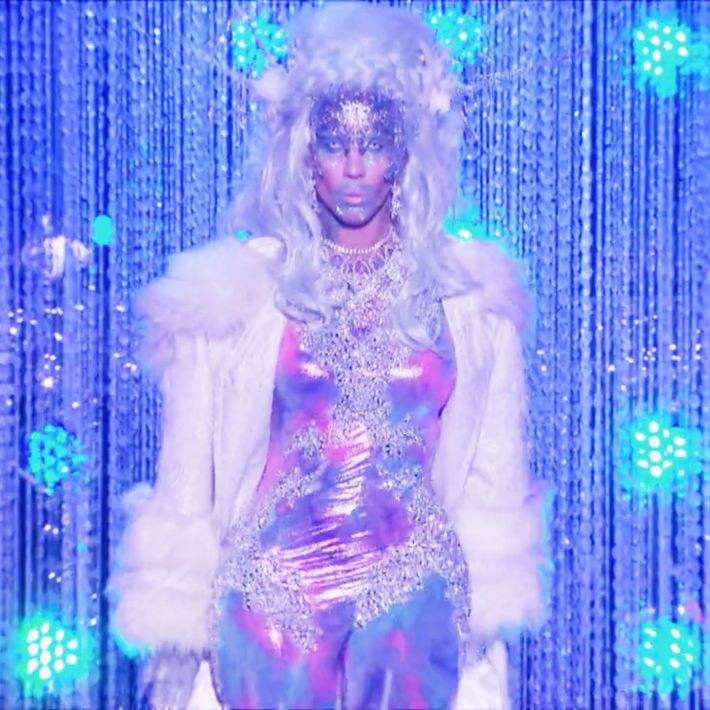 Honestly, this is closer to what Elsa would look like in real life than anything you're gonna see in a Disney park. It's Frozen realness. Kameron is an incredible makeup artist, and here it appears her face is literally iced over. Powerful.
74. Trinity K. Bonet: Black and White Drama (Season 6, Episode 7)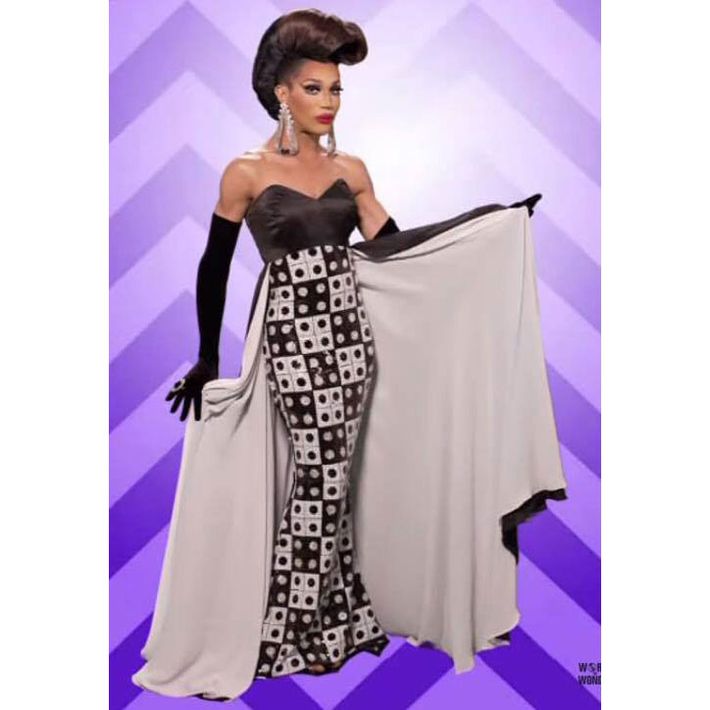 The dice pattern on the skirt seal the deal here, and the simple, chic black train put this red-carpet look somewhere between the BAFTAs and Independent Spirit Awards.
73. Tyra Sanchez: Finale Look (Season 2, Episode 11)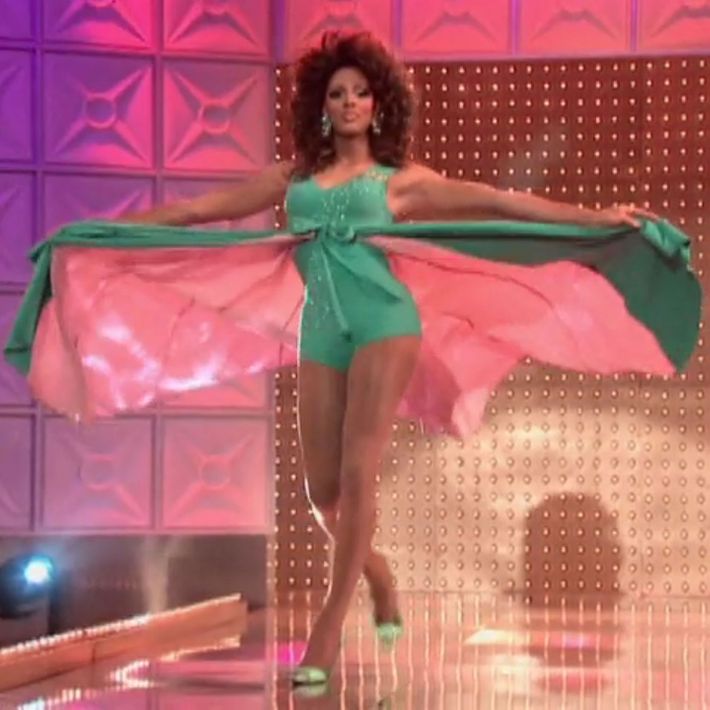 What made Tyra's fishiness so powerful was that she knew what to do with it, while others fumbled with their natural femininity (sorry, Tatianna). This swimsuit-dress hybrid was stunning with its color story, and the crown was practically begging to be paired with it.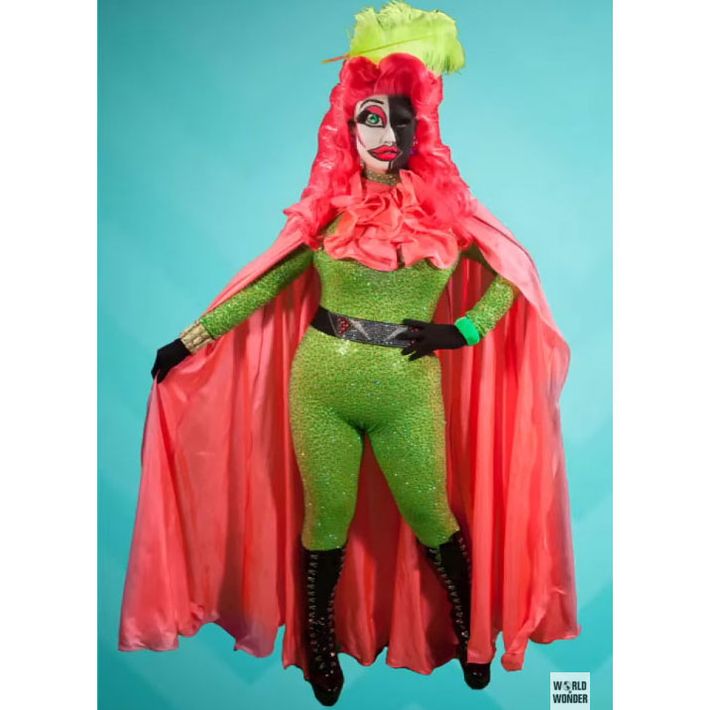 God bless Kim for conjuring up a nutso cubist supervillain, like an even gayer Kefka from Final Fantasy VI. We resent her being labeled as an "anime queen," but this was a glorious, acid-tinged Miyazaki fever dream.
71. Farrah Moan: Night of a Thousand Madonnas (Season 9, Episode 6)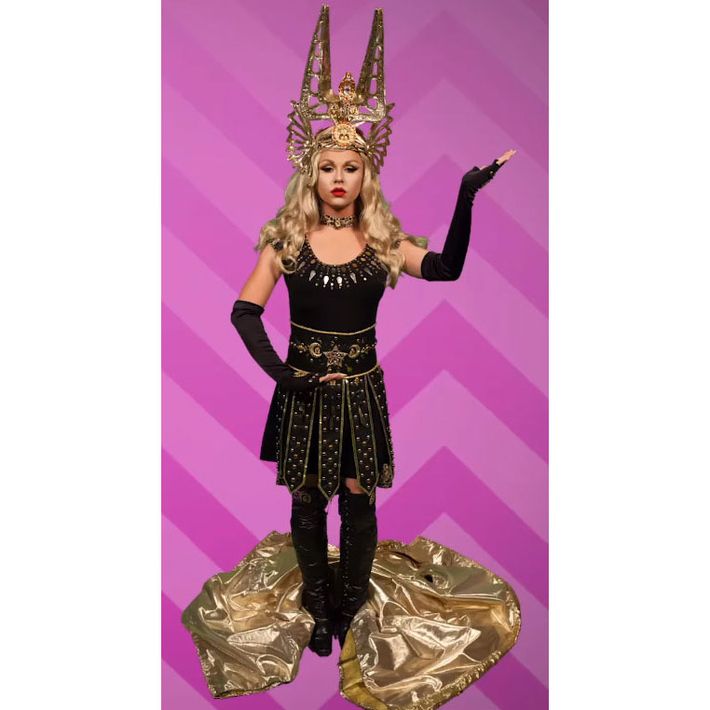 All Farrah needed to transport us to Madge's halftime show was someone else as M.I.A. flipping the bird, because this was a highlight for Ms. Moan's otherwise mediocre run. In this getup? Bring her out on the palanquin, honey.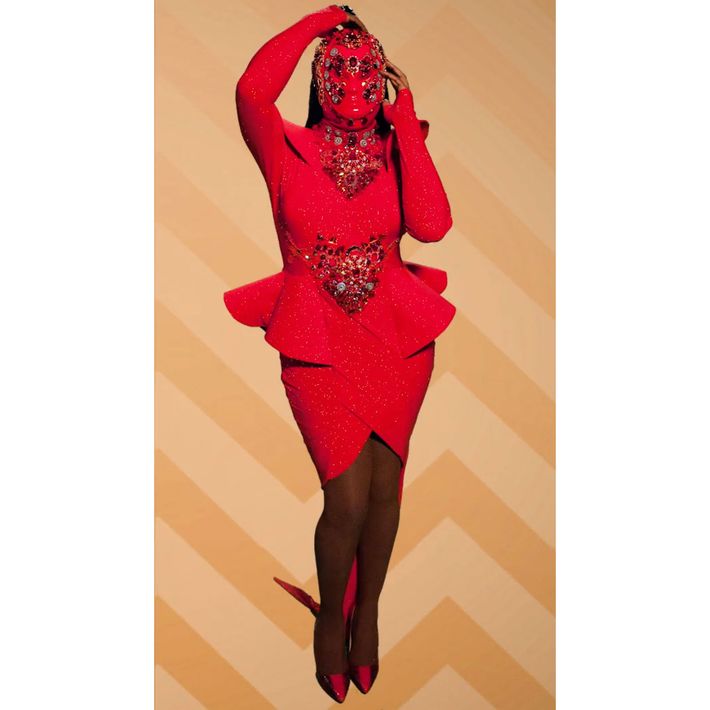 This list wouldn't be complete without an appearance from the Jungle Kitty herself, Ms. BeBe Zahara Benet. She stuck to a single theme for much of her time on the show, and this was a wonderfully outside-the box-moment — a well-executed nod to club kids 'cross the globe. Thank you, Mother.
69. Raven: Bad Girls Chic (All Stars 1, Episode 3)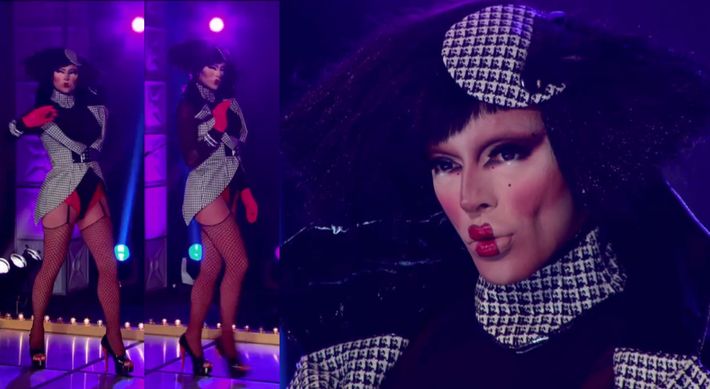 Deconstructed houndstooth has never gagged the children more. This Comme des Garçons–inspired outfit was sartorial excellence, and that button lip launched a thousand makeup tutorial videos. Harajuku Raven, you got the wicked style.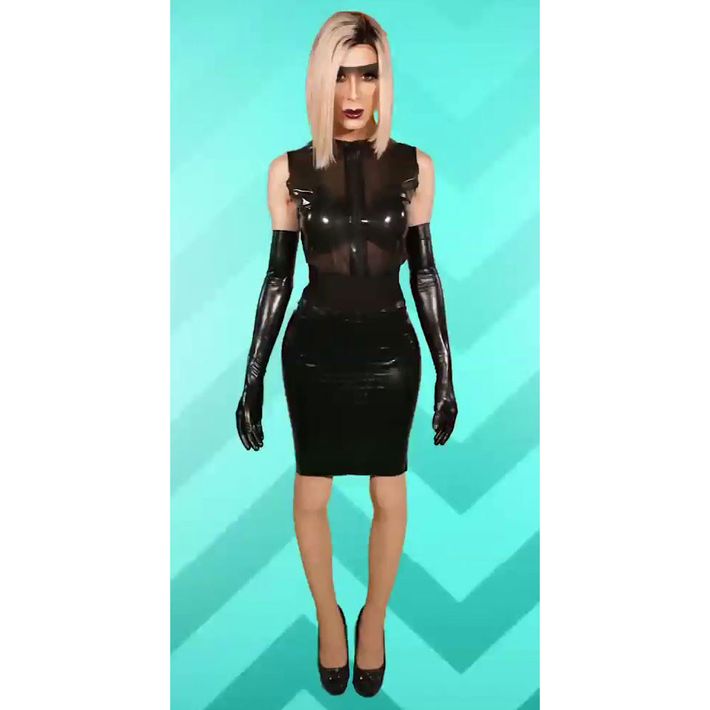 The dark unibrow beat is a perfectly slick touch to the rest of this chic, streamlined look, and that slightly asymmetrical hair was the first sign in All Stars 2 that Alaska was bringing her high fashion out to play. That she was able to make the kitten heel iconic in the lip sync is crown-worthy alone.
67. Kennedy Davenport: Reunion Finale (Season 7, Episode 14)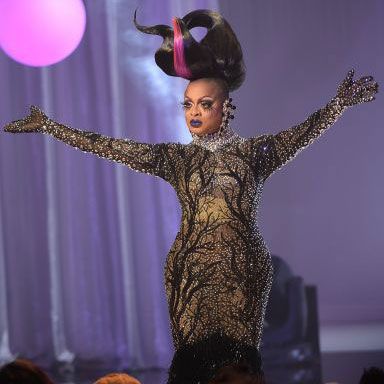 Can you imagine if she was always on this level? This is something we didn't even get close to on All Stars 3. And the reveal? That's a superstar alien queen diva who would eat Sigourney alive, bitch.
66. Chad Michaels: Inaugural Drag (Season 4, Episode 9)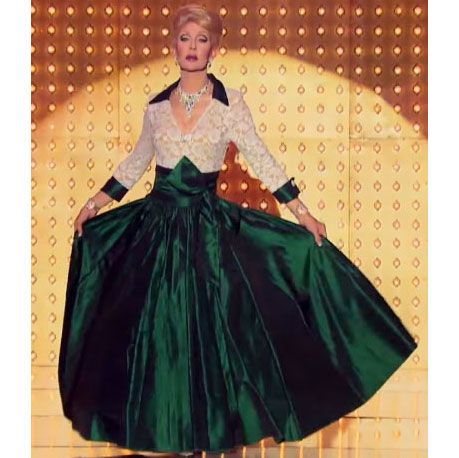 Chad Michaels takes the runway as a woman who commands respect. She's Mrs. Michaels. Behave. Behave yourself in her home.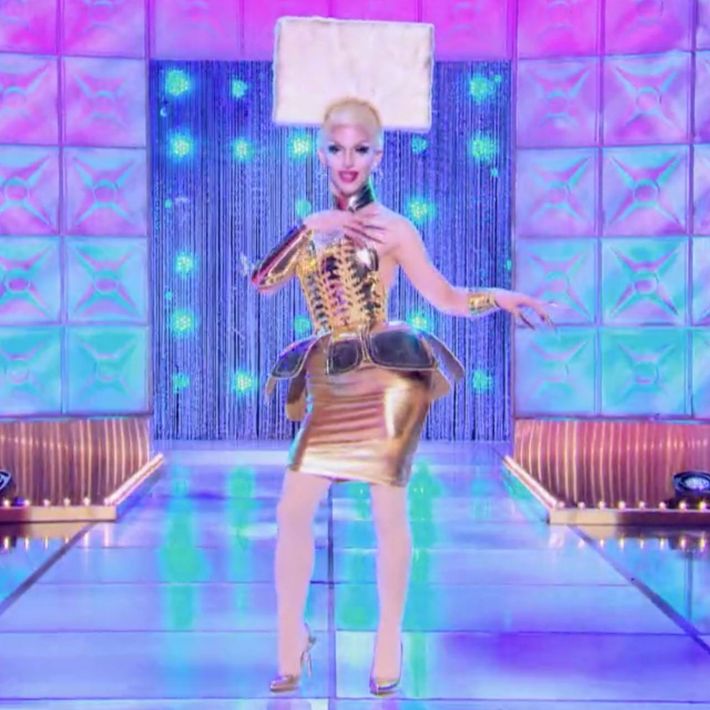 Rectangle girls of the world, rejoice! The box-shaped hair is the main event, but don't sleep on everything happening below the neck. The laced-up Metropolis-inspired outfit is a true stunner, complete with a gorgeous choker, cuffs, and golden fronds blooming from the waistline. A Cracker highlight.
64. Sharon Needles: Best Drag (Season 4, Episode 5)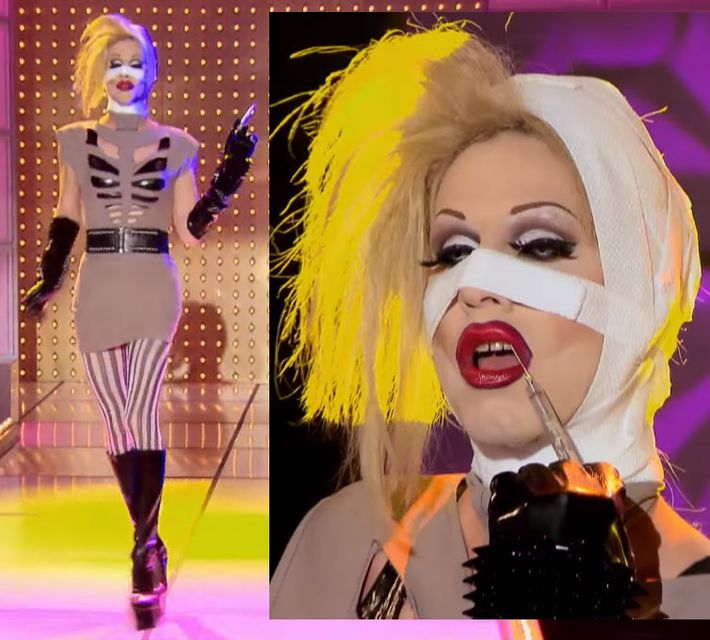 Sharon has the gift of being genuinely scary, and that's almost entirely due to her commitment. She's a horror-show actress, and an Oscar-worthy one in this performance as a filler-obsessed freak.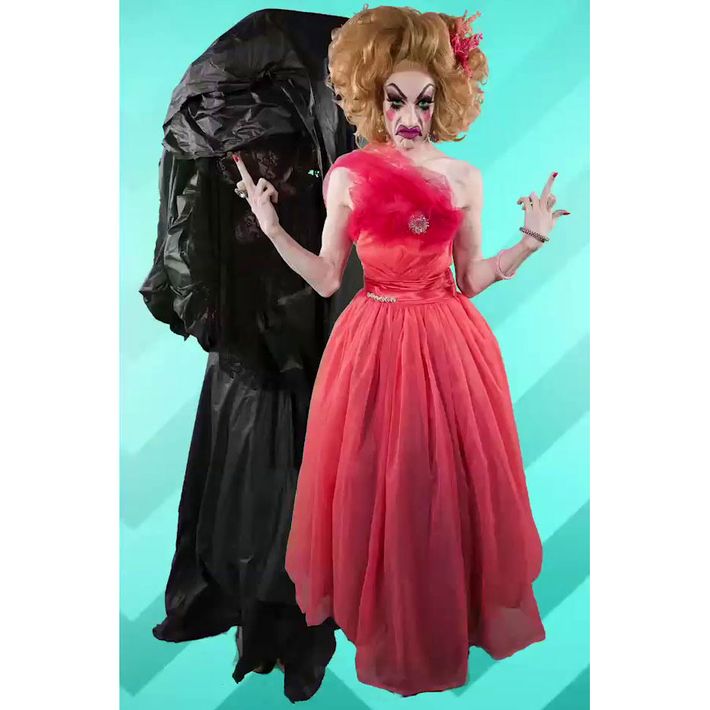 If not entirely a two-in-one look, it was entirely brilliant. Alaska brought a fan-favorite character to life because she is an actress, too. CableACE Award caliber at the very least. We love you, Lil' Poundcake.
62. Sasha Velour: Rainbow She Betta Do (Season 9, Episode 11)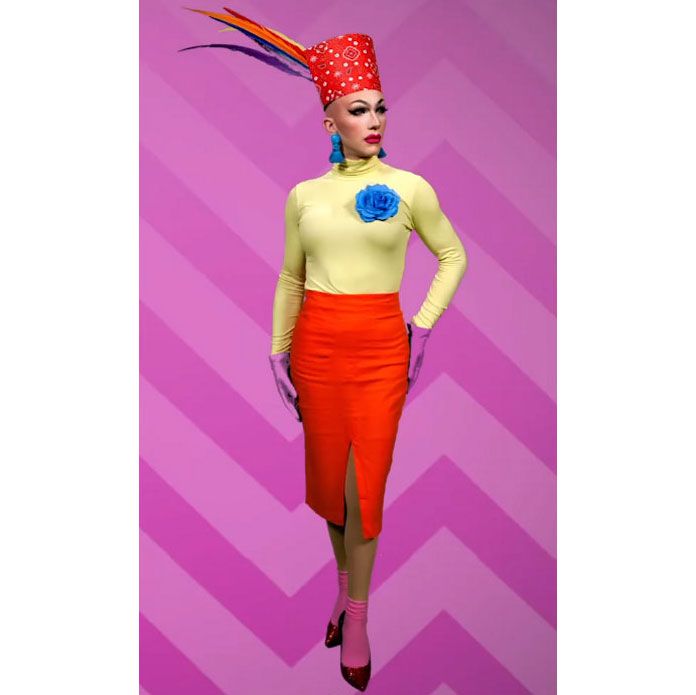 Sasha's ideas were always singular, and this one was colorfully creative. If anything, it gave us a precursor to her bald-headed reveals and ranks as one of her most memorable moments, besides the obvious.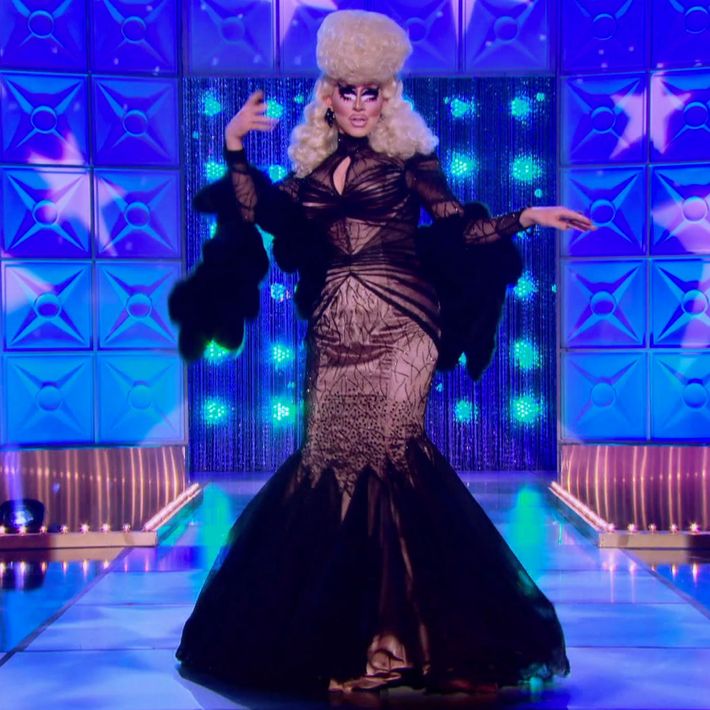 She labeled it better than we ever could: "Collector's Edition." Dark Barbie! What could describe this queen more aptly? And that poodle hair! Winner, winner, chicken dinner.
60. Pearl/Trixie Mattel: Conjoined Queens (Season 7, Episode 8)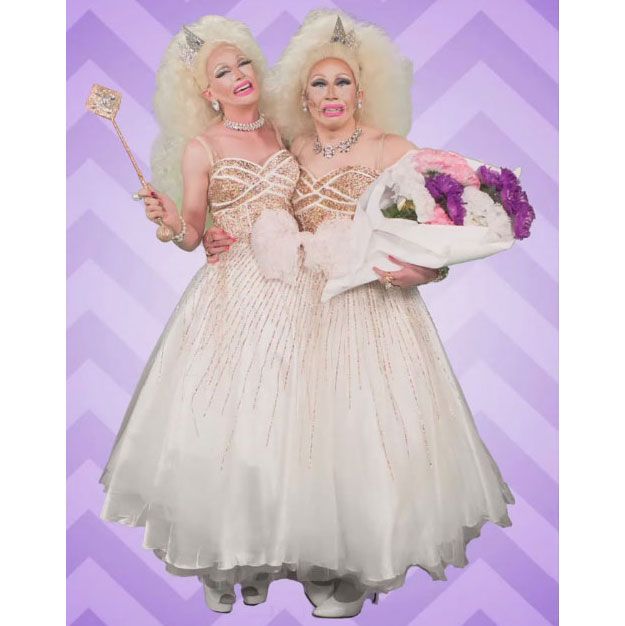 Not only was it good to see Trixie again, but they served us a li'l sitcom narrative, honey! When Pearl nailed, she nailed.
59. Jinkx Monsoon: Deadliest Snatch Glamour (Season 5, Episode 5)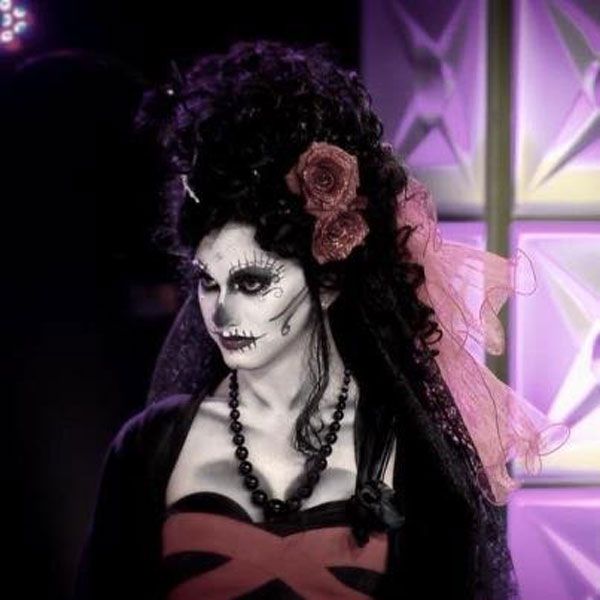 It was nice to see Jinkx confident on the runway. And a dead pirate hooker? That's Shakespearean.
58. April Carrión: Best Drag (Season 6, Episode 3)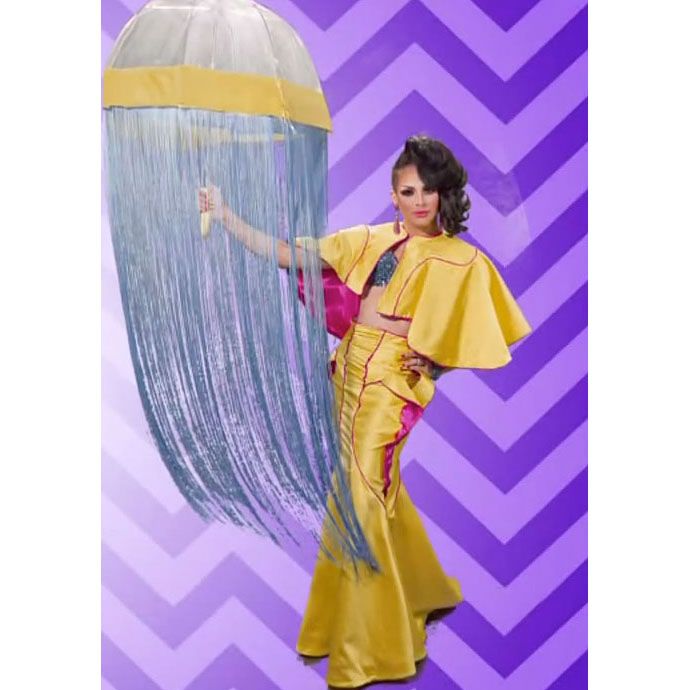 It's a shame Debbie Reynolds didn't return to guest judge on this episode, because April's fringy umbrella look would have done her proud. The fact that there's an actual poncho instead of an emergency one is a cute wink, and the hair is an asymmetrical stunner.
57. Alaska: Candy Couture (Season 5, Episode 11)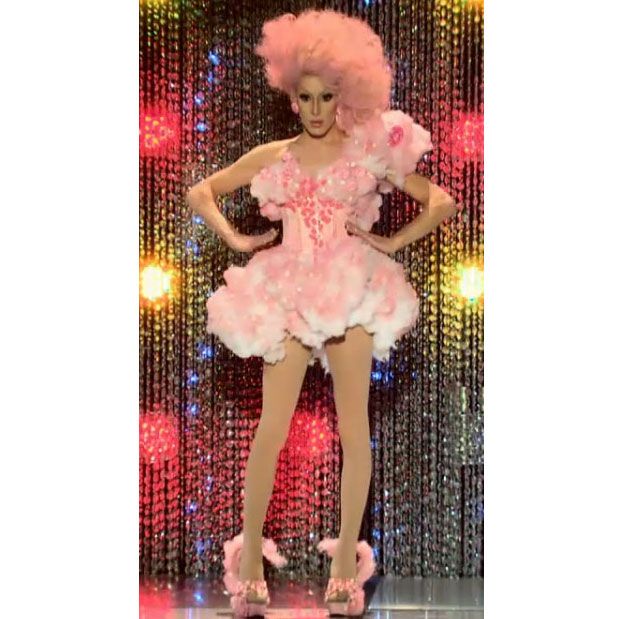 Delicious. Sweet like candy. Tragically thin. Classic Alaska in that it felt familiar but had never been seen before.
56. Bianca Del Rio: Animal Kingdom Couture (Season 6, Episode 9)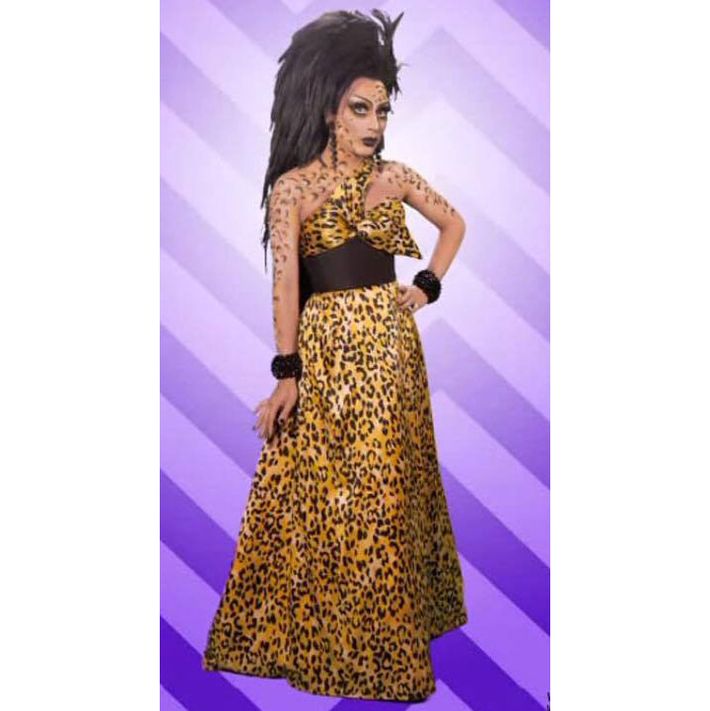 Hear us out, because while one could make the argument that this was too first-thought for the animal runway, it's worthwhile that the streamlined dress was a nice departure from Bianca's patrician schtick without losing her trademark loudness. She kept it simple and pulled it all together with the painted leopard spots and big hair, landing it among Bianca's best runway showings.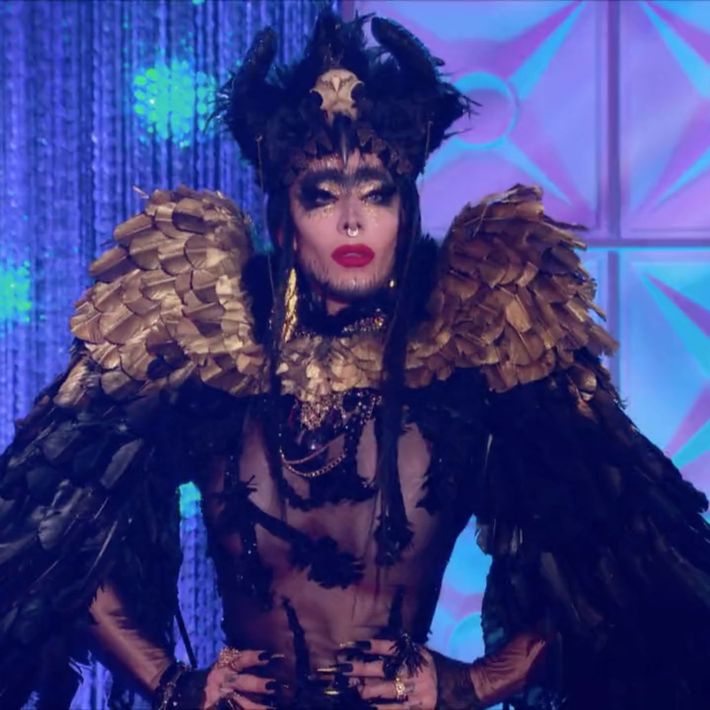 Mad Max villainess fish. It feels apocalyptic and dangerous, which is a world we would later discover that Kameron revisits often. But it was new here, and this was the moment that Ms. Michaels really established herself as a presence. All hail the queen of the winged beasts! One of the best looks from one of the best overall runways of the series. All the girls did well!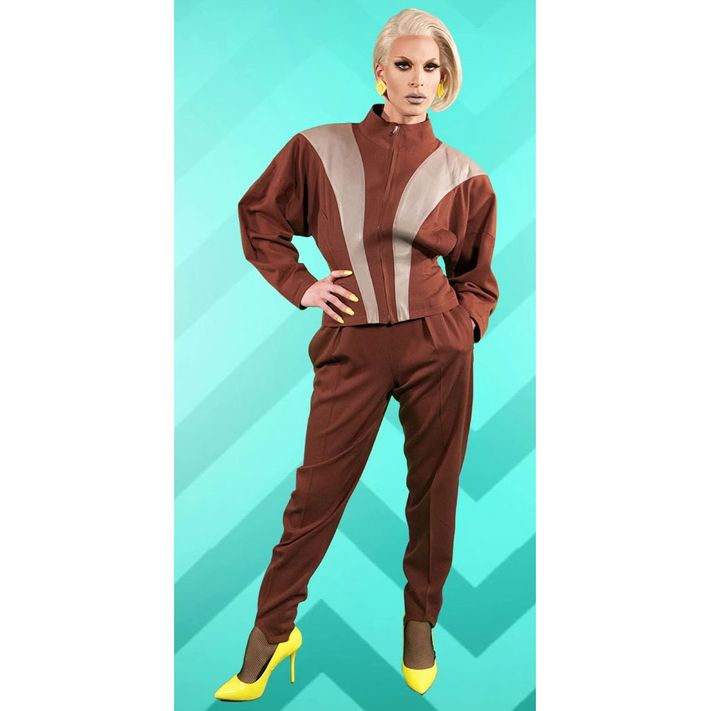 There's no way we can describe this look better than Katya does herself, and the "1980s lesbian literary agent disinterested pissed-off Ellen Barkin fantasy" makes for a wonderfully specific, chic, and cheeky ensemble. The leather and suede combination perfectly complement her sharp, swept bob, and the canary-yellow earrings with the matching heels give it a subtle edit. Sign us and fire us and cancel our book advance, Mother.
53. Max: Bearded and Beautiful (Season 7, Episode 3)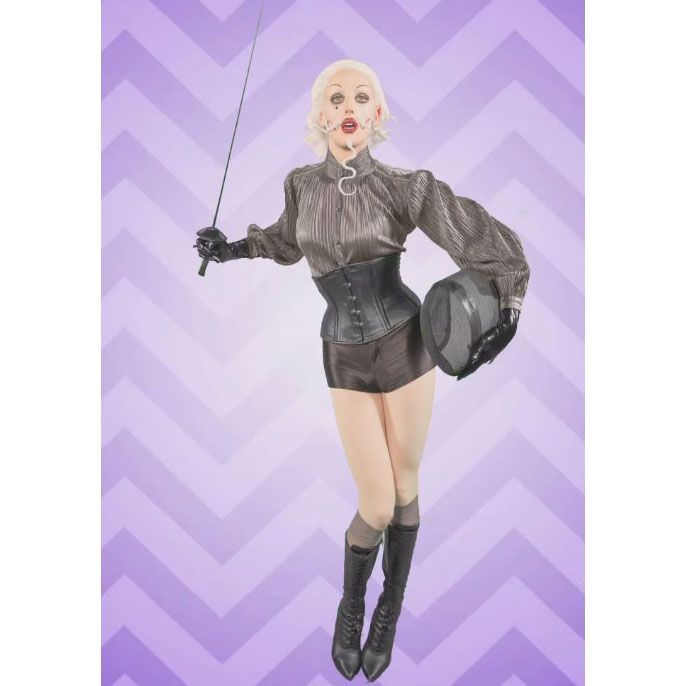 Right before Max's monochrome, neutrals-only gimmick got too played out, she gifted us with this fantastic Salvador Dalí fencer getup featuring gloriously sinusoidal facial hair. The chiffon top and silk corset were a sumptuous pairing, and the understated makeup smartly got out of the way. It bears repeating that for all Max's forced on-camera "quirks," she was no slouch on the runway.
52. Raja: Holiday Thrift Store Drag (Season 3, Episode 1)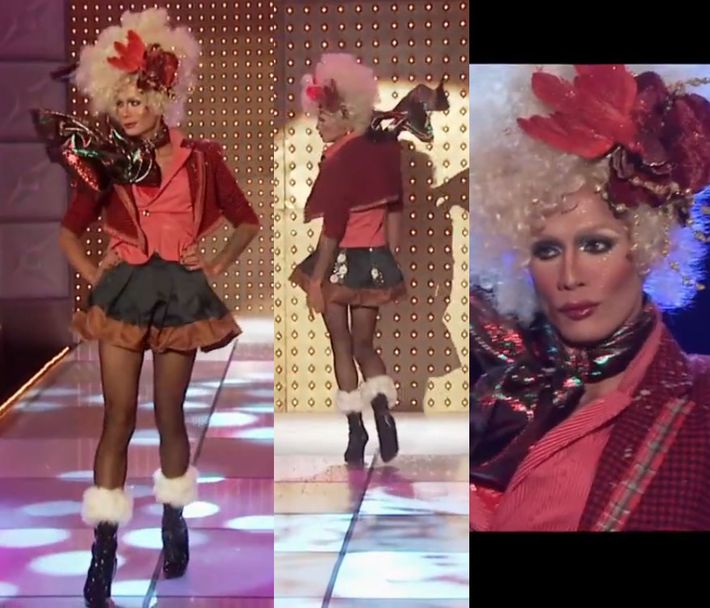 These drag-on-a-budget challenges are always a bit painful, and to graft a Christmas theme on top of it all makes things even more dicey. Thankfully, a skilled costumier like Raja can throw together an OTT Betsey Johnson fantasy from a few yards of tartan without making it look like Santa vomit. The (relatively) muted color story, sharp silhouette, and chic boots established Raja as a runway titan from the jump.
51. Miss Fame: Fall Fashion Week (Season 7, Episode 1)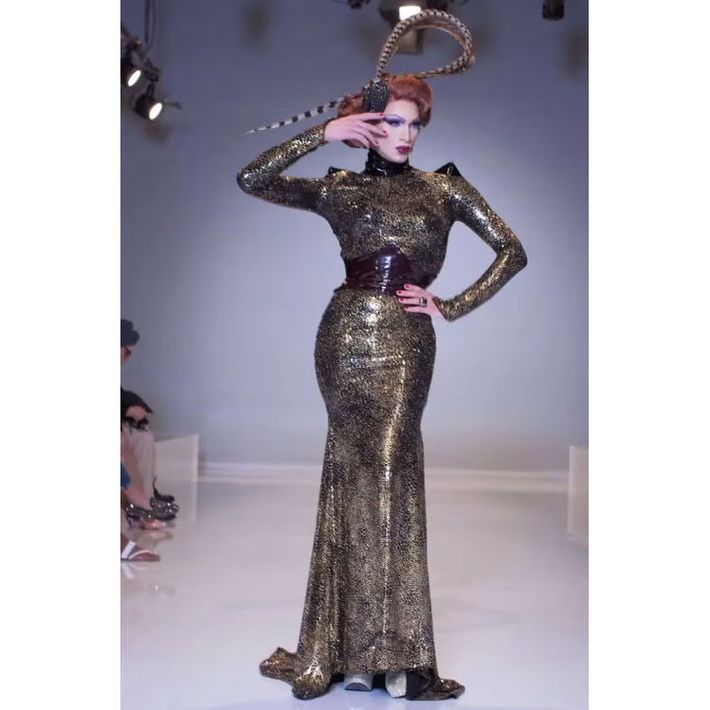 Three words: looped feather headpiece. Miss Fame showed immense promise on this first episode of her season, and both her spring and fall Fashion Week runways were resplendent ensembles. This fall look just barely edges out her spring one with its pointed shoulder pads and black-on-gold detailing, and we'd gladly freeze in Bryant Park to see this in person.
50. Trinity K. Bonet: Animal Kingdom Couture (Season 6, Episode 9)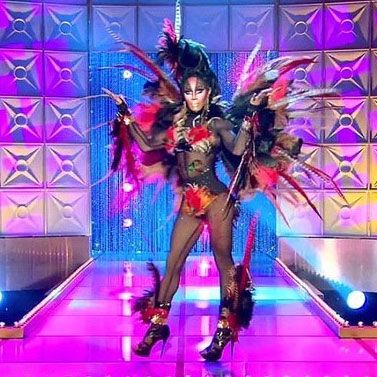 Sure, this look helped land Trinity in the bottom two that week, but we're placing it in the top half of the list on construction merit alone. It's a Crop Over Festival feast for the eyes, and the fact that we rarely get this kind of samba-inspired fashion on Drag Race makes this all the more special. Every plume is a blessing, sweetie.
49. Bianca Del Rio: Black and White Drama (Season 6, Episode 7)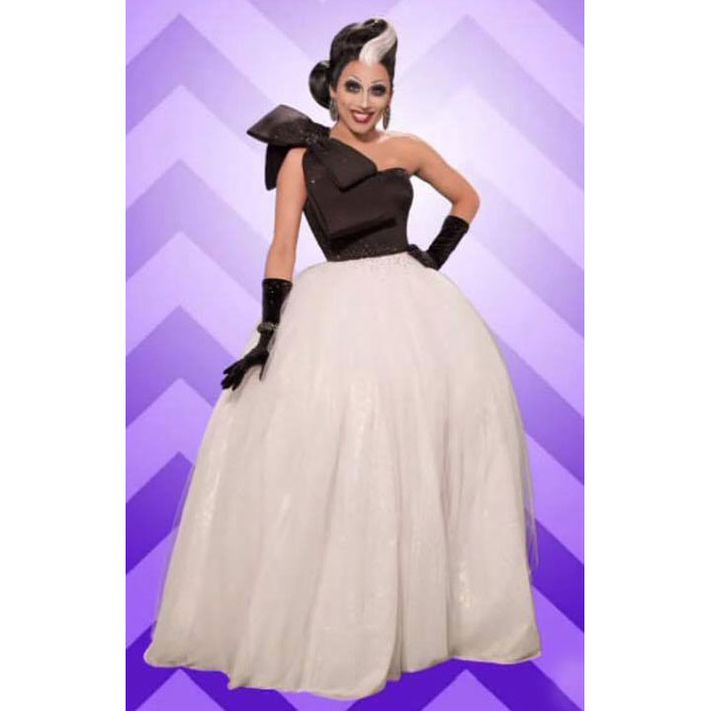 The gown itself was reminiscent of vintage Oscar de la Renta with its elegant simplicity, and the sculpted hair and the thick white streak sealed this look as one of Bianca's best. Throw in some ritzy earrings with long gloves and you've got yourself an ensemble worthy of a coffee-table book.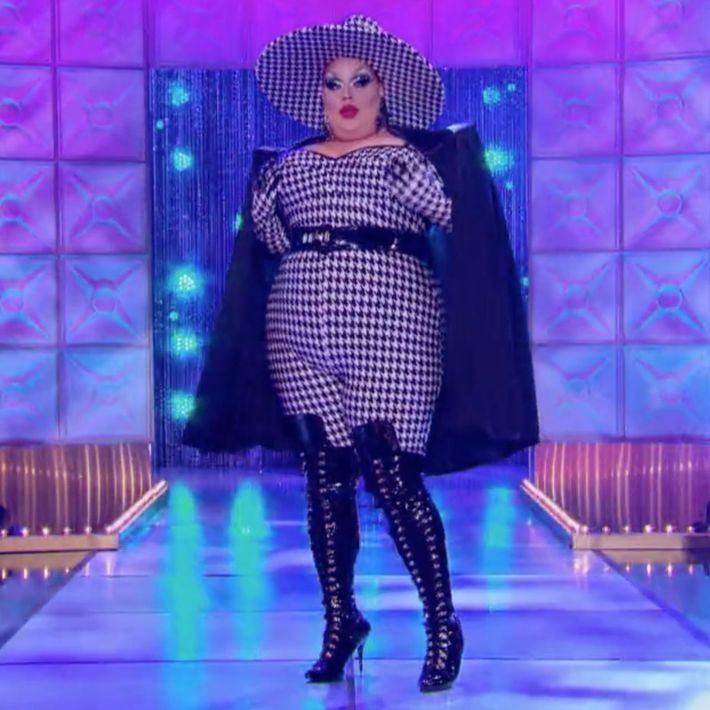 We don't totally follow Eureka's description of this as a "samurai warrior" fantasy, but we love it just the same. A full-body houndstooth look is a bold choice, and Eureka ties it all together with a wonderfully original hat. The wide neckline flatters Eureka's bust, and the pauldrons on the cape give this a stunning silhouette.
47. Valentina: Night of a Thousand Madonnas (Season 9, Episode 6)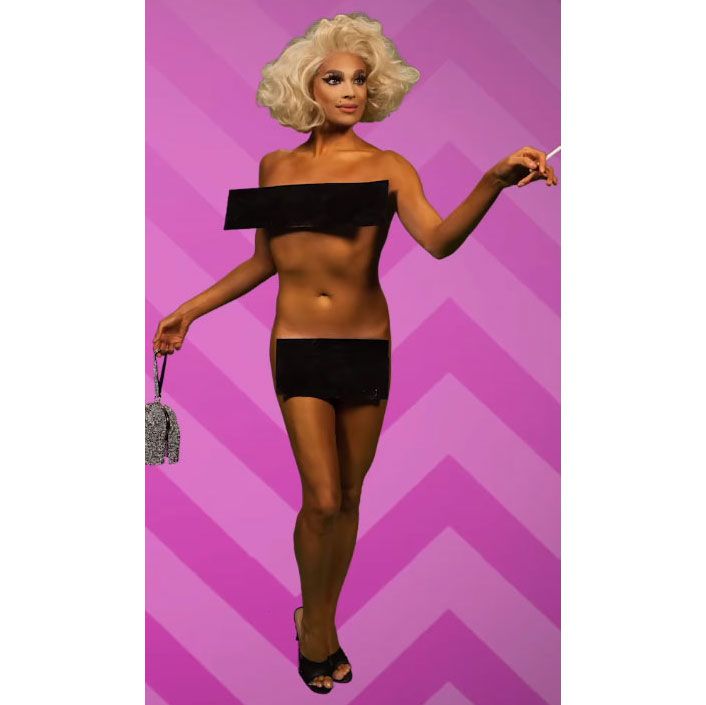 It's admittedly a deep cut for a Madonna reference (although that Sex book photo was controversial at the time), and it's so clever that it almost feels like cheating. Still, Valentina was coasting on plenty of good will at this point, and even in retrospect it's so brilliant in its simplicity that we have to honor the nerve it took to bare her ass on that runway. Don't keep it on, Valentina. Take it off.
46. Ivy Winters: Best Drag (Season 5, Episode 2)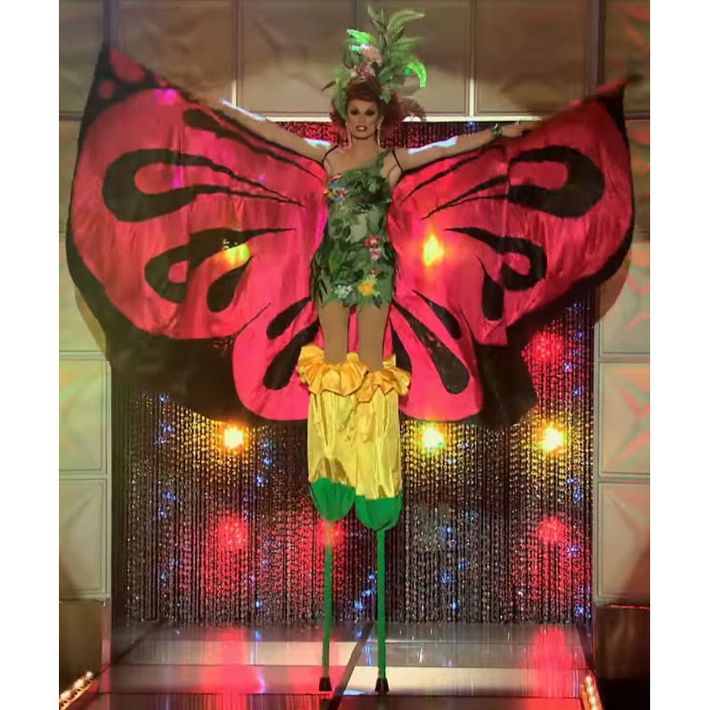 Whipping out the stilts this early on was a bold move for Ivy, but the botanic gardens pageantry of the entire look made it impossible not to love. These days, Ms. Winters will wobble out with the stilts on any old DragCon floor, but this was an initial charm offensive that paid off handsomely.
45. Shea Couleé: Village People Couture (Season 9, Episode 11)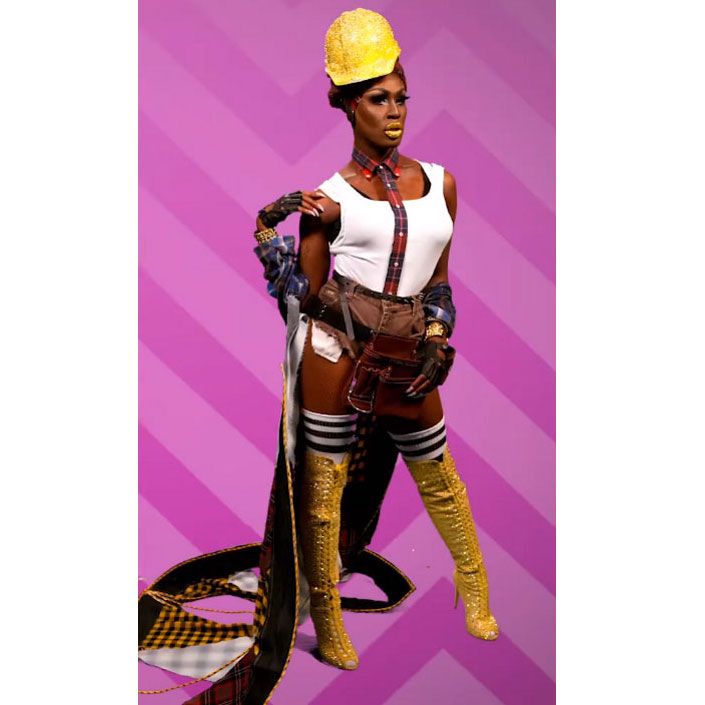 Is there anything more cheekily meta than dressing up as a deconstructed construction worker? Shea made a utility belt high fashion, for David Hodo's sake. The banded train, the hardhat, and the tank top all come together for one of the most resourceful ball looks in the show's herstory, and this cemented Shea's status as a Drag Race legend.
44. Bianca Del Rio: Reunion Finale (Season 7, Episode 14)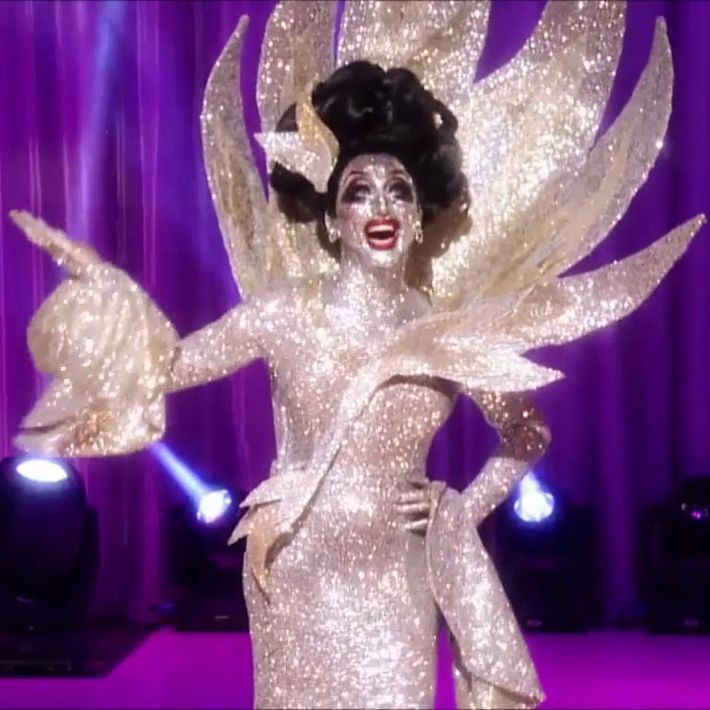 It's hard to tell where Bianca's scepter ends and her outfit begins, because every inch of her and what she touches shimmers in gorgeous metallic grain. The oversize, fanned-out collar is classic Bianca, and the whole thing is an Emma Frost gag.
43. Violet Chachki: Leather and Lace (Season 7, Episode 7)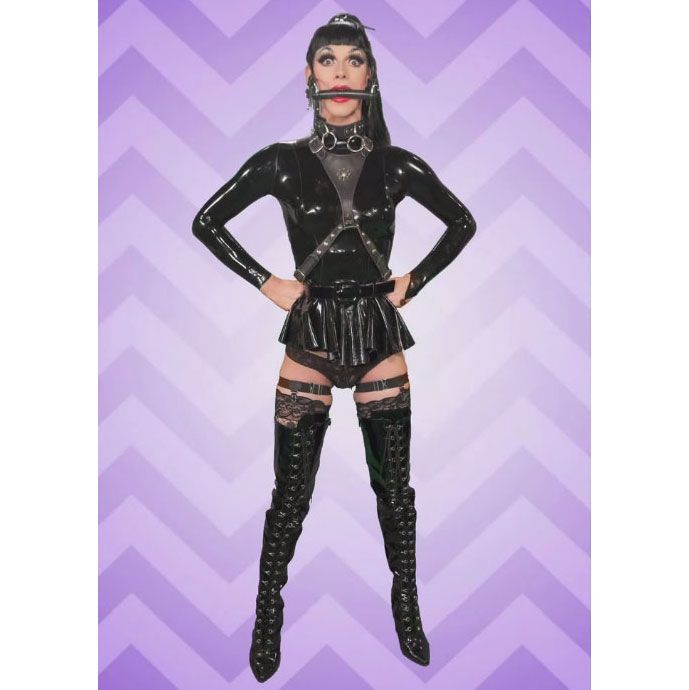 We would let her hurt us. That's all.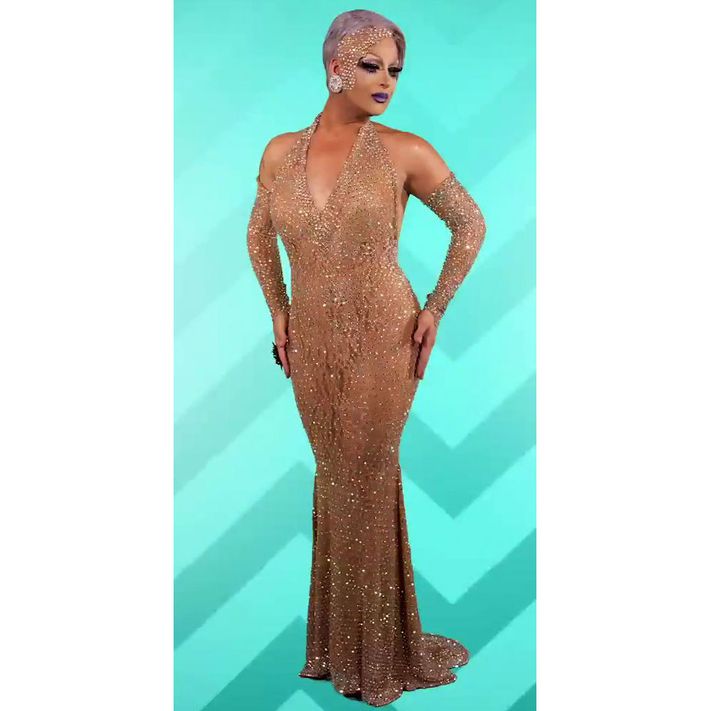 Served us one final good answer to the question, "Why is Roxxxy still here?" Roxxxy may not have slayed All Stars 2 from a challenge standpoint, but on the runway she proved she's one of the best drag queens in the world. This is too glamorous for the Oscars. That's a biological movie star supermodel diva legend.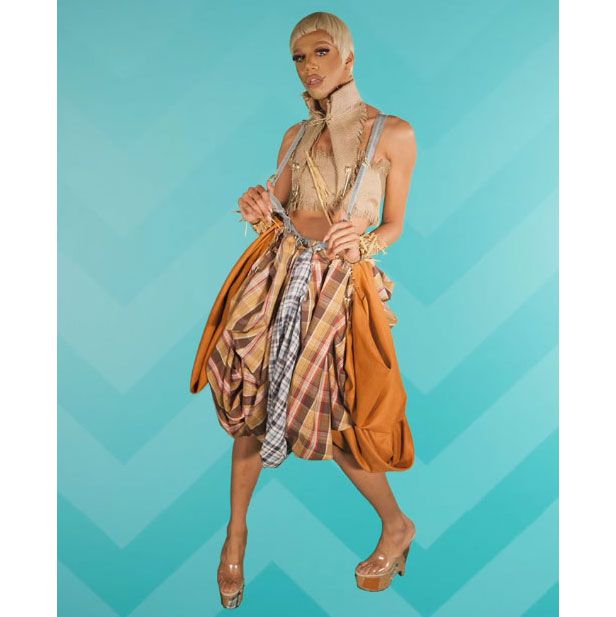 Somewhere over the rainbow lies … fashion. Naomi was giving you fashion here, and this was her breakout moment. More breakout moments followed, and then, before you knew it, Naomi was one of season eight's stars. If this didn't slay the way it did, she wouldn't have made the finale.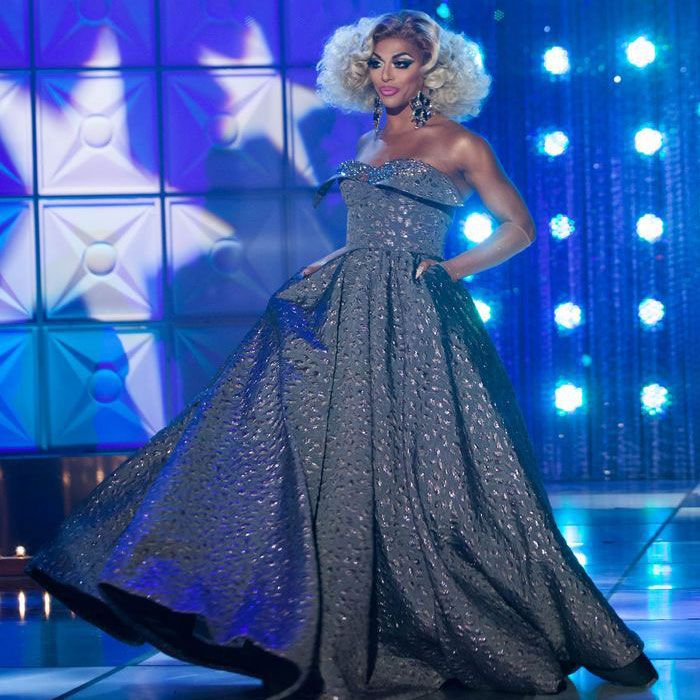 Serving you straight-up Miss Golden Globes. She's giving Daughter of Someone Famous Who Will Help You Off the Stage After You Win realness. Shangela is a beautiful star here. The hair is amazing. It's incredible that this didn't seal the deal and take her to the top two.
39. Pearl: Bearded and Beautiful (Season 7, Episode 3)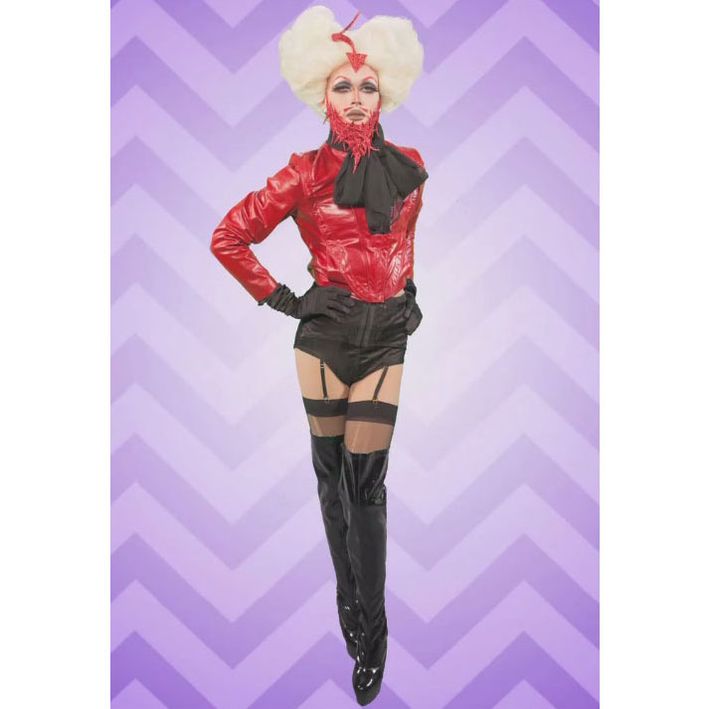 Looking like a twinky version of Will Ferrell's Mugatu from Zoolander, Pearl absolutely slayed the bearded challenge. The jacket actually looks really expensive, and the whole look is almost masculine in a beautiful way, which is probably helped by Pearl's symmetrical out-of-drag look. Beautifully masc drag. Beautifully Pearl.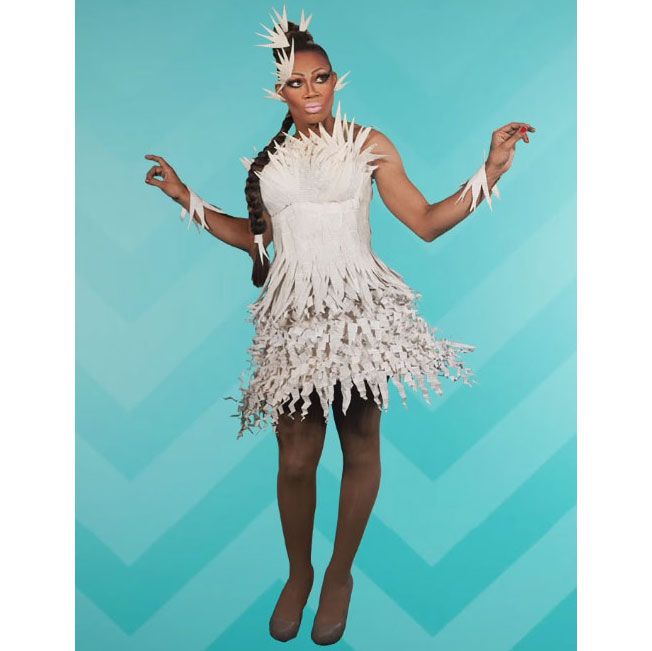 This is a full-circle moment for a queen who came into her own at exactly the right time. It's moments like this that make us frustrated about Chi Chi's showing on All Stars 3. Inside her is an unstoppable force, but this cool sexy paper girl is just a glimpse.
37. Manila Luzon: The Pineapple Dress (Season 3, Episode 5)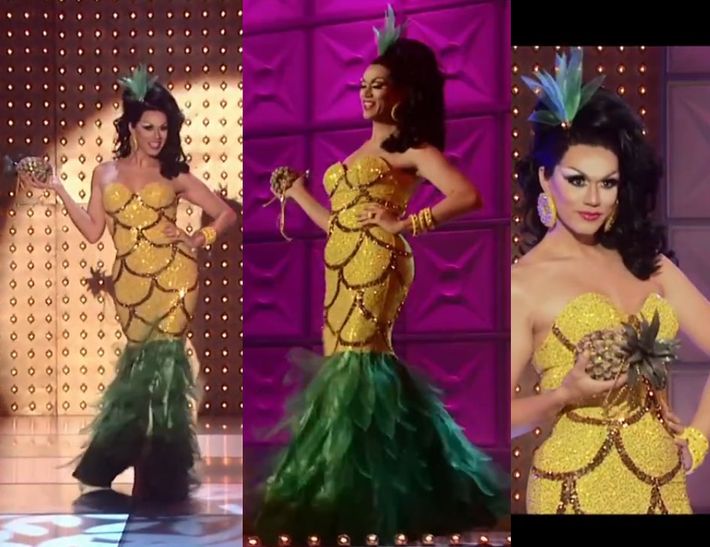 Iconic Manila. Serving us Woman on the Label of a Piña Colada Mix realness. Fruity tooty camp. She'll almost definitely be buried in this.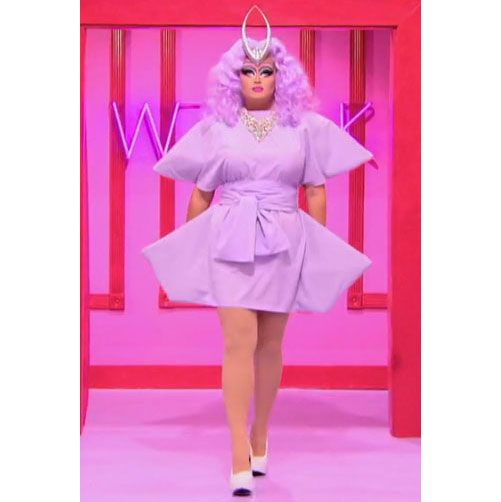 A razor-sharp intro for an already well-known Instagram queen who proved she was even more impressive in real life. She is both delicious and dangerous here, immediately taking her place as a front-runner. There's just a different energy around her in this episode than the other queens; she looks like she was made by professionals in a lab for Groundbreaking Drag Doyennes.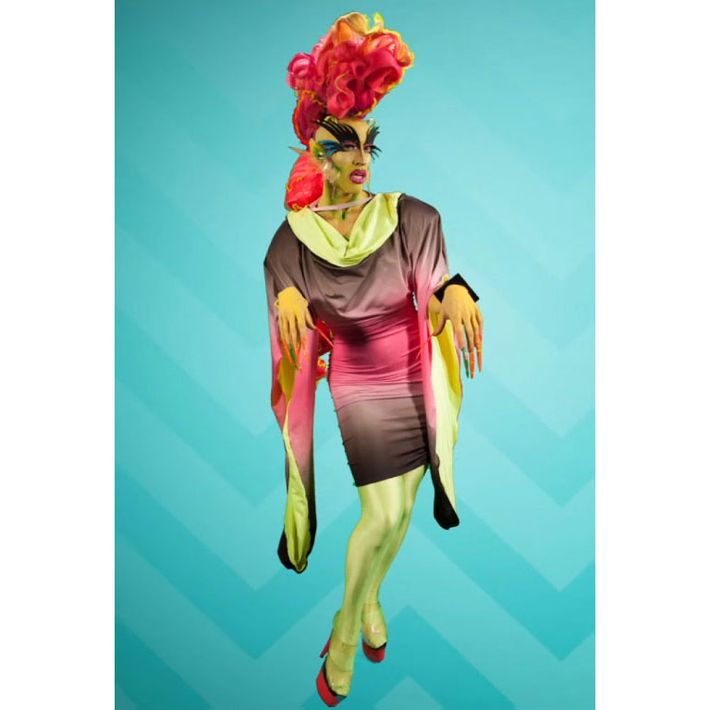 Seeing Acid go was heartbreaking, mostly because we know this look was in her past and there were likely more incredible creations in her future. She looked like a beautiful sex fish. If the fish-man in The Shape of Water looked like Acid did here, maybe we'd get it. Maybe then we'd have liked The Shape of Water. This was neon creature eleganza and she is a real artist.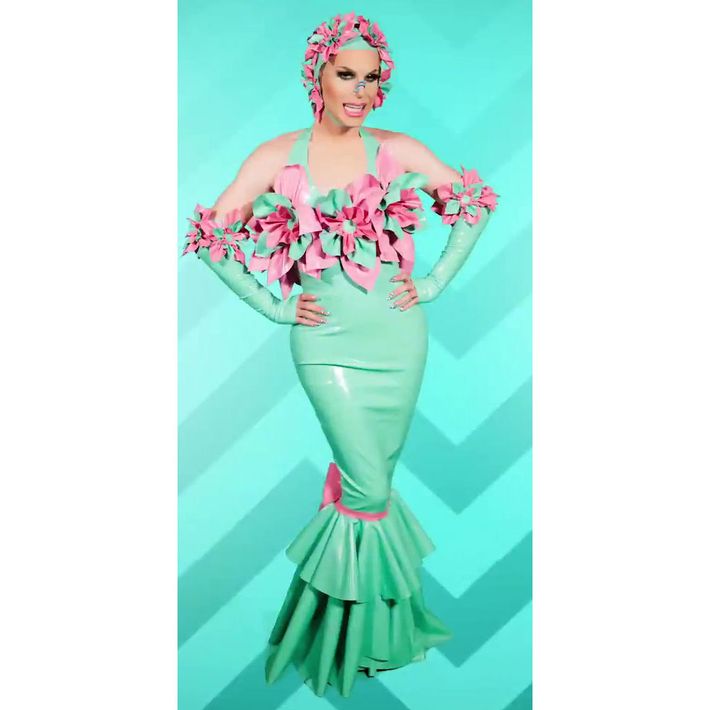 The pinched nose is instant contouring, but don't let the nasal clip steal any focus from the rest of this Esther Williams underwater eleganza. The latex florals adorning the bodice and swim cap have been seared into the collective gay consciousness, and there's very little to dislike in the sea-foam and pink color story. This one breaststrokes us in all the right places.
33. Nina Bonina Brown: Hometown Style (Season 9, Episode 1)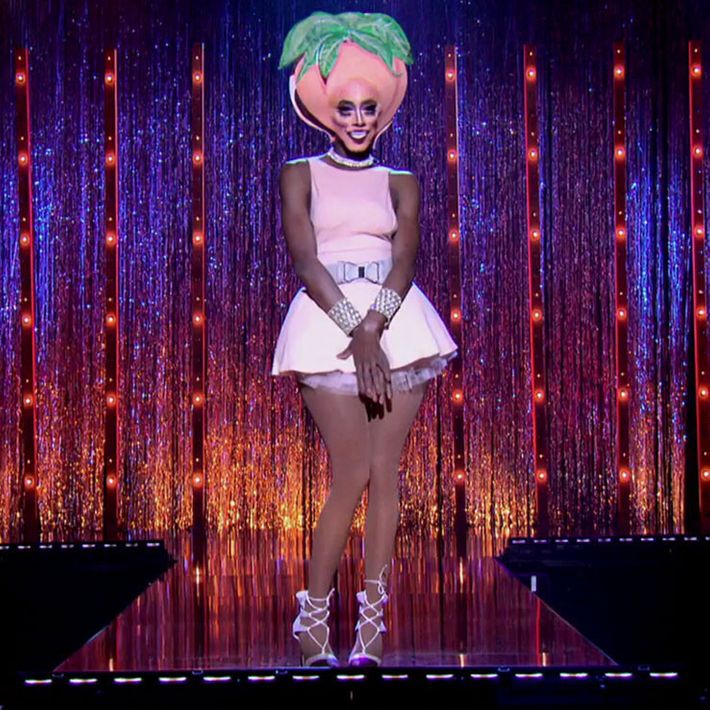 In a pre–Call Me by Your Name world, this peach was the only stone fruit worth mentioning in queer circles. Nina's willingness to go full-out with her makeup week after week catapulted her into everyone's favorites list, and this was the one that started it all. The scale and construction of the peach head are so extreme in their statement that to balance them with the simplicity of her outfit is a stroke of genius.
32. Raja: Carrie Blood Bucket (Season 3, Episode 8)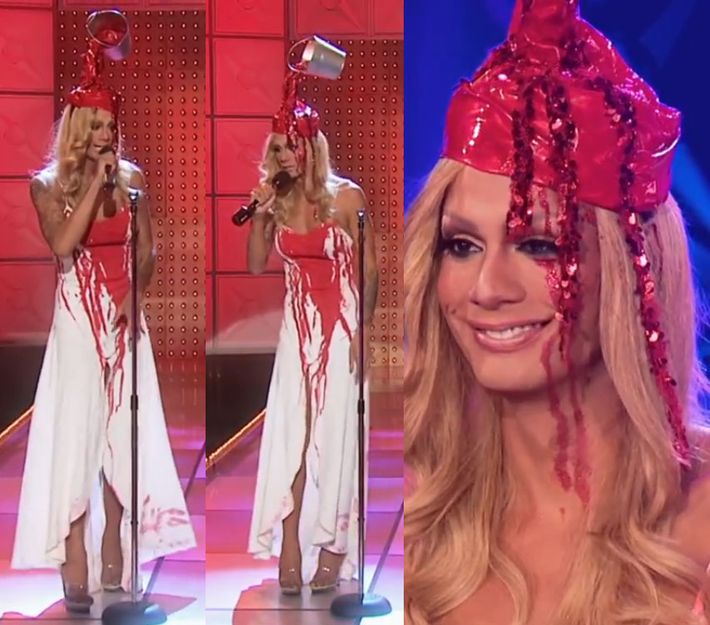 As one of our preeminent drag architects, Raja defied all Newtonian laws of physics with this one. Good luck figuring out where the center of gravity is on that bucket, because seven years later, not a single gay NASA employee has worked out the free-body diagram of the headpiece. The staining pattern on the dress is marvelous as well, and we hope Sissy Spacek has nodded approvingly of this before texting a pic to Chloë Grace Moretz.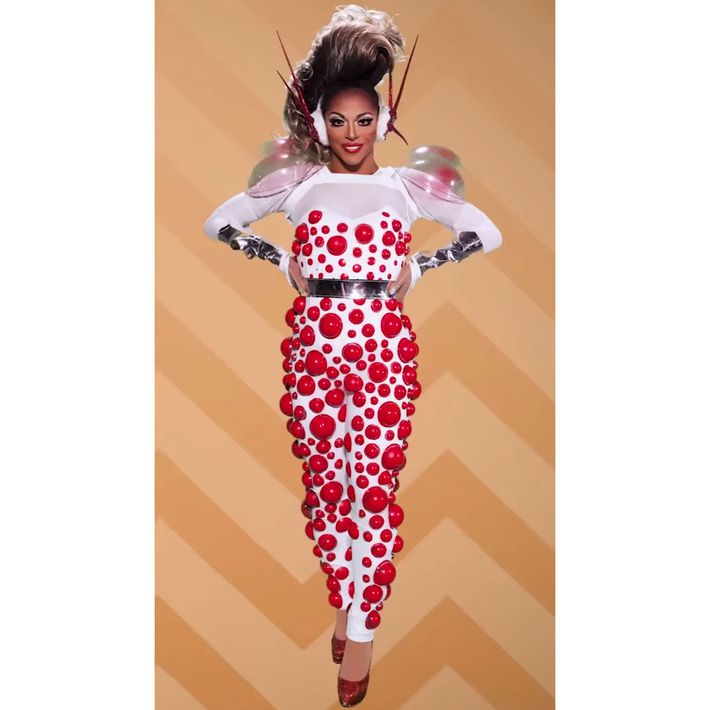 We'll grant you that Shangie came in hot with the runway gimmicks on All Stars 3, but this do-over of her season-three Christmas eleganza mishap was the Zorb bubble gag we didn't know we needed. The oversize spiked earrings add a dazzling touch, and the whole thing is a Christmas ornament we'd gladly hang on our tree — to scale, mind you.
30. Detox: Reunion Finale (Season 5, Episode 14)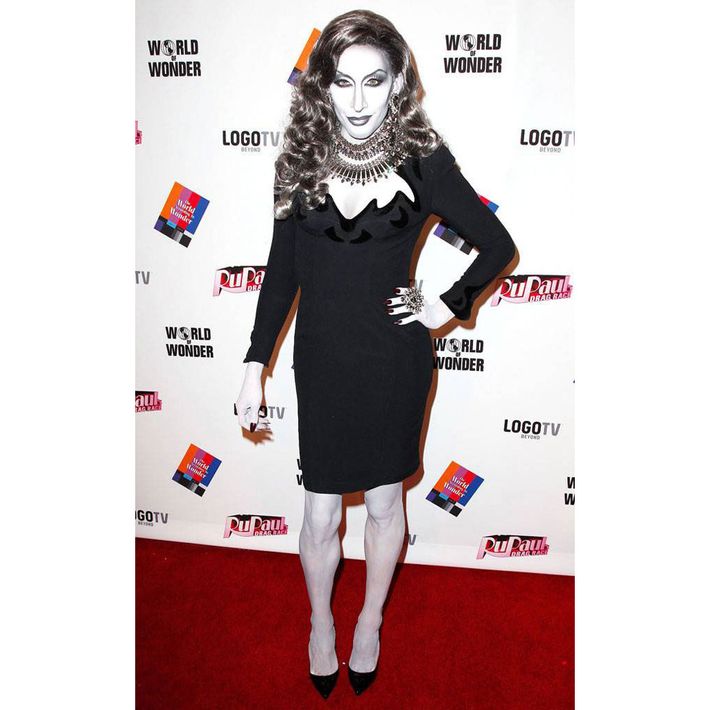 Retro queens, take note: This is how you do black-and-white, old Hollywood eleganza. The dress itself isn't too fussy and the makeup does most of the heavy lifting, plus that necklace would be enough to reanimate Elizabeth Taylor from the grave. As far as reunion looks go, this one stands out even five years later.
29. Raven: Finale Look (Season 2, Episode 11)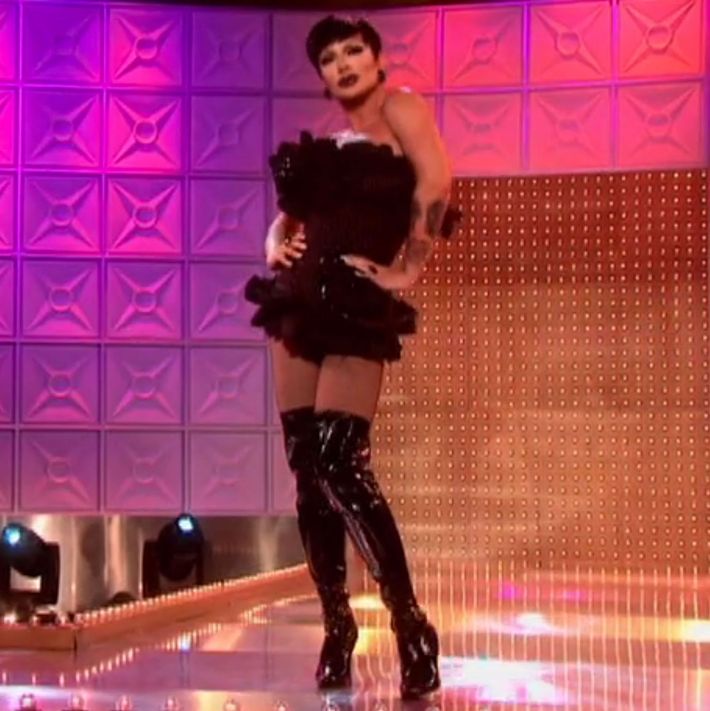 If it's good enough for Naomi Smalls, it's good enough for the rest of the world. This outfit alone made Raven's loss so tragic, because the all-black everything capped with that slick pixie cut made her a winner in our eyes. The thigh-high boots, the ruffled pinstripes, and good God, that makeup? It's just not fair. A toot for all time.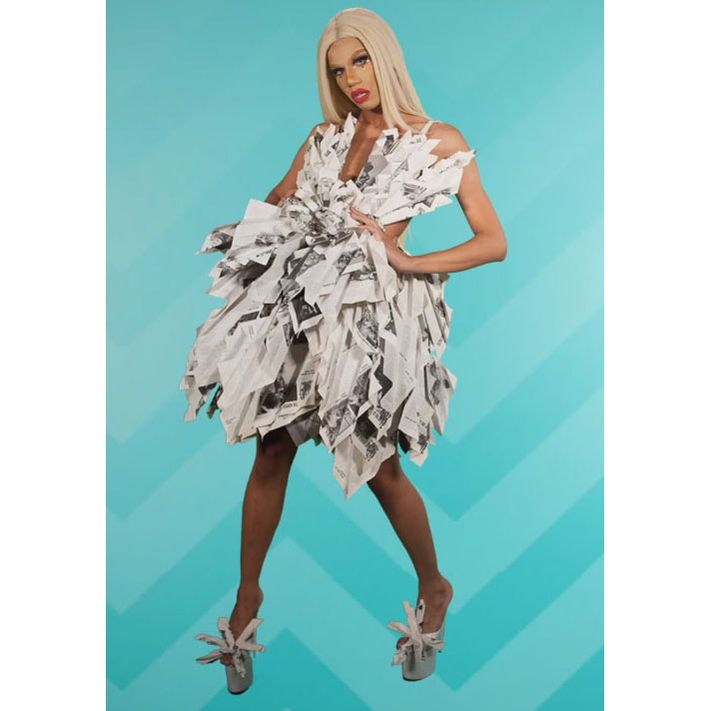 You know you've made an iconic look if RuPaul cribs it the next season, knowingly or otherwise. The radial arrangement of the pages is stunning, and tying in the shoes with some cute pieces of paper brings it all together. By this point, Naomi was a force to be reckoned with on the runway, and any doubts about whether or not she earned her spot were erased in one fell swoop during the Book Ball challenge. Haters, you've been read.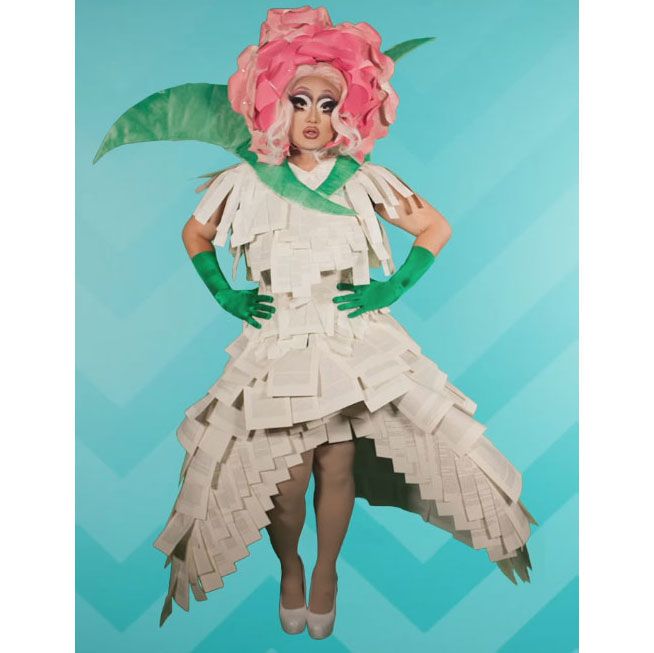 While we're on the subject of the Book Ball, Kim's creation was the perfect culmination of the ingenious three-act story she chose to tell with her looks that week. She'd fully blossomed from her seedling Baby Drag during the earlier runway, and the construction of her dress using pristinely preserved pages (without a single fold in sight) was a historic moment in the series. If anything, this was the most plainly articulated call to action for hundreds of thousands of people to follow her on Instagram.
26. Lineysha Sparx: Dumpster Diving Hollywood Glamour (Season 5, Episode 1)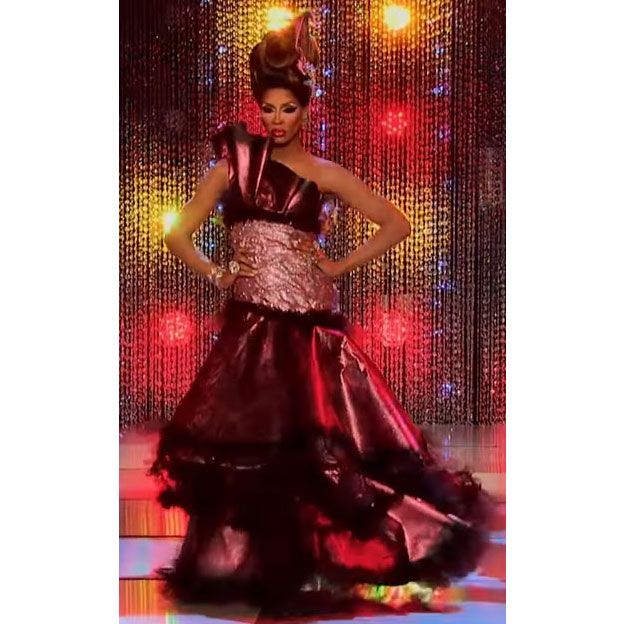 There's something so hilarious about how gorgeous this look is, despite a pump being the central feature of the wig. You feel like someone could wear it at the Oscars, pump-in-wig and all, and it would be acceptable. This is a really amazing queen who also slayed the finale reunion that year, and it'd be interesting to see her in an All Stars season. You know, just to see what she's up to! Because she put a shoe on top of her head once and it worked. Gorgeous girl.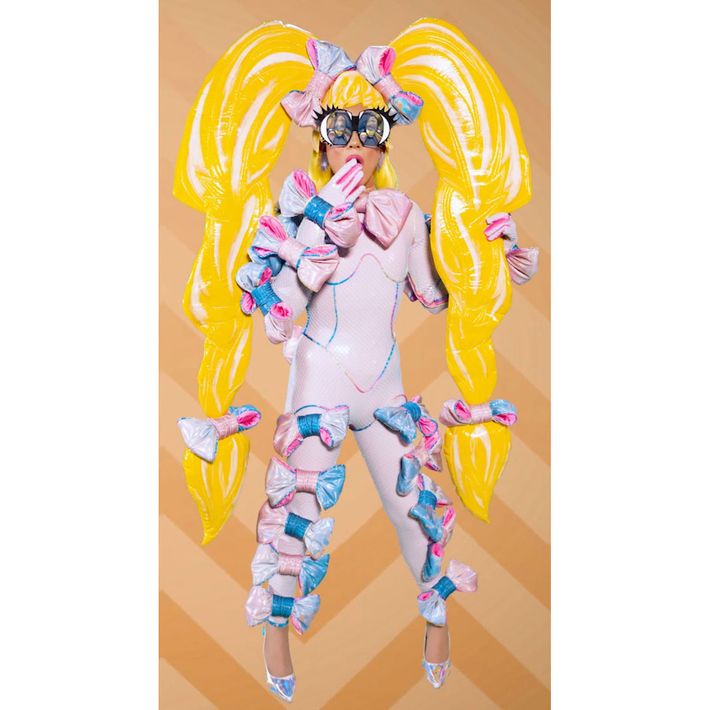 The jump "from there" was what permanently snapped our heads in her direction, but this look was what snapped our necks. The runway had never seen anything like it, and Aja showed us that she's taken a full step forward as a fashion queen into her new element. And it's a three-in-one! Your fave could never.
24. Aquaria: Martian Eleganza Extravaganza (Season 10, Episode 4)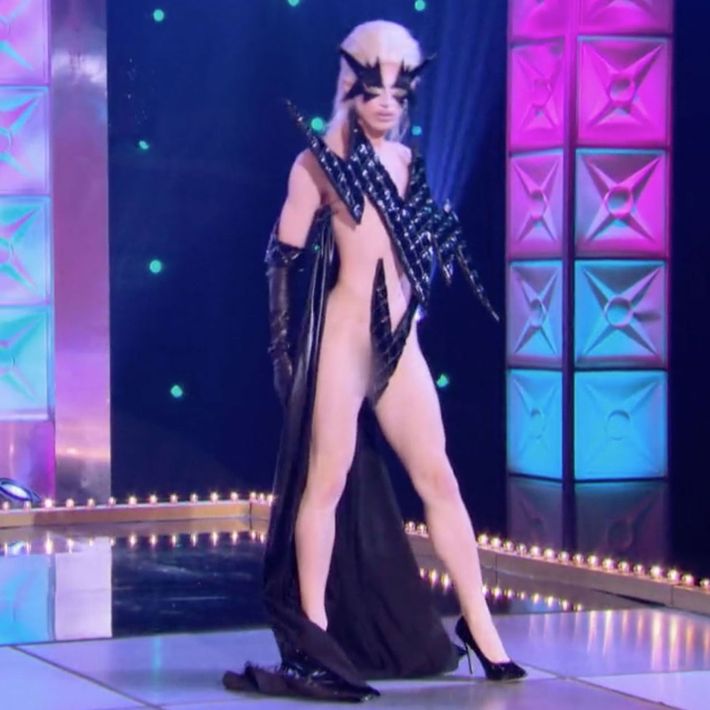 Minimalist yet striking, and an effective end to her trilogy of looks from this ball challenge. Her confidence comes through with this superheroine chic, and from this point on we could always feel confident watching her. There is a character here, as there were in all of Aquaria's runway looks. She always gave a fully realized visual, but she rarely gets credit for the dimensions she gave all of her creations. Actress! Turning point!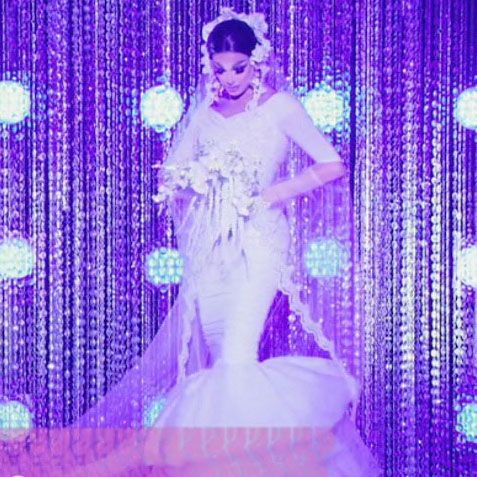 An unforgettable moment for a new Drag Race icon. Lucky viewers were in a gay club surrounded by die-hard fans of the program when this trotted out, because we've never seen a reaction like this to a runway look. This was the smile that launched a thousand rose emojis. This was the look that truly gave us La Valentina, in all her divadom and tragedy. Remember feeling like she was going to win? This reminded us.
22. Raja: Sci Fi Look (Season 3, Episode 3)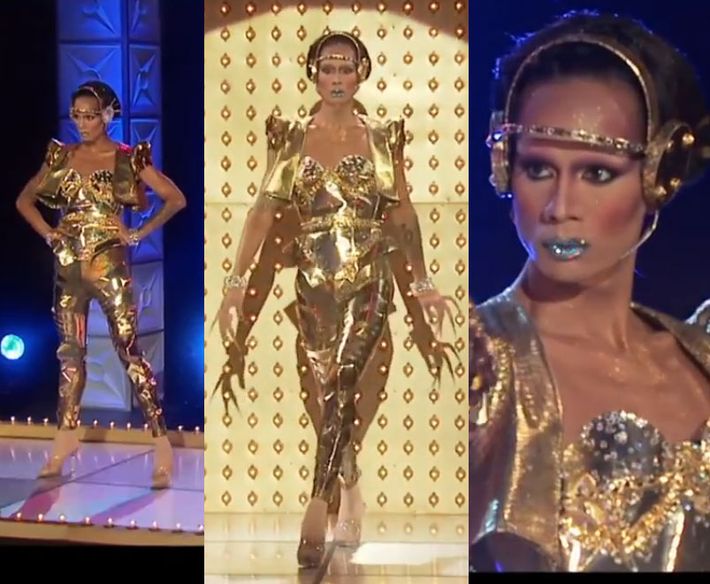 Raja was so consistently brilliant on the runway that it's almost difficult to pick a favorite, but this entry from early in season three makes a run for the top spot in her oeuvre. She knows how to create a character with her walk and her entire performance on the runway, and she slays this look: Metropolis–meets–C-3PO's hot little slam piece. She was virtually perfect when it came to delivering looks, and this was a highlight from her hit parade. Slutty robot eleganza? We'll take it.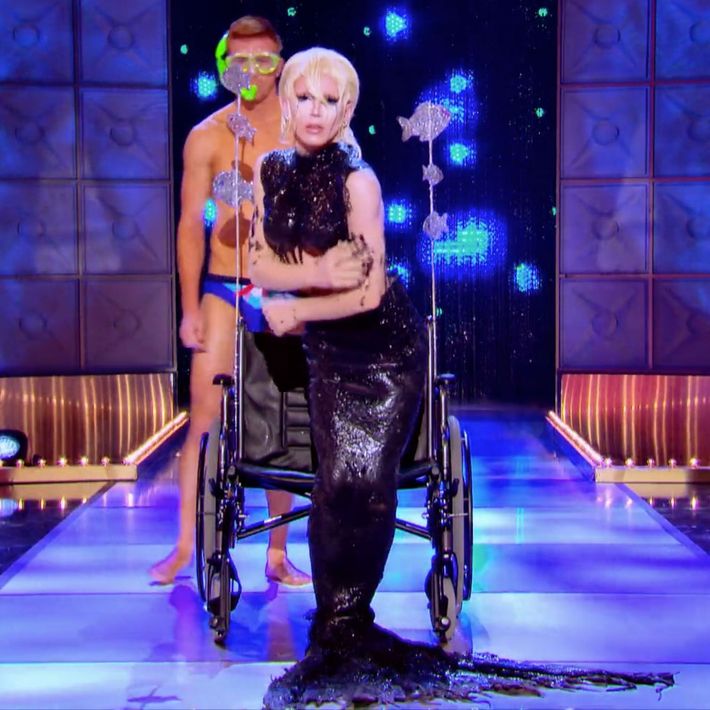 Leave it to Aquaria to leave her competitors in the dust and legitimize this whole theme. Not only was it visually startling to see her mermaid caked in oil, struggling and sick, but it was refreshing to see Aquaria make a comment on beauty damaged by man (something she had also done with her Feathers runway). Are we reading into this way too much? Maybe. But it's fun to think of Aquaria as a world-weary drag activist. Conscious, concerned queen! You know she could have turned out a gorgeous, straightforward mermaid look, but she didn't. Aquaria never went the easy route.
20. Trinity Taylor: Club Kid Couture (Season 9, Episode 9)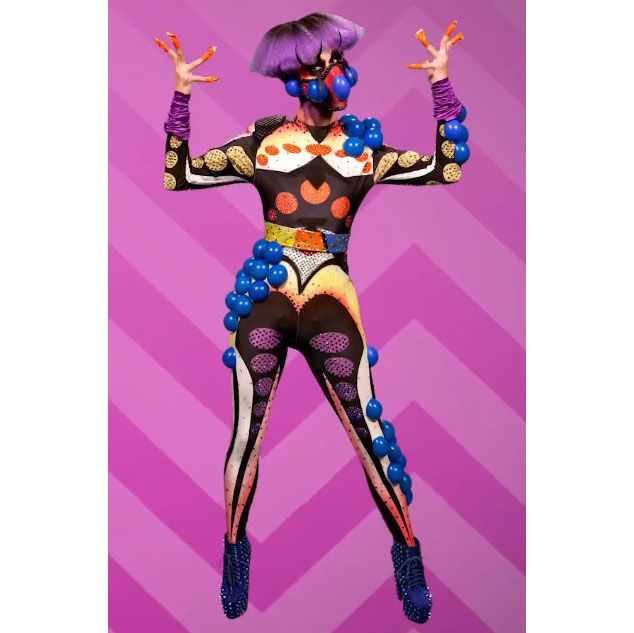 Had she won her season and there were any pushback, you could point anyone to this look and shut them down. It's something she would never do within her own wheelhouse, and yet she seems to execute it like it's her go-to aesthetic. This was cool and retro and club kid and technical and drag queen all at once. She looks like what we hope the robot maid in a live-action reboot of The Jetsons might be. (That was, at least one point, really happening, by the way.)
19. Violet Chachki: Hello Kitty Couture (Season 7, Episode 11)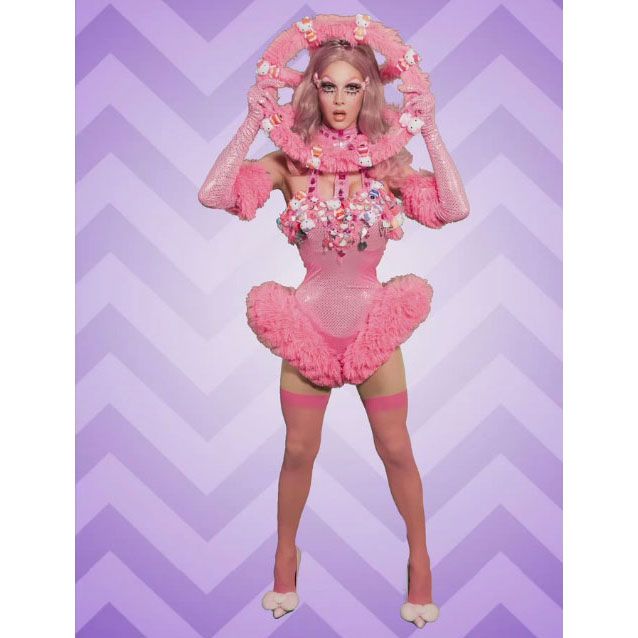 The Hello Kitty Ball remains one of the most bonkers sewing challenges of the series, and the only person who truly hacked it was another one-of-a-kind collectible herself. The sexy saint POV here deserves total Christian veneration, and the furry head cage is one of the most inspired costume elements we've seen on the Drag Race runway. We'd be remiss to ignore the bouncy hip silhouette and Hello Kitty tchotchkes dangling on the bodice, because there's so much going on here and all of it is correct. This is drag maximalism at its best.
18. Aquaria: Final Four Eleganza Extravaganza (Season 10, Episode 12)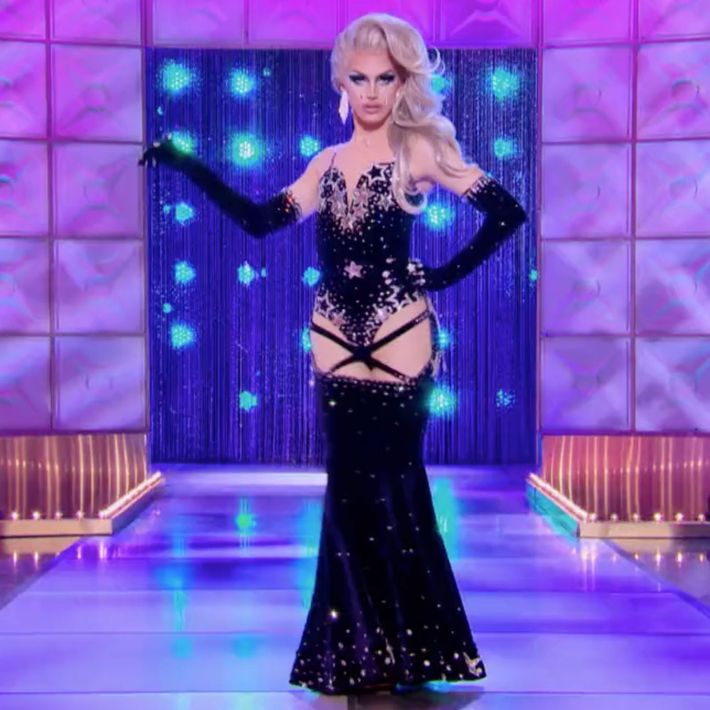 Star-spangled sling skirt, anyone? For all the debate around whether or not Aquaria beat the comedy queens at their own game, she makes a strong case here for delivering a pageant look better than her title-holding sisters could, too. The dress itself is a gorgeous nod to tradition, while the embellishments lend a modern edge that was Aquaria's trademark all season. Stars and crisscrossed stripes forever. And it's the best her hair has ever looked.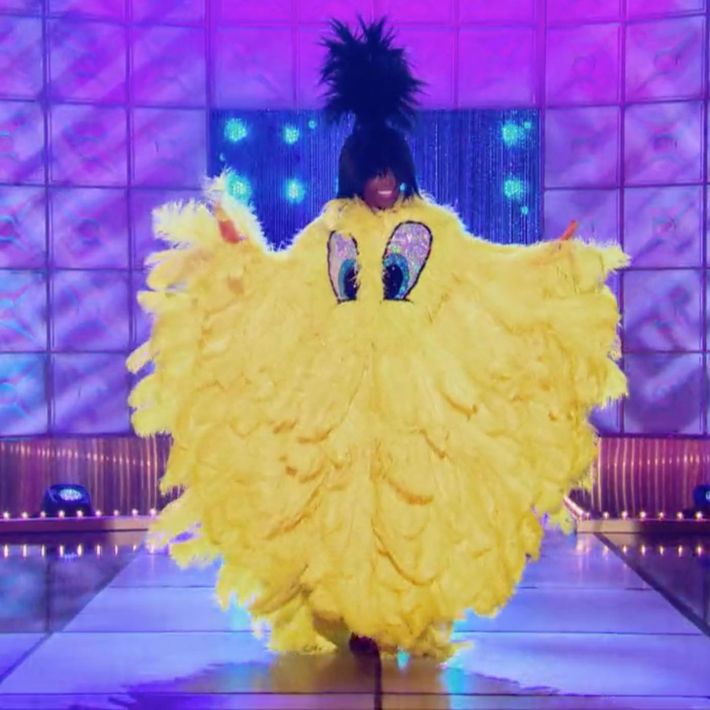 Many will point to her performance in the Buttrface challenge as Asia's breakout moment during season ten, but as far as we are concerned, this was the moment that Asia took her rightful spot as a frontrunner. Known as "the Tweety Bird dress," this look allowed a queen who many (these authors included) had previously thought of as rigidly pageant to step fully outside of the box and embrace the frivolity and the fun of drag. Only her beautiful smile is visible until she cheekily blows her bangs out of her eyes to peek out and say hello to the judges. The hint of nostalgia that comes with the character reference absolutely helps, and the look is simply so joyful. It makes you happy, and Asia O'Hara, who is strident in her belief that her purpose on this planet is to better the lives of the people around her, truly nailed her own life assignment here. Tweet, tweet, bitch! It's trending, honey!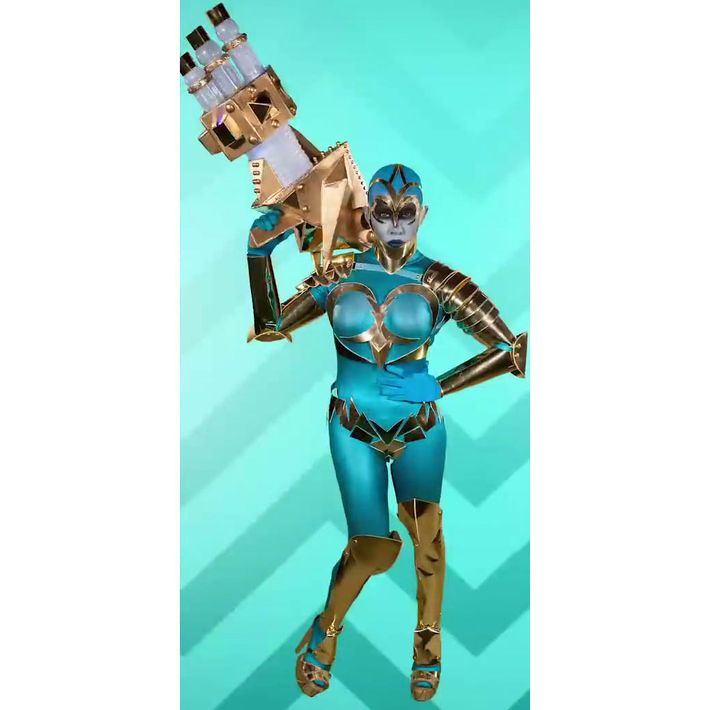 One could argue for or against the legitimacy of cosplay queens in the world of drag, but to hear Phi Phi proudly identify as one in her voice-over as she stomped the runway in this look was refreshing, even if at that point she was fully mired in her villain edit. She and Alaska were the only queens who didn't fall back on silver metallics for this theme, and the result is a jaw-dropping '80s manga fantasy with a hilariously large Overwatch ray gun. Phasers set to stun, hun.
15. BenDeLaCreme: Animal Kingdom Couture (Season 6, Episode 9)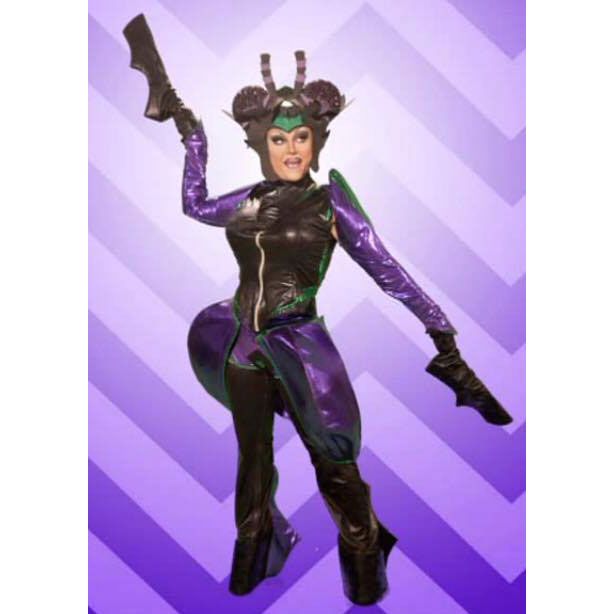 No one will be forgetting DeLa clomping down the runway on all fours for at least another century, and the world is still sorely lacking in arthropod drag. To blend Thierry Mugler with an insect costume is totally inspired, and the padding hits Ben in all the right places. There's not much else to say when you're able to gorgeously execute a compound eye on top of a smoky one, and this was the best kind of departure from Ben's vintage looks.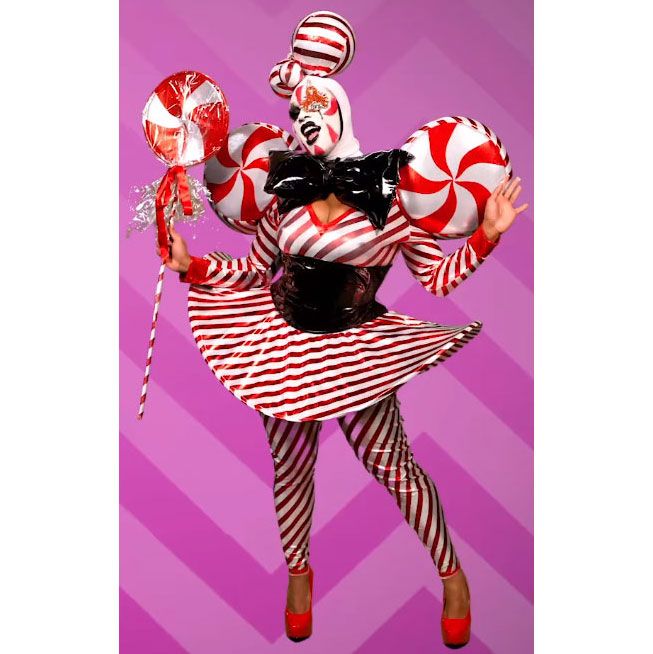 There's never been a more fully realized namesake look, and to hit every outré club kid element out of the park has earned Peppermint legendary status. The sceptre, the headpieces, and the swooping skirt all make for a Candyland–Lollipop Guild holiday fever dream, and the touches of black in the bow and corset elevate everything up to a 10. We'd gladly suck on every inch of this, cavities be damned.
13. Courtney Act: Black and White Drama (Season 6, Episode 7)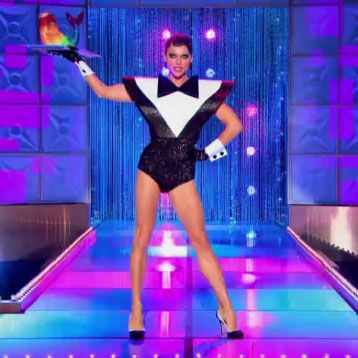 The Klaus Nomi reference is aces, and faithfully pulling off the structure and geometry of the source material earns Courtney very high marks. If that's not enough to sear this into every Bowie stan's memory, the reveal of the shimmering fish on the serving platter canonizes the whole thing as an unforgettable look from a queen who may or may not have been unfairly pegged as just "pretty." Eat up this fish, children, it's historic.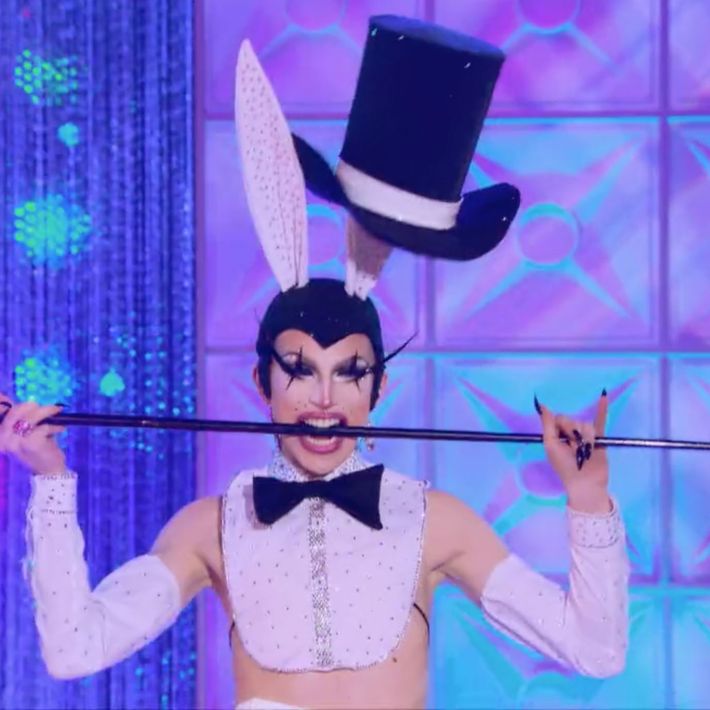 But then there's Aquaria with this Klaus Nomi reference, and going forward it might be the Klaus Nomi reference we all remember. Courtney's Serving of Fish is pretty outstanding, but the way that Aquaria's top hat bounces on top of her bunny ear is one for the books. Delightfully and effectively playing with androgyny is very Aquarian, indeed, and we live for a cane. Turning looks. Stunting pretty. All hail the bitch from New York City, who absolutely goes down in the record books as one of the top runway queens to ever appear on this show. You heard it from us, and also RuPaul!
11. Sharon Needles: Post-Apocalyptic Drag (Season 4, Episode 1)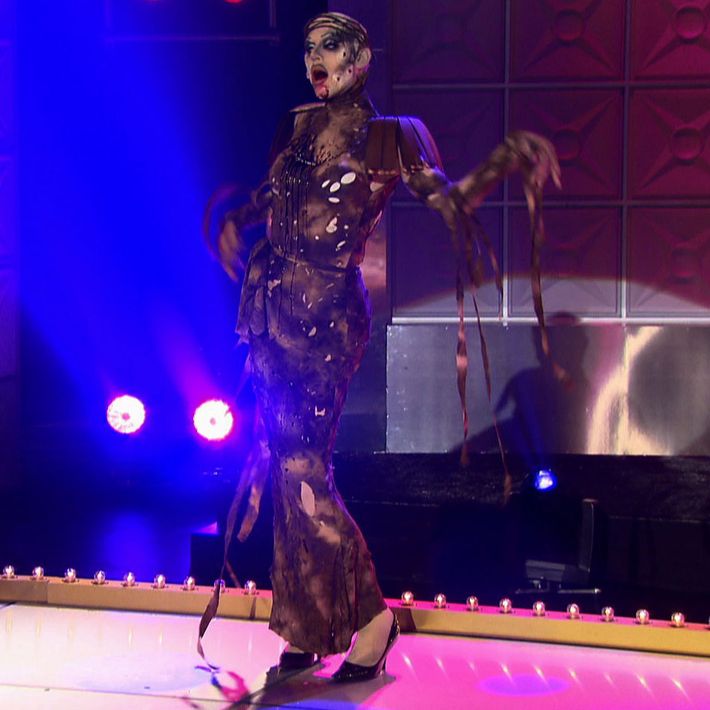 A turning point for the series. Sharon was exactly the queen that we needed at the time: someone truly inventive and able to redefine every parameter of what "good" drag meant. This was shocking, frightening, and refreshingly on-brand. If you look up Post-Apocalyptic Couture in the RuPaulian dictionary, you'd find a photo of this stunning zombie ensemble. She gushed blood onto her tits and she killed the runway, and you probably could have given her the crown right there.
10. Violet Chachki: Death Becomes Her (Season 7, Episode 6)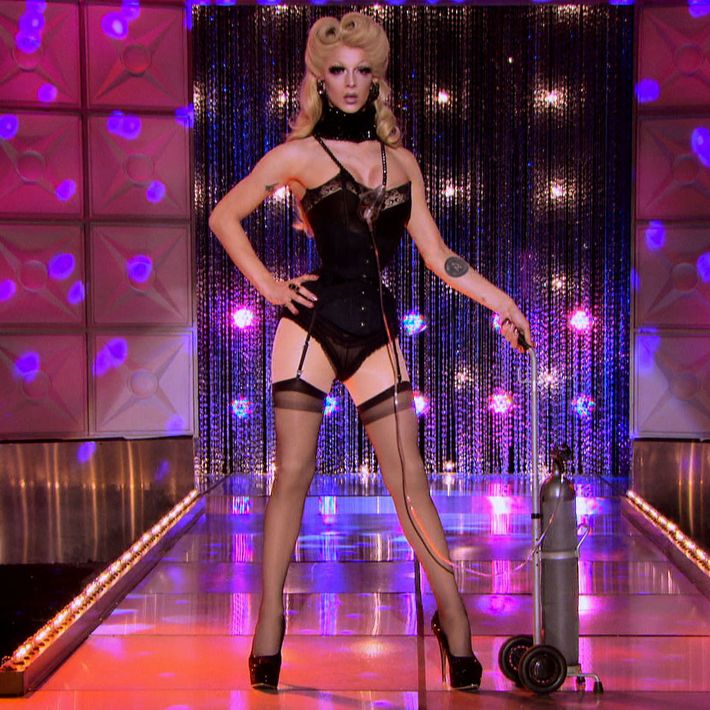 The runway moment that broke Ariana Grande was already famous from the promos for season seven. "I really could die, bitch. I'm giving you realness." You have to believe that's true. This is years of waist-training at play, and Rose DeWitt Bukater's mother would be thrilled. Violet is forever worthy of physiological respect, and the fact that this isn't even her most memorable look is wild. Ariana shaking her head and waving her finger as Violet turned and walked away should be a much more prolific meme than it currently is. Maybe it's not too late.
9. Raja: Fabulous Drag (Season 3, Episode 5)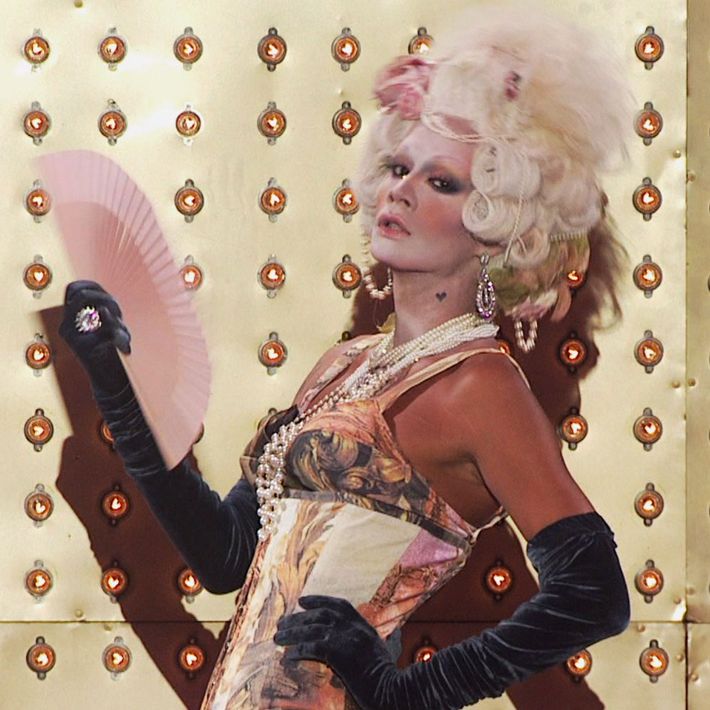 Let them eat cake, indeed. The reaction that this Marie Antoinette–inspired moment received from the judges was entirely warranted. There was always something masculine about Raja on the runway, and it somehow worked more than it ever had here, despite the famously feminine image we all have of that frilly chick who lived up in Versailles. Raja never failed to give it to you good on the runway, and this look is her most iconic. It's well-constructed, well-worn and well-performed. This is royal, honey.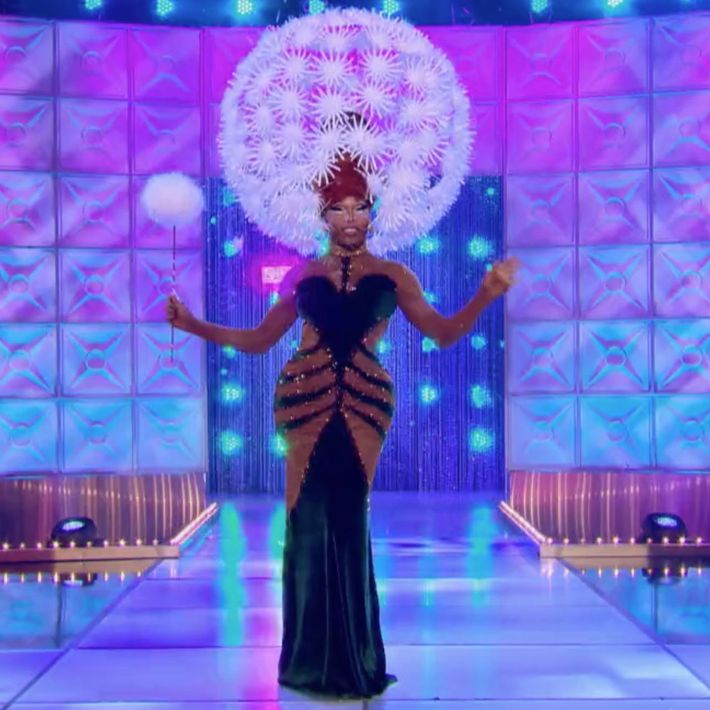 It's rare that the judges have their breath so taken away by a runway look that they are unable to make many jokes as it walks before them, but that was the case here. The initial visual had us gobsmacked, but watching this dandelion-inspired headpiece move, bounce, and glow in the lights was truly mesmerizing. It felt alive, almost as if it were enjoying the attention it was getting. At the center of it all is Asia, who was at her ultimate best in the competition when she was leading with her joy, smiling that big old expensive smile. The nude illusion is fabulous, as is the "stem" on the dress itself, but the main event is that damn "hat" that the challenge called for. Lucky for you, you can attempt this very look at home after a trip to Ikea.
7. Roxxxy Andrews: Candy Couture (Season 5, Episode 11)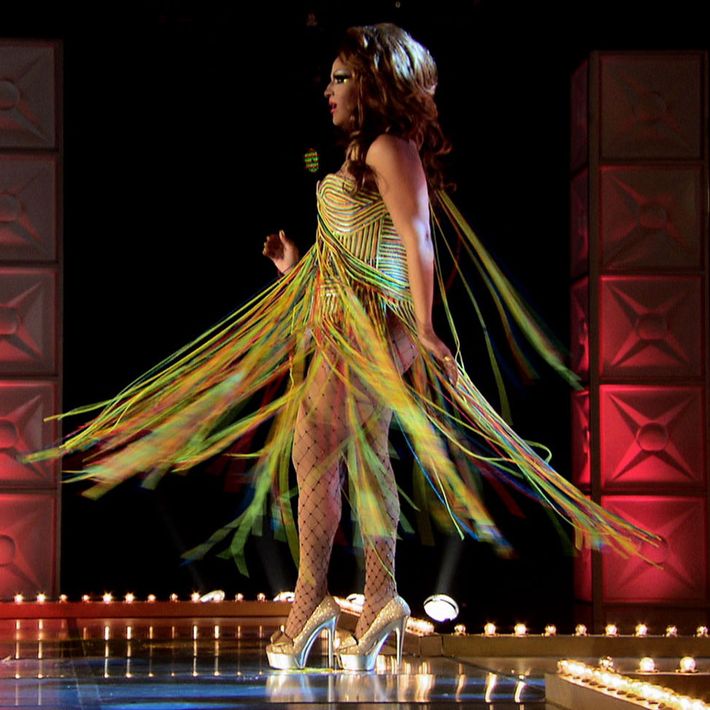 The most gag-worthy use of unconventional materials in the series. Roxxxy basically had a spot in the top three sewn up with this look, and for good reason. She knows her body, knows her brand, and knows how to make you want to literally eat her alive. Thick and juicy doesn't even begin to describe this queen. While she had some amazing moments on the runway in All Stars 2, nothing can touch this moment as the pinnacle of Roxxxy's Drag Race career, outside of the wig reveal that started an avalanche of wig reveals, and the subsequent bus stop breakdown. She was certainly the villain of the workroom all throughout season five, but it's moments like this licorice dress that leave you speechless. Work.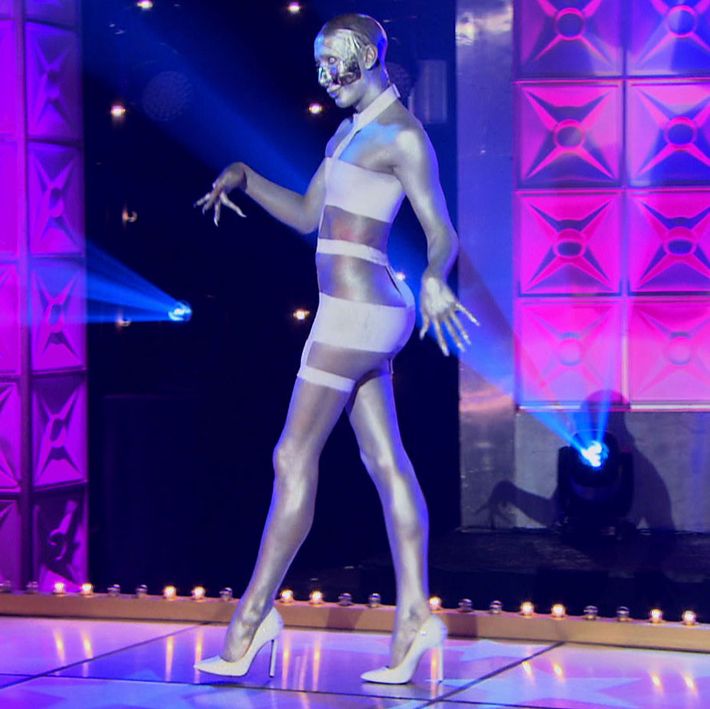 We'll never forget the explosion of euphoric gay cacophony from the judging panel when Detox hit the stage for the Future of Drag runway on All Stars 2. If she already had several "star is born" moments, this was the one that made her a bona fide supernova. Her body is magnificent, the character is 100 percent lived-in, and the concept is both classic sci-fi and classic capital-G Gay. The fact that there was a wig on her head for approximately two-and-a-half seconds at the top of the runway feels like it shouldn't work, but it does. Everyone talks about Phi Phi O'Hara's Samus realness from that episode, but this was the moment everyone at home truly understood what a contender for the crown Detox was. Honey, in this space, everyone can hear us scream!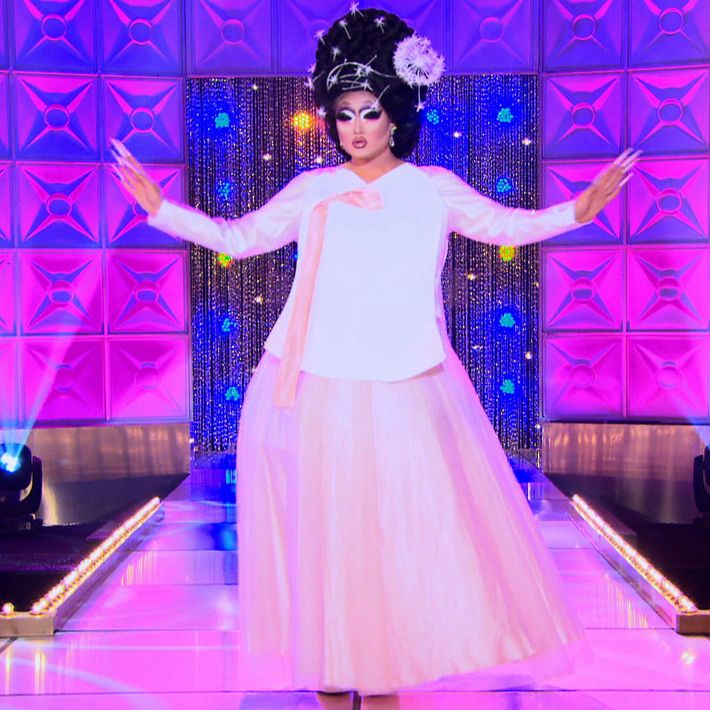 To see a traditional Korean hanbok stun the judges on the most popular queer television program in the world is nothing short of phenomenal — and cultural tributes aside, this outfit stands as one of the most narratively powerful in the series. Tying in Kim's complicated relationship with her mother and the ingenious floral motif she incorporated in her other Book Ball creations, we saw every delicately rendered storytelling thread intersect in this one look. It's unforgettable, and there's an entire dissertation on queer intersectionality begging to be written about it. (We'd do it ourselves, but we have a thing.)
4. Violet Chachki: Fall Fashion Week (Season 7, Episode 1)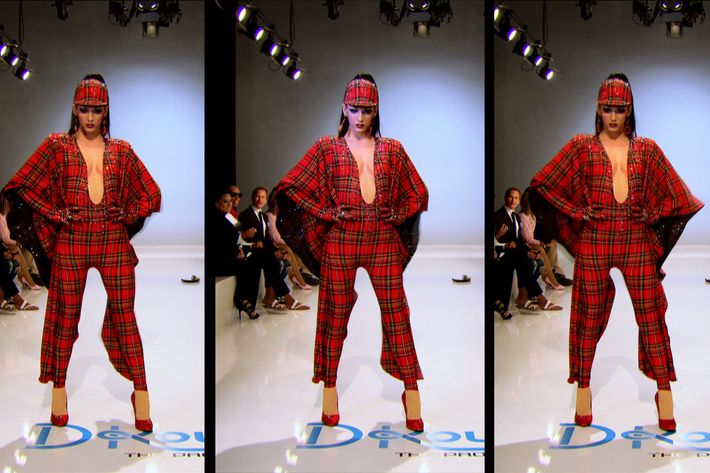 If you didn't audibly gasp at the reversible reveal, seek treatment. It was easy to write Violet off as a bitchy Instagram queen when she entered the workroom, but seeing the modelesque choreography of the spin into the reveal a few setups later left an indelible first impression. Between the plunging neckline, the high pony, the glittery stilettos, and the shimmering tartan baseball cap, it's pure eye candy while somehow managing to stay minimalist. We're placing it high up on our list for portending all of Violet's incredible moments the rest of the season; this is the one that started it all.
3. Courtney Act: Animal Kingdom Couture (Season 6, Episode 9)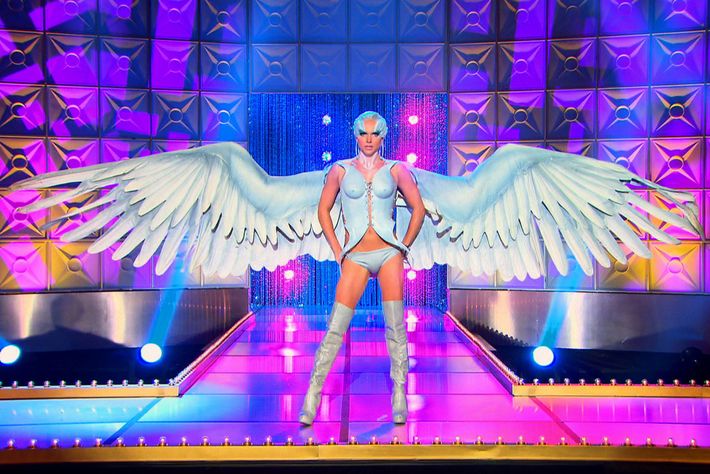 We alluded to this earlier in writing about Courtney's Klaus Nomi look, but we can't help but feel a little salty looking back on her sartorial run in season six. Everyone's big hang-up was that she was "resting on pretty," but barely any of her looks used her natural beauty as a crutch. Whether or not lookism truly played a part in her journey isn't for us to say, but in any case, this aquiline ensemble is one for the Audubon Society books. The wingspan demanded a more pulled back camera setup, but a DP's headache is an audience's gag, to be sure. Fly away, bitch. Fly away.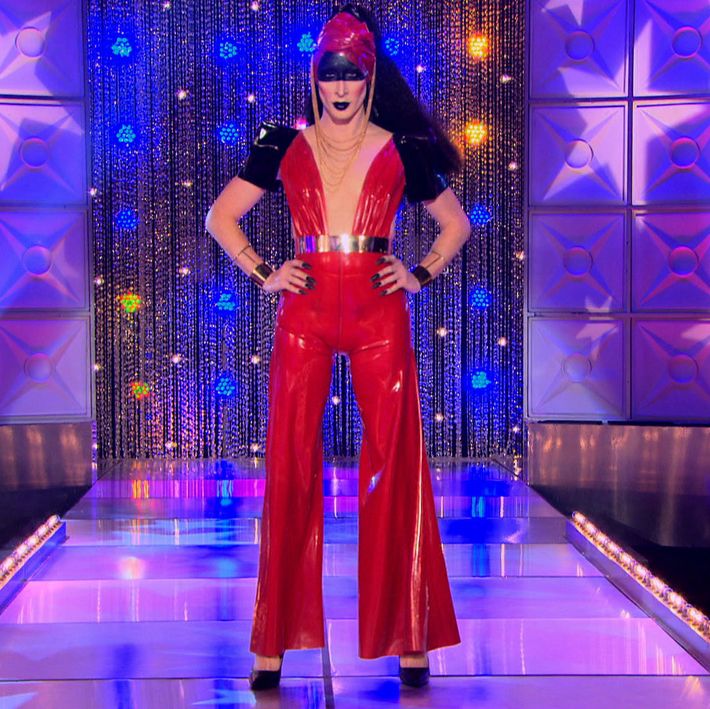 Very few Drag Race looks beg to be described as painterly, but Detox looks like a goddamn Vermeer tronie with that Dutch, "Girl With a Pearl Earring" headwrap. The layered gold chains hanging from her temples frame her brow-blocked face, and the wide-pant leg draw the eye upward and downward and to-and-fro. And to say nothing of the black shoulder pads! It's honest-to-goodness couture, and of all the streamlined looks on this list, Detox's latex attire left the biggest crater on the mainstage with nothing but two colors and a metallic accent. Even still, there's no doubt in our minds that this earns one of our top spots, and just about every queen in the future of televised drag will have a difficult time pushing the envelope past what Detox benchmarked here. She served it, officially.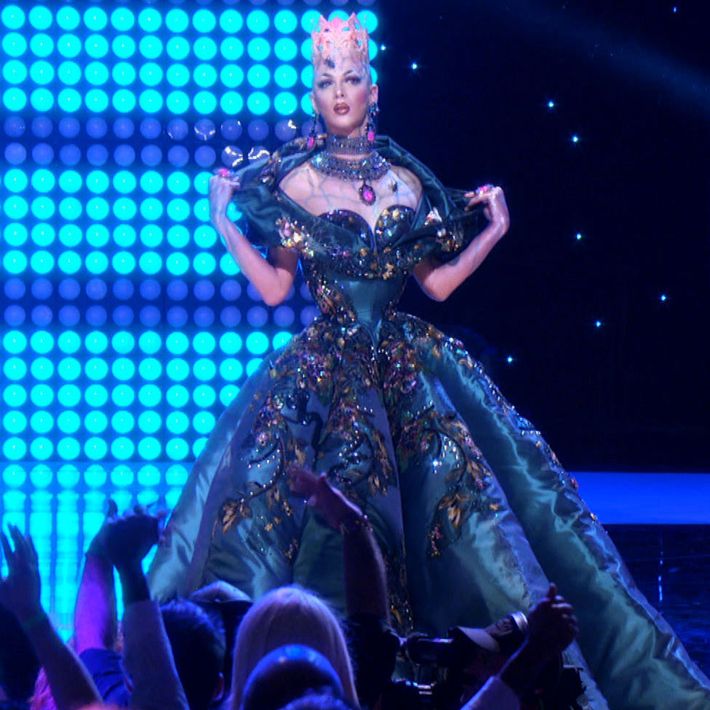 Bye! Thanks for coming! Everyone can go home now! Never on RuPaul's Drag Race has there been a look that stunned and amazed quite like this one on sheer presentation alone. The moment Violet unhooded herself, everyone understood it to be a miraculous event. We've been wading in hyperbole this whole time, but the gown is literally fit for a queen, and we're not joking, bitch. Probably the fiercest touch of this whole ensemble is the makeup job on Violet's head: The crown appears to be literally fused to her flesh and bone, because even though she's here to honor the succession to the throne, you will literally never take the crown from her. Season eight was an exceptional one in terms of runway presence — catwalk titans Naomi Smalls and Kim Chi stood just feet away from Violet, awaiting their fates — but there's no disputing this being the moment of the season. Violet Chachki goes down in the queer gospels with this one, and her assumption into fashion heaven is all but guaranteed. All hail the single fiercest, most meritorious, best look in the herstory of Drag Race.