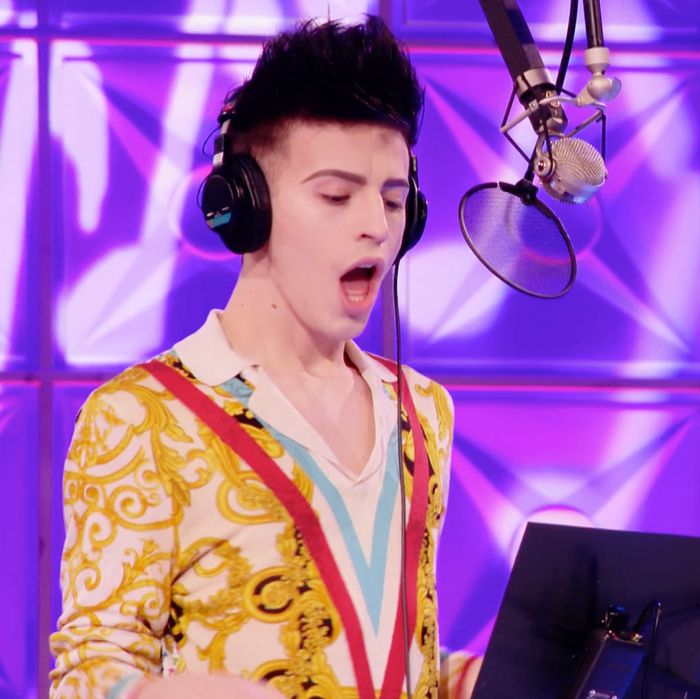 Is this the next winner?
Photo: VH1
Someday they'll teach in schools that the penultimate (non-reunion) episode of a Drag Race season used to matter. Or at least used to create some dramatic tension before the finale's big gay climax. We all love hearing the queens' original verses in a Ru-mixed single accompanied by Todrick-sanctioned choreo, and while loops close and narratives get buttoned up this week, are we even supposed to care in a post-Lip-Sync-for-the-Crown world? In theory Kameron Michaels could win this whole thing and render Aquaria's pristine track record meaningless, and all we would get as an audience is Today Tix product placement.
Still, we have a fun, fitting send-off for this final group of queens, right before Ru jettisons them into the arena and one girl stunts her way to the top. As we prepare for the showdowns, let's take a holistic look at the Top Four's journey and devote some words to each of the queens. Indulge us!
Aquaria: Holding Water
How can you argue that this queen should not win? We're sure some of you out there will try, and we understand that getting behind the frontrunner isn't the most fun option. But you have to hand it to this queen. She won the Snatch Game and the Ball challenge. She was never in the bottom two. Her narrative arc this year started troublingly and on the wrong side of a conflict with The Vixen. But over the course of the season, we got to know her sense of humor and understood that this is a more intelligent and researched queen than anyone could have imagined. She came in with a target on her back; she was "the Instagram Queen" and probably nothing more. But expectations were blown out of the water and, we'll say again, she walks away with the best track record. Aquaria also demonstrates real lip sync skill in the final performance to Ru's iconic and recently controversial "Call Me Mother," so we may really be in for a gag when the four queens are thrown into the ring in just two weeks. RuPaul isn't just blowing smoke when she says that Aquaria is in the top five runway queens of this show's history, and that's a big endorsement. All throughout the episode, her personality is winning, and seeing her understand that she is about to slay the defining moment of her drag career after her choreography session with Todrick Hall was moving. We're won over, and so are the judges. Their final assessment of her performance on the season is telling. They know she's the winner. Her performance in the Main Challenge, to slay an original verse on RuPaul's "American," gives us pop star. Ru even said "Madonna." Bitch, she's Madonna!
Working for her: Her track record. On paper, she wins. She deserves it.
Working against her: The fact that that won't matter (see: Shea last season), and Ru may want to take the win away from New York. We personally feel this is a silly, nonsensical reason not to crown a queen, but it's plausible this is the feeling.
Asia: All Over the Map
The comments about Cracker being "not a star" bothered us last week, and her assessment of her own behavior almost makes us think it was just an ill-advised choice of words while in character as her evil twin. But then she claims in a confessional that "unfortunately, that is the way [she] feel[s]," so what does the offer of an apology matter? Asia looks amazing on the runway, as she tends to, and her performance in the challenge is great and shows she has a way with the written word. But the narrative that sticks with us is that she was inconsistent all season. One week you could call her a frontrunner and the next week she could be a complete mess. Her Beyoncé in Snatch Game is borderline disqualifying, yet her dandelion runway look is a series runway highlight. The Tweety Bird moment was a full gag, but remember the Martian Realness runway? She made amazing funny faces during the Buttrface challenge, but does a funny face a RuPaul's Drag Race winner make? She has created multiple memorable moments, yes, but is the fact that she would be "a good ambassador" enough to justify a win here? Consistency is key, and while it is crucial to be able to bounce back week after week and stay in this game, she's had to bounce back a lot. If she takes the crown, it would be polarizing. Then again, her smile makes us smile. She brings us happiness. This one is tough.
Working for her: No one like her has ever won. Oftentimes, she has had a den-mother quality that makes you love her. She was front and center for many of this season's gaggiest moments. You won't forget her.
Working against her: Her competition has more consistently gagged the judges. Her low points were very low.
Eureka: Fully Realized
Girl, she found it! There is an obvious case to crown this queen. She feels like a winner, and if Aquaria weren't so fantastic all year, maybe if she were in the bottom even once, this would feel like a no-brainer. Characteristic of her narrative this season, Eureka frets over the challenge and knocks it out of the park. She nails the choreography, brings unforgettable energy and is just plain funny performing her verse on "American," and in doing so she reminds you why she's still in the hunt for the crown. There simply has never been a queen like her on this show. She is a character for the ages. You can compare Aquaria to Violet. You can compare Asia to many queens. Who do you compare Eureka to? A first-thought answer would be Ginger Minj, due to the fact that they're both plus-sized queens who are a real threat to the crown, but Eureka is special. Her final runway look may not be our favorite, but Goddamn it, literally no one else could do it but her. And that's the thing: she creates images and situations on this television show that feel uniquely her, and you get the distinct sense that it wasn't easy to get to the top of the drag world the way she has. Whether you're an apologist for her or not, you can admit that her personality is grating, but this isn't going to count as a demerit. When she gets the opportunity, she brings it to you. She is obviously a favorite of RuPaul's. The pointing bit when she exits the runway isn't that funny, but it tickles Ru. And it is time, on paper, that a big girl wins. In a lip sync tournament, she is going to slay you. She will be in that final. Whether or not she takes the crown is up in the air, but her top two placement feels like a foregone conclusion. Can you really picture her losing a lip sync?
Working for her: The finale format seems designed for her. Out of the four, she has the most passionate love from fans of the show. The narrative is probably too good to resist: started from a torn ACL, now we're here. Seeing her crowned would be emotional and thrilling. It also rules her out for All Stars and … we have had a lot of her already.
Working against her: Aquaria is there with a better track record, and she has a tendency to get in her own way.
Kameron: Pains and Gains
They do a good job of making a case for Kameron's participation in the top four, even if it really doesn't make much sense and she'd be the obvious cut if this were a pre-season nine world. That said, she turns it out on the runway yet again with her beautiful lavender fantasy, and her message to her younger self is affecting. It's been a rocky road for Kameron, at least in the last several weeks, and we agree with Michelle that we never, ever thought that Kameron would make it this far. But she is the undisputed lip sync assassin of the season, and it is lip syncs that, for better or worse, win this show. When the going gets tough, Kameron gets going, honey. The runway looks were terrific all year, and the performance challenges were never out-and-out bad. What's holding her back from the crown is the lack of a compelling narrative, which seems to be by her own weird design. She's reserved and closed off, and even information about a strange patriarchal hang-up involving emotional expression only half-lands late in the season. We know she's fierce. We know she does the work. We know she is, in the words of Todrick Hall, "Fine!" But how would we feel if she won? Because she really can, and does that feel right? We may not love the finale format as much as we did last year. Time will tell.
Working for her: That she slays when she needs to. That she will do the assignment well in the finale. We've seen what she's capable of.
Working against her: Her lip syncs are a little repetitive. She definitely has go-to moves. Also, the winner of RuPaul's Drag Race should stand for something. What does Kameron stand for? We don't buy that talent is enough. Charisma, uniqueness, nerve, and talent is the rubric. How does Kameron truly score?
The episode itself is a return to form in a season that started super strong but has offered a weak last three episodes. Heading into the finale, it seems to be a two-horse race between Aquaria and Eureka. But last year was pretty decidedly a two-horse race between Trinity and Shea. However this goes, it's going to be something, and we wait with bated breath to see … who can pack the most shit under their wig. We mean … lip sync the best. Until next week, bitch!